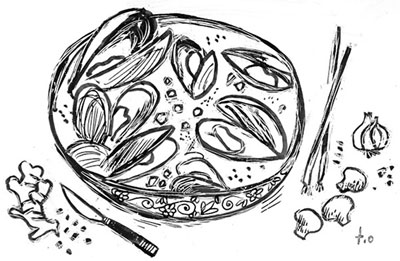 Toki Oshima drawing
By Cheryl Wixson
Archaeologists say that humans have been eating mussels for more than 20,000 years, and with good reasons. This edible bivalve of the marine family Mytilidae is an incredibly nutrient-dense seafood choice. The methods for both harvesting wild mussels and farming cultivated mussels are also environmentally sound, making them a "best choice," according to the Seafood Watch published by the Monterey Bay Aquarium.

On the nutrition side, mussels are low in calories and fat but rich in protein, vitamins and minerals. A serving of mussels (generally considered 3 ounces of mussel meat) provides the body with 20 grams of protein and just 4 grams of fat. In addition, eating mussels delivers 340 percent of the recommended daily amount of vitamin B12, 108 percent of the daily value for selenium and 288 percent of the daily value for manganese.

Vitamin B12 is essential for the nervous system, the formation of red blood cells, and proper growth and development. Selenium supports a good immune system and the thyroid gland, while manganese is vital to bone health and energy metabolism. Iron deficient? Throw out the iron supplements and enjoy your mussels. This tasty treat is one of the top 10 foods highest in iron, with a single serving supplying 132 percent of the recommended daily value.

Except for the early Native Americans, consumption of mussels in New England has lagged behind the rest of the world. In Italy, they are steamed with wine and herbs. In Belgium, the Netherlands and France, mussels are often served with French fries in the popular dish "moules-frites." In Ireland they are boiled and seasoned with vinegar, and Cantonese cuisine features mussels cooked in a broth of garlic and fermented black beans.

In Maine, cultivated mussels, grown on ropes, are readily available in the market or from your local seafood truck. Better still, wild mussels, abundant on the shore, may be harvested by picking. At our farm in Stonington, we have acres of fresh mussels on the beach at low tide.

Cleaning mussels is easy: Use a stiff brush to scrub them under running water. Discard any with broken shells. Scrape off the barnacles (this is the hardest part, but barnacles don't affect cooking and eating) and either pull off or cut the "beard." Mussels should be de-bearded just before cooking. Although they are best eaten fresh, mussels will keep for two to three days in the refrigerator. When sailing, we would tie them in a net bag and hang them from the rail of the boat, dragging them in the water until ready to cook.
During World War II, when meat from beef was scarce due to rationing, mussels were commonly served in diners. Today mussels are still an economical source of protein. Summer is the perfect time to expand your culinary horizons and treat your family and friends to one of Maine's best-kept seafood secrets.
Enjoy Maine mussels with fresh vegetables in salads, cooked in a seasoned broth on the shell, with sausage in soups, smoked as an appetizer, or, for a real treat, in a cream sauce with lobster over pasta.
Hot and Sour Mussels
The flavors of these mussels are like the classic Chinese hot and sour soup. Serve over noodles for a meal.
4 lbs. mussels, cleaned
1 Tbsp. olive or sesame oil
2 garlic cloves, finely minced
1 Tbsp. finely grated fresh ginger
1/2 c. chopped fresh scallions (1 bunch), divided
1 c. fresh broccoli florets
1 c. sliced fresh mushrooms
1 c. clam juice
2 Tbsp. soy sauce
1 Tbsp. rice vinegar
1 tsp. red pepper flakes (adjust according to taste)
In a large heavy pot, heat the oil over medium heat. Add the chopped garlic and ginger and cook, stirring until they start to soften. Stir in the clam juice, soy sauce, vinegar, hot pepper flakes, broccoli, mushrooms and about half the chopped scallions. Bring the mixture to a boil and add the mussels. Cover the pot and cook until the mussels have just opened, about 4 to 6 minutes. Remove from heat and discard any unopened mussels. Serve in soup plates and garnish with the remaining chopped scallions. Makes four servings.
Nutritional analysis per serving: 191 cal., 18 g protein, 14 g carbohydrates, 7 g fat, 452 mg sodium, 3 g fiber
Steamed Mussels with Fennel
These delicately flavored mussels are a delicious appetizer. Serve with crusty bread to sop up the sauce.
2 lbs. mussels, scrubbed and cleaned
2 large garlic cloves, finely chopped
1/2 c. finely chopped shallot or red onion
2 Tbsp. butter
1 orange
1/2 c. chopped fennel bulb
1 tsp. fennel seeds
1 c. white wine
1 Tbsp. chopped fresh parsley
Grate the peel of the orange to yield about 1 tablespoon of orange zest. Remove the rest of the peel and discard. Separate the orange into pieces, and chop. In a large pot, melt the butter and cook the garlic, chopped shallot, fennel seeds and chopped fennel until the fennel just starts to soften. Stir in the wine and orange zest. Bring to a simmer and add the mussels. Cover the pot and cook until the mussels open. Add the chopped orange and parsley. Spoon into bowls and serve. Makes four appetizer size servings.
Nutritional analysis per serving: 168 cal., 8 g protein, 13 g carbohydrates, 7 g fat, 238 mg sodium, 3 g fiber