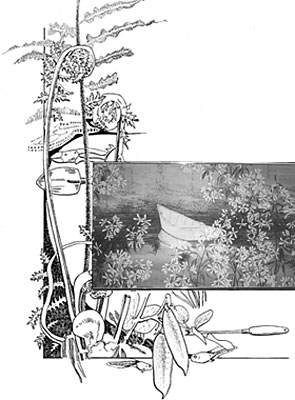 Shad bushes bloom at Acadia National Park when the shad are running up Maine's rivers. Art by Jean Ann Pollard.
By Jean Ann Pollard
Each spring when the shad bushes bloom – those beautiful white-flowered shrubs that are the first to blossom (like snow on bare branches) – my grandmother, who was a coast woman, always said, "The shad are running!" It was time to go fishing. In those days, fishing was easy, for the bluish backed, silvery sided creatures swarmed up Maine's rivers along with salmon and alewives, sure to please palates from Native American to European settler to otter.
Members of the herring family, Alosa sapidissimi (sapidissimi meaning "most savory"), or shad, are about 2 feet long and weigh on average 3 pounds. Anadromous fish, their intense springtime migrations were destroyed by stupidity and greed, so that few people in Maine any longer remember their succulence.
In the old days, however, they were much appreciated, as The First Report of the Commissioners of the Fisheries of the State of Maine for 1867-1868 indicates. "At one time shad, salmon, and alewives supported important commercial fisheries," the report said. The shad fishery, for instance, once "weighed in at nearly a million-plus pounds" and its original range in Maine "included almost if not quite every river in the State." They were the most important fish.
But with European settlement, destruction of fisheries began. One episode on the Presumpscot River gives a sad example. Though numerous mills had been built there between 1646 and 1739, no serious problem arose between settlers and Indians until 1739, when the first dam was built at Saccarappa Falls. This dam stopped the passage of sea-run salmon to Sebago Lake, and Chief Polin of the Rockomeecook Tribe quite rightly objected. He was so angry – and doubtless so amazed by such wanton destruction – that he actually walked to Boston to confer with Governor Shirley. The governor reportedly forced settlers to build fishways on all existing dams, but fish couldn't pass. A few years later Chief Polin repeated his demands, and this time he said that all white men must leave the Presumpscot River from Sebago Lake to the sea or his tribe would drive them out. Thus began the first armed conflict between the Aucocisco Indians and settlers, coming to a sorry end in 1756 when Chief Polin was killed. Although a court passed an act in 1741 that all dams should be provided with fishways, attempts were still being made by 1867.
The shad catch on the Kennebec gives another sample. The First Report of the Commissioners stated that the Kennebec River once supported the principal shad fishery in Maine. Shad ascended as far as Farmington on the Sandy River, as far as Norridgewock Falls on the Kennebec itself, and the Sebasticook River had "a profitable shad fishery" as far as the town of Newport. In fact, the fishery was enormous. William Getchell at Waterville took 11,000 shad in one afternoon; and in one day, four men dipped 6400 large shad. But in 1837, doom arrived with the Augusta dam. No longer would settlers at Getchell's Corner, or up the Sebasticook at Benton Falls, put out their seines for the spring runs.
The Penobscot fared no better. Between the dam at Old Town Falls, the Great Works dam, and the Veazie dam built in 1834 or 1835, a thriving fishery was destroyed. Thousands of shad reportedly gathered below the dam and struggled in vain to get past, lingering and dying there "until the air was loaded with the stench." Others simply returned down river, still loaded with ripe spawn.
Today, however, thanks to more widespread understanding of ecosystems, the dams are coming down and the shad are swimming up again. In a May 2002 article in Down East magazine, Naomi Schalit writes, "After almost a century of obstruction by dams and industrial pollution, annual spring shad runs have returned on many of Maine's great rivers …"
Moist and Delicious but Bony Fish
What was the special lure of shad? The flesh, according to Russell Chatham in the Fly Fisherman (1979) was "exquisitely delicate … easily on a par with pompano. It's moist and succulent; very pale, almost white after cooking."
But it was also incredibly bony. An anonymous 19th-century author, quoted by John McPhee in a delightful New Yorker article, put it like this: "A boarder, having been told that dinner will be shad, arrives at table wearing 'the poorest shirt he has' and carrying a magnifying glass, a bone basket, a toothpick, and tweezers." The reason: "He will get so full of the bony parts that he will sigh for a little more Bourbon.
"When he swallows a bone, all he has to do is to take his tweezers and pull it out …" because, supposedly, "during the shad season a good shad-eater will get from ten to fifteen bushels of bones from what shad he eats. After the last shad is destroyed, he tears off his shirt, sandpapers off the ends of the bones which are sticking out through his skin, dons clean linen, and is himself again."
Any Mother Would Faint
Some recipes solve the bone problem. Several call for long, slow baking. A friend of McPhee suggests the following (slightly modified) version: clean the fish, removing scales, head and fins. Season with salt and pepper, lay it in a pan, and place three or four strips of bacon on it, or sprinkle with olive oil. Add one cup water, surround it with onion and lemon slices, cover the pan tightly, and bake at 250 degrees for 7 hours. Check every 2-1/2 hours to see if the water level is ok. If not, add a little more.
Such long baking sounds odd at first, but Adele Davis, in her famous cookbooks of the 1940s, suggested long, slow baking for meats; and pickled, or soused herring are well known. Shad can even be stuffed and baked, report Angus Cameron and Judith Jones in the L.L. Bean Game & Fish Cookbook, and the following recipe "is the way you 'melt' away the labyrinth of tiny Y bones." They also note: "Don't be in the least dismayed at the seemingly exorbitant baking time; the shad will come to the table moist, succulent, and 'boneless.'"
Baked Stuff Shad, "Deboned"
(slightly altered)

one 4-lb shad, cleaned, scaled, head and fins removed
1 teaspoon freshly squeezed lemon juice
freshly ground sea salt and black pepper
your favorite bread stuffing
2 tablespoons melted butter or olive oil
finely chopped scallions or shallots (optional)
4 strips of bacon
Rub the shad inside and out with lemon juice. Salt and pepper it, stuff it, and sew or skewer the cavity. Coat the fish with melted butter or olive oil and lay it on a sheet of foil large enough to enfold it. Sprinkle with finely dried scallions or shallot. Place the bacon strips over the fish and enfold it securely in the foil. Place the foiled shad in a shallow baking dish and bake at the lowest temperature your oven can achieve (225 degrees F) for 5 to 6 hours.
Pressure canning for keeping that spring run a bit longer is another way to avoid bones. According to the Ball Company's Blue Book: A Guide to Home Canning and Freezing, "Dissolve 1 cup salt in 1 gallon water to make brine. Cut fish into jar-length pieces. Let stand 1 hour in brine. Drain 10 minutes. Pack fish into hot pint jars, skin side next to glass, leaving 1-inch head space. Only process in half pints or pints. Remove air bubbles. Adjust caps. Process 1 hour and 40 minutes at 10 pounds pressure." Anyone unfamiliar with a pressure cooker should follow directions, which come with it, to the letter.
Shad Roe – No Bones About It
If dealing with the bony proclivities of shad destroys all joy, the eggs, or roe, have always been prized. (Isn't there a line in a famous song about 'shad roe?') I remember my grandmother sautéing the slightly tan, veiny lumps when I was a child, but McPhee offers an interesting version that might be worth trying. It is, he says, "an attenuated hybrid of sautéing and steaming learned from another fisherman many years ago." A cast-iron skillet with a tight-fitting glass lid is recommended.
Cover the bottom of the skillet with bacon in one layer, he advises. "Snip the bacon to fit." Place the roe sacs – two or more sets side by side if the skillet is large enough – vein side up or vein side down. Salt and pepper the sacs. Cover the pan. Put it on medium heat. After the bacon begins to sizzle, turn the heat to its lowest level. Shad roe can explode if steam inside builds too rapidly. "What you want to hear is a low, regular, consistent sizzle – not the sound of bacon rapidly crisping." Slide a wire spacer or heat diffuser under the skillet if necessary.
"Now," says McPhee, "set your timer for thirty-five minutes. Check every five minutes to be sure that the sizzling is neither too active nor extinct. The bacon becomes watery and the roe gradually tightens up in steam." Cook until it is quite firm. "Thirty-five minutes should do it, less if the roe sacs are small." The ideal result is wet in the middle and drier on the outside. When cooked, pour off the accumulated liquids and fat, return the pan to the stove, uncovered, and cook on medium to brown the bacon. If an explosion occurs, "it will probably be a small one, and the damage will be minor."
After 35 minutes, gently free any bacon that is sticking to the pan, making sure the roe and bacon will slide easily, but don't turn anything over. Hold a serving plate over the skillet and flip the meal onto the plate. Any undercooked bacon can be finished in the skillet or microwave. Serve with dribbles of lemon juice.
Adele Davis said to broil or bake the roe. Wash and dry the sacs, she advised, "being careful not to break the membrane." Then "dip in milk, roll into toasted and sifted whole-wheat bread crumbs, place on a flat baking dish, insert a meat thermometer, and bake to 150 degrees F. for about 30 minutes." Once done, cover with a tomato or yogurt sauce, and sprinkle with chopped parsley.
For broiling she suggested rolling the roe in oil and sifted and toasted crumbs, then broiling on a baking sheet about 20 minutes on one side, or to an internal temperature of 150 degrees F. "Do not turn. Serve with melted butter to which lemon juice, chives, and ground parsley are added."
The buck, or jack shad, says McPhee, offers a delicacy of its own. "The firm pink pods of milt are white, and have the consistency of heavy cream." They're best salted and peppered, dredged lightly with white flour, and sautéed delicately in butter.
So, come spring when Amelanchier, that member of the rose family called the shad bush, bursts into bloom, just remember, "The shad are running," think of Maine's history, and go fishing.
Resources
Ball Corporation. Blue Book: A Guide to Home Canning and Freezing, Edition 31, Muncie, Indiana,1985.
Cameron, Angus & Judith Jones, The L.L. Bean Game & Fish Cookbook, Random House, N.Y., 1983, p. 256.
Davis, Adele, Let's Cook it Right, Harcourt, Brace & Company, N.Y., 1947, p. 180-181.
McPhee, John. "Sapidissimi: the most savory fish," The New Yorker, August 19 & 26, 2002, p. 82. McPhee is quoting an article by Russell Chatham in the Fly Fisherman (1979). McPhee also quotes "A dissertation on shad," by an anonymous 19th-century author, in the same New Yorker article.
Spry, Constance, The Constance Spry Cookery Book, E. P. Dutton & Co, 1957, p. 513)
Pollard, J.A., Polluted Paradise: The Story of the Maine Rape, Twin City Printery, Lewiston, Maine, 1973; quoting The First Report of the Commissioners of the Fisheries of the State of Maine for 1867-1868.

About the author: Jean Ann Pollard and her husband, Peter Garrett, have a CSA farm, Simply Grande Garden, in Winslow, Maine. Jean Ann wrote and illustrated The Simply Grande Gardening Cookbook (Burford Books), and Peter contributed gardening notes to the book.