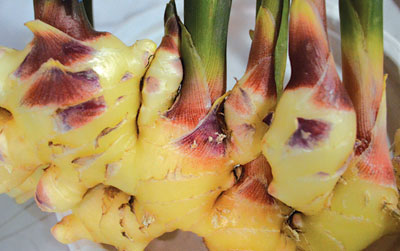 Ginger is an increasingly popular crop to grow and store in Maine. Polly Shyka and Prentice Grassi of Villageside Farm in Freedom grew this 'King Yai' ginger, which earned a Judges' Award in the Exhibition Hall at MOFGA's Common Ground Country Fair. English photo.
By Roberta Bailey
I have lived with a root cellar my entire adult life. I consider it an absolute necessity, the hub of winter's culinary adventures, the go-to place for apples, winter pears, onions, leeks, potatoes, carrots, winter radish, beets, cabbage, rutabagas, celeriac, Chinese cabbage, parsnips and endive.
In my early 20s, when I first came to Maine, I buried two trash barrels in the ground and covered them with hay bales and a tarp. The rodents loved the dry hay, but my rutabagas were safe. Come spring I lived on those rutabagas and the last of a 5-gallon bucket of peanut butter.
My second root cellar was in northwest Washington county, where I lived for a dozen years or so farming and building log houses and canoes. This root cellar was essentially a log cabin in the ground. We dug a 10-foot-square hole in the ground and built a log room in it. Then we put a heavy ceiling on it and buried it. We built a tool storage shed over the room, which we entered through a hatch and a steep stair ladder. It felt like a cedar palace, an abundance of earthy winter scents.
My third root cellar was a concrete cubicle with an earth berm around it, a gazebo above it and a walk-in double door entryway. It worked very well, although I do remember watching the frost line creep down the walls as winter progressed, and moving food stores to keep them from freezing. The winter that hit a record 38 F below zero, I spent nights bringing water bath canners of coals out there to keep it from freezing. In spring little black newts with blue markings would gather in the cool doorway.
My fourth root cellar was in a cellar with a furnace and a granite foundation. I built two insulated walls and a door. The floor was crushed rock, the outside walls were granite. The vent was the crack between the two granite slabs, which I had to stuff with a rag in January to keep the cold out. It served me very well. I added fermented foods to my stored winter fare.
This fall my husband built my final root cellar. Most of our new house has a radiant heat floor, but we made a full cellar under the bedroom, with an insulated wall against the outside concrete cellar wall and a vent with a fan in it. This 8 by 10 feet provides ample room for a lifetime of winter food.
I am experimenting with storing some Maine-grown ginger in my cellar as well as freezing some. It grates very well when frozen. Here are some recipes featuring root cellar crops and ginger.
Pasta with Peanut Sauce and Steamed Vegetables
Pasta of your choice (rotini, bow tie, etc)
Peanut Sauce
2 Tbsp. peanut butter
2 Tbsp. water (Soften peanut butter with water, mix thoroughly)
2 Tbsp. soy sauce
1 tsp. fresh lemon juice or lime juice
1 Tbsp. brown sugar
1 finely chopped clove of garlic
1 to 2 tsp. grated fresh ginger root
Stir together well.
Steam several types of vegetables (carrots, onions, leeks, radish, celeriac, Chinese cabbage or whatever you have).
Serve hot pasta with lightly steamed vegetables and peanut sauce.
(Optional: Add lightly sautéed tofu to the vegetables).
Asian Slaw
Shred Chinese cabbage or red and green cabbage. Grate some carrot and celeriac. Add red onion slivers if desired. Finely chop some apple. Toss together lightly and dress to taste with the following:
1/4 c. vegetable oil
1 to 2 tsp. toasted sesame oil
1/4 c. tamari soy sauce
1/4 c. lemon juice
2 Tbsp. grated fresh ginger root
2 Tbsp. rice vinegar or white wine vinegar
1 to 2 tsp. honey
2 tsp. toasted sesame seeds
1 tsp. freshly ground black pepper
Mix together and dress salad to taste.
Curried Carrot Soup
Makes 8 cups
2 Tbsp. butter or oil
3/4 c. chopped leeks
1 small onion diced (2/3 c.)
1 Tbsp. grated fresh ginger root
2 to 3 tsp. curry powder
1/4 to 1/2 tsp. salt
1/4 tsp. black pepper
1-1/2 lb. carrot, sliced
2-1/2 c. chicken or vegetable broth
1 c. unsweetened coconut milk
1 to 2 Tbsp. lime juice
1 c. water to adjust thickness if desired
Heat oil or butter in a heavy soup pot. Add leek, onion, ginger and curry powder. Sauté until soft, about 4 minutes. Add carrot and stock and simmer until carrots are soft. Add coconut milk, salt and pepper. Remove from heat. Purée in small batches. Mix all together with water to desired thickness and add lime juice to taste.
Serve hot or chilled.
Apple and Parsnip Puree
1-1/2 lbs. parsnip
2 Tbsp. butter or oil
1 c. finely chopped onion
2 apples, peeled, cored and chopped
1/4 to 1/2 tsp. salt
1/4 tsp. black pepper
1/4 c. sour cream or yogurt, to taste
grated fresh ginger root to taste
In a heavy saucepan, cook parsnips, covered, until very soft. Meanwhile, in a heavy skillet, sauté onion, apple, salt and pepper in the butter or oil until the apple is soft. Stir frequently.
Mash or purée parsnip in with the apple mixture. Add sour cream/yogurt and seasonings to taste. Serves 4.