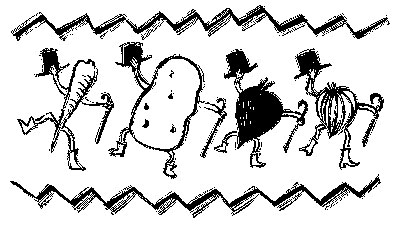 Toki Oshima Drawing
By Roberta Bailey
My jumbled box of seed has been sorted and organized. My seed orders have been placed and most have arrived. Little packets of promise. The seasons ahead hold such bright potential: 'Drama Queen' poppies, 'Variegated' blue collards that promise to overwinter, enough Phacelia to plant multiple rows in all the field plots in hopes of attracting more pollinators to my seed crops, and the anticipation of what this third year of a pepper breeding project will teach me; all packets of anticipation to be opened and spread on the soil and watered and nurtured. The weather, the rainfall, the insect pressure, the stories of success and calamity all roll forth as the days get longer and the arc of the sun shifts above us.
Meanwhile, in the dark of the root cellar, the bright tales of last year's harvests are fading. The warm fall season did not help the storage quality of any of the root crops. The beets and carrots that began to sprout in November are stretching longer. The apples are withering. The cabbage and leeks look dry and papery, their goodness many layers from the surface. Someone needs to do something down here. We need a plan for action. Those concerted efforts to use up the stores have fallen short of the mark. Either we do something soon or all this food will be compost or chicken food. Honorable fates, but let's try to get more of this onto our plates. These recipes offer ideas for cleaning out the root cellar.

Root Vegetable Kugel (from Holli Cederholm)

2 Tbsp. olive oil (or other favored cooking oil)
1 or more large onion or leek, diced
6 or so medium-sized root vegetables in any combination: potatoes and carrots each make a good base; celeriac, root parsley, parsnips, rutabaga and turnips add variety; my favorite combos usually feature two or three different vegetables.
1/4 to 1/2 c. (or to taste) chopped parsley from the freezer, or fresh parsley
1 tsp. dried thyme
Salt and pepper, to taste
2 or 3 eggs
1 c. shredded or crumbled cheese. Cheddar is my standby, but asiago, crumbled chèvre or feta offers room for creativity.
Shred unpeeled (except for the celeriac) root vegetables and mix them in a large bowl. Add diced onions or leeks. Whisk eggs; stir in oil, parsley, thyme, salt and pepper. Add egg mixture to grated root vegetables. Toss in cheese.

Grease a 9-inch pie dish. Fill and level off. Bake at 400 for 1 hour, or until golden. Serve warm.

The following recipes are adapted from epicurious.com.
Balsamic Glazed Beets
3-1/2 pounds beets
3 Tbsp. balsamic vinegar
2 Tbsp. maple syrup or honey
1 Tbsp. olive oil
1-1/2 tsp. minced fresh thyme or parsley
Steam sliced beets until tender, about 30 minutes. Cool, slip off skins and stems, and cut beets lengthwise into wedges.
In a large skillet, mix vinegar, syrup or honey, and oil. Add beets and cook the mixture, adding salt and pepper to taste, over moderate heat, stirring, until heated through. Toss half of the thyme or parsley with the beets. Sprinkled remaining herb on top of the dish.

Horseradish Creamed Leeks
4 leeks, cleaned and cut into 1/8-inch rings
2 Tbsp. butter
1/3 c. broth
1/3 c. heavy cream
1 Tbsp. bottled horseradish (drained)
3 Tbsp. grated Gruyère
In a large skillet heat the butter over moderate heat, add leeks and toss them to coat them with butter. Add broth and cream. Bring to a boil, then simmer, uncovered, stirring occasionally, for 20 to 25 minutes or until the leeks are tender. Transfer the leeks with a slotted spoon to a gratin dish. Stir the horseradish into the liquid remaining in the skillet and season the sauce with salt and pepper. Pour the sauce over the leeks, sprinkle with Gruyère, and broil about 4 inches from the heat until the cheese is golden.

Poblano Potato Gratin
1-1/2 lbs. fresh poblano chilies
1 lb. onions, cut into 1/4-inch strips
1 Tbsp. vegetable oil
3 lbs. large potatoes
1-1/2 c. heavy cream or 3/4 c. whole milk
Roast chilies on their sides on racks of gas burners on high, turning with tongs, for about 10 minutes or until skins are blackened; or place them on a broiler pan 2 inches from heat and turn them often. Transfer chilies to a bowl, cover tightly, and let stand for 10 minutes.
When chilies are cool enough to handle, peel or rub off their skin. Slit chilies lengthwise, then stem, seed and de-vein them. Cut them lengthwise into thin strips. These are "rajas," or sliced poblano chilies.
Cook onions with 1 tsp. salt in oil in a heavy skillet over medium-low heat, stirring occasionally, until golden. Stir in rajas, then remove skillet from heat. Reserve 1/2 cup rajas for topping.
To make the gratin, butter a 3-quart shallow baking dish. Peel potatoes, cut them into very thin slices and put them in a small, heavy pot with cream or milk and 1 tsp. salt. Bring just to a boil over medium heat, stirring occasionally, until liquid thickens. Add rajas, then pour the mixture into the baking dish. Top with reserved rajas.
Bake at 400 until potatoes are tender, 45 minutes to 1 hour. Let stand 15 minutes before serving.

Rutabaga, Turnip and Carrot Soup
1 Tbsp. olive oil
1-1/2 c. chopped leek
1/2 c. chopped celery
1 garlic clove, minced
2 c. each peeled turnips, rutabagas, potatoes, cut in half-inch pieces
2 c. sliced carrots
1 28-ounce can diced tomatoes in juice
4 1-lb. cans of broth
Heat oil in a large, heavy pot over medium-low heat. Add the leek, celery and garlic and sauté until the vegetables begin to soften, about 5 minutes. Add turnips, rutabagas, potatoes, carrots, tomatoes with juices and two cans of broth. Bring to boil. Reduce heat; cover and simmer until vegetables are tender, about 45 minutes.
Transfer 4 cups of soup to a blender or food processor and puree until almost smooth. Return to pot. Add remaining two cans of broth and bring to a simmer. Season with salt and pepper.

Spicy Raw Carrot Salad
1 lb. (about 4 c.) carrots, coarsely grated
1/4 c. olive oil
3 to 4 Tbsp. fresh lemon juice
1/4 c. chopped fresh cilantro or parsley
2 to 4 cloves garlic, mashed or minced
1 tsp. ground cumin or 1/2 tsp. ground cumin and 1/4 tsp. cinnamon
1 tsp. paprika
Pinch of salt
About 1/2 teaspoon harissa (chili paste), 1 Tbsp. minced green chilies, or 1/4 to 1/2 tsp. cayenne (optional)
Mix all ingredients in a large bowl. Cover and marinate in refrigerator from 2 hours to 2 days.

Spinach and Apple Salad
1/4 c. minced onion
3 Tbsp. cider vinegar
3 Tbsp. balsamic vinegar
2 Tbsp. sesame seeds
1/4 tsp. paprika
1 to 2 Tbsp. honey
1/2 c. olive oil
2 Tbsp. butter
3/4 c. slivered almonds
1/2 to 1 lb. spinach
2 or 3 apples, quartered, cored and thinly sliced
1 small red onion, thinly sliced
Combine onion, vinegars, sesame seeds and paprika in a small bowl. Mix in honey. Gradually whisk in olive oil. Season to taste with salt and pepper.
Melt butter in a skillet over medium heat. Add almonds and stir until almonds begin to color, about 2 minutes. Transfer to a bowl and cool.
Combine spinach and apples in a large bowl. Toss with dressing. Mix in almonds. Top salad with onion slices.