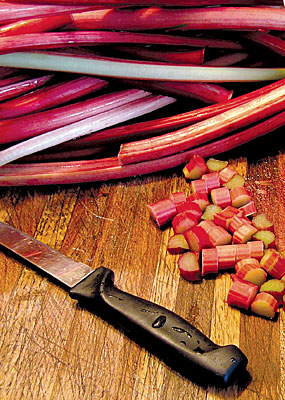 Cut and simmer rhubarb to extract the juice, then sweeten it, add other fruit juices to it and can it for later use. English photo.

By Cheryl Wixson
Note: Many recipes mentioned in this column are posted at www.mofga.net.
One of the joys of local, seasonal, organic eating is anticipating the bounty of summer. Once the first ruby stalks of rhubarb unfurl and the golden dandelion blossoms beckon, my gastronomical fever quickens. My mouth waters for freshly steamed fiddleheads tossed with farm butter, tender asparagus shoots, crunchy-sweet sugar snap peas, sun-warmed raspberries. It's the start of a whole new season of eating!
This year, everyone has eagerly agreed with my anticipation of summer, just not for the same reasons. I've heard horror tales of last year's tomato crops wiped out by blight, beans eaten by invasions of slugs, and copious amounts of rain. Last season wasn't one of the best, but it did produce food. Some good food. Food that taught me to be more flexible in my cooking and to take full advantage of what was abundant around me. Food that inspired me to create.
Ruby Rhubarb Juice
Take, for example, rhubarb. Last year's growing conditions produced so much rhubarb that a rhubarb-loving group of us started swapping recipes and dabbling in producing rhubarb juice, or "ruby juice."
If you have plenty of rhubarb and other produce, the beverage combinations are a colorful and tasty adventure. Make the juice by cooking chopped rhubarb in water until it's soft, then draining the juice. It varies in color from bright ruby red to soft pink. The taste is too tart to enjoy without sweetening, but either maple syrup or honey work nicely and add a second level of flavor.
To spice things up, simmer cinnamon sticks or whole cloves in the sweetened juice; or try MOFGA member Amanda Beal's idea: Add sprigs of chocolate mint to each jar. Those of us who canned the juice for winter consumption added 2 tablespoons of lemon juice per quart to acidify the product for safety – which, in turn, adds another taste dimension.
Melissa White Pillsbury's recipe for cinnamon-spiced ruby juice mixed with cider and lemon slices for MOFGA's annual volunteer recognition dinner got us started. We canned 8 quarts of ruby juice, some sweetened with honey and some spiced with cinnamon. Russell Libby's family processed 20 quarts. I like ruby juice mixed with cranberry juice served over ice as a refreshing cocktail. Libby suggested combining it with blueberry juice.
This year I'm aiming for 24 quarts. I'll skip the spices, and sweeten half with honey and the rest with maple syrup. I'm dreaming of ruby juice taste testings, ruby juice soup, ruby juice sorbet, rhubarb– apple spiced syrup over ice cream, maybe even ruby juice wine.
Artistic Shades of Greens
Another joy of local, seasonal, organic eating is the diverse colors of the food. I feel like an artist playing in the paint box. Every growing season is different, and each year I look forward to creating with several colors – or perhaps, like last year, primarily with one color: green. Last summer's abundant rain and resultant prolific greens crops honed my artistic "green" culinary skills as we enjoyed the different tastes and textures of dozens of varieties of greens.
Encore braised supper greens added body to the next day's luncheon beef stew. Delicate sautéed spinach was folded into fluffy omelets, kneaded into pasta, and layered with buttery lobster and sheep's milk ricotta in lasagna. Beet greens cooked in bacon fat were tossed with pasta and scallops, kale starred in chicken salad sandwiches, and bok choy tangoed with garlic and herbs in stir-fries. As my creative uses of greens exploded, my husband even accused me of tucking them into a muffin!
Variations on a Crumble Theme
Another strategy we use to enjoy nature's bounty is to create recipes as variations on a theme. Muffins, pancakes and coffee cakes offer a chance to showcase seasonal fruit. You can even pair fresh produce with last season's fruit from the freezer. We enjoy different versions of blueberry-rhubarb crumble made with raspberries, peaches, apples and pears. Cakes and crumbles can be adorned with whipped Jersey cream sweetened with maple syrup, or light custard made with farm fresh eggs, or delicate local orange yogurt made from sheep's milk.
Local, seasonal, organic eating tempts my senses: the smell of new garlic roasting, the snap of fresh beans, fragrant sun-ripened tomatoes, bright orange pumpkins and squash. The ingredients are always changing, there is always a new set of paints to try. It's fulfilling and creative.
Despite the seemingly endless challenges for our farmers and gardeners last year, we were fortunate to have nutritious, good, healthy, safe food from folks we know in the farming and fishing community.
Blueberry-Rhubarb Crumble
This delicious crumble combines Maine wild blueberries with tart rhubarb. Freeze the rhubarb to enjoy this dessert all year. Serves 8.
3 c. fresh or frozen Maine wild blueberries
2 c. diced rhubarb
1/2 c. Maine maple syrup
1/4 c. all purpose flour
TOPPING:
1/2 c. rolled oats
1/2 c. honey
1/4 c. whole wheat flour
1/2 tsp. nutmeg
1/2 tsp. cinnamon
1/4 c. butter at room temperature
Combine blueberries, rhubarb, maple syrup and flour. Spoon into a greased 6- by 10-inch baking dish.
For topping, combine rolled oats, honey, flour, nutmeg and cinnamon. Cut in butter until crumbly. Sprinkle over fruit mixture.
Bake at 350 for 45 to 55 minutes, or until fruit is bubbly and topping is golden brown. Let cool 10 minutes. Serve warm with whipped cream if desired.
Nutritional analysis per serving: 253 calories, 2 g protein, 48 g carbohydrates, 7 g fat, (0 g trans-fat), 48 mg sodium, 3 g fiber.
Cheryl Wixson is MOFGA's organic marketing consultant and volunteers as the Common Kitchen resident chef. She welcomes comments and questions at [email protected] or 852-0899. Follow her local, seasonal, organic eating blog on www.cherylwixsonskitchen.org/