By Roberta Bailey
Once upon a time, but not too long ago, mushrooms were thought of as little white things that added flavor to a dish, but barely had any nutritional value. Rather they were just spongy little morsels that absorbed butter in a very delicious way. But all the while, mushrooms were building a mycorrhizal web through forests and around the planet, connecting plants with more nutrients, sending up fruiting bodies and sequestering carbon in a quiet, world domination kind of way.
Slowly, humans are discovering the dramatic health benefits of mushrooms. Though low in calories and nutritive value, according to the Harvard T.H. Chan School of Public Health, mushrooms are high in polysaccharides, indoles, polyphenols and carotenoids, and cell and animal studies have shown anti-oxidant, anti-inflammatory and anticancer effects of fungi.
The delicious fruiting bodies are quickly gaining much deserved attention. More unique varieties of mushrooms are being cultivated. People are growing mushrooms in ramial wood chip piles and in logs, and in straw mulch in garden rows. A diverse selection of mushrooms is popping up in farmers' market booths and even on supermarket shelves. Shiitake, oyster, chanterelle, lion's mane, enoki, wine caps and so many more absolutely delicious mushrooms are available to consumers. You can now buy kits to grow your own mushrooms on the kitchen counter. The culinary options and flavors are expanding as broadly as the mushroom web beneath our feet. The delicate umami-rich flavors are becoming the central attraction of the meal. Here is a collection of recipes to try with any combination of mushrooms. Explore, gather, experiment.
Summer Jumble
Sauté seasonal mushrooms like chanterelles, or a jumble of assorted mushrooms, in butter or light oil. Season with salt and pepper as desired. Add sweet red pepper, diced finely, and a finely sliced scallion. Sauté until just soft. Add fresh sweet corn kernels, cut from the cob. Cook until corn is done. Adjust seasonings. (Shell beans are also a great addition; add with the pepper and scallion.) Serve warm.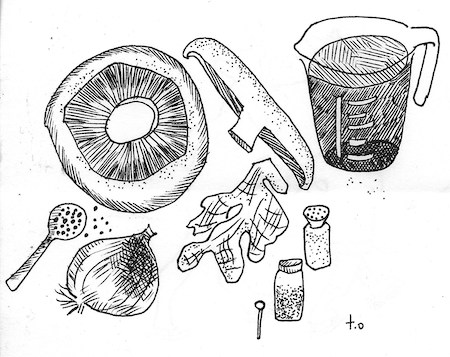 Mushroom Ketchup
Makes 2 quarts
2 lbs. portobello mushrooms or mix of other types
2- to 3-in. chunk of fresh ginger root, thinly sliced
1 small onion or shallot, thinly sliced
3 Tbsp. sea salt
1 c. red wine vinegar
1 tsp. peppercorns
1 tsp. ground allspice
⅛ tsp. nutmeg
4 c. vegetable, chicken or beef broth
In a large mixing bowl, combine the mushrooms, onion, ginger root and salt. Stir until well mixed. Cover and marinate at room temperature for two days. In a 4-quart saucepan, combine the mushrooms and their liquid, red wine vinegar and spices. Bring to a boil over high heat, stir and simmer until the liquid evaporates. Take care not to brown the mushrooms.
Add stock and bring to a boil, then reduce to a simmer. Cook at an active simmer for one hour. Puree mixture to a fine texture similar to ketchup or tapenade. Transfer to small jars. Keeps two weeks in refrigerator or can be frozen for three to four months.
Mushroom Bisque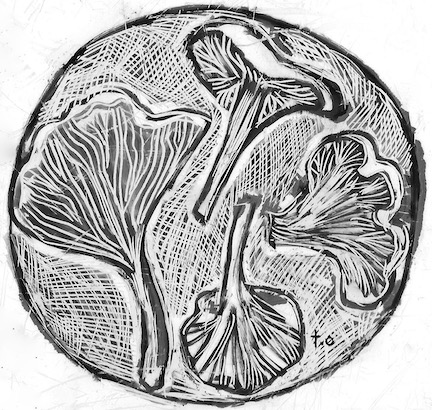 (Adapted from Molly Katzen's "The Moosewood Cookbook")
Makes 7 to 8 servings
2-3 medium potatoes, peeled, chopped small
1 ½ c. vegetable stock or water
2 Tbsp. butter or vegetable oil
1 ½ c. chopped onion
½ c. thinly sliced leeks
½ c. minced celery stalk
1 ½ lbs. fresh mushrooms, thickly sliced (cremini, portobello and others)
2 tsp. salt
1 large clove garlic, minced
⅛ to ¼ tsp. dried or fresh thyme
3 Tbsp. dry sherry or Shaoxing cooking wine (a rice wine for cooking)
2 tsp. tamari
Black pepper to taste
1 c. milk or cream (can be non-dairy)
Minced scallion tops or chives
Cook potatoes until soft. Melt butter in a deep soup pot. Add onion and leek; sauté until soft. Add mushrooms and salt, cook for 10 minutes. Add the garlic and thyme. Remove from heat; stir in the sherry/cooking wine, tamari and pepper.
Use an immersion blender or food processor to puree the potatoes in their cooking water and then puree the mushroom mixture. Add the milk to the mushroom mixture as you puree. Combine the purees in the soup kettle. Stir and heat. Adjust seasonings. The flavors improve with a few hours of time, but the bisque can be served immediately. Add scallion or chives as garnish.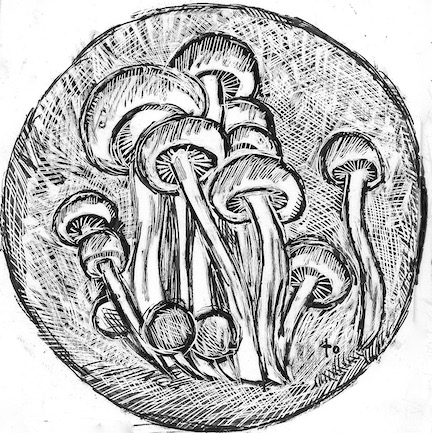 Maine Mushroom Pie
Serves 10. Dairy products can be substituted for unsweetened, non-dairy alternatives.
2 Tbsp. butter
1 fist-sized onion, diced
2 lbs. assorted mushrooms (cremini, white, oyster, shiitake, etc.)
¼ c. dry white wine
1½ tsp. sea salt
Freshly ground black pepper
1 c. Swiss or Gruyere cheese, grated (3-4 oz.)
1 c. Parmesan cheese, grated (3-4 oz.)
2 lbs. gold or white potatoes, peeled and sliced into ⅛-in. rounds
1-2 tsp. thyme leaves, minced
¾ c. whole milk
½ c. cream
In a large skillet, sauté the onion in the butter, stirring until soft. Add half the mushrooms and cook until they have softened, then add the remaining mushrooms and cook another 10 minutes. Some of the mushroom liquid will have evaporated. Add wine and cook four minutes, evaporating most of the liquid. Add salt and pepper.
Combine the cheeses and set aside.
Grease a 13-by-9-inch-deep baking dish. Cover the bottom of the dish with slightly overlapped potato slices, sprinkling them with half the thyme and salt and pepper to taste. Layer in one-third of the cheese and half the mushroom mixture. Repeat the layering, saving 2 to 3 Tbsp. of cheese for the top.
Arrange the last potato slices on the top. Stir together milk and cream and pour over the top. Let sit 30 minutes before baking. Cover loosely with foil and bake one hour. Remove foil and sprinkle with reserved cheese. Continue to bake 20 minutes more. Cool 10 minutes before serving.