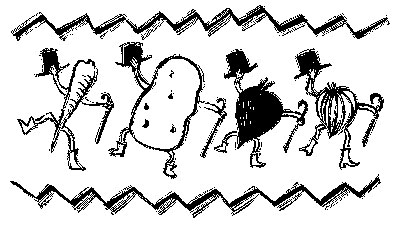 Toki Oshima drawing
By Roberta Bailey
Is your root cellar half full or half empty? Are the apples beginning to feel like those sponge-like Koosh balls? There seems to be a law of nature that as soon as the kale in the greenhouse starts to grow and the pepper seedlings put out their first true leaves, the cabbage puts on its first true layer of slime and the carrots sprout the white hairs of old age.
My onions are starting to smell. The squash that has rested quietly under my bed is starting to talk back. If you have been saving the best for last, always eating the vegetables with the rotten spots, now is your time. Spring is in sight. Out with the old, in with the new. Time to use up the winter produce. Spring greens are just a thaw away. Save a few of last year's potatoes to mix with this spring's greens for a meeting of the two millennia.
Root Cellar Gratin
4 large Yellow Finn or Russet potatoes
1 large celery root
2 large onions
1 c. sliced rutabaga (optional)
olive oil
1/2 t. thyme
salt & pepper
1/2 c. white wine
1/2 c. vegetable or chicken stock
Peel and slice the potatoes, celery root, and rutabaga 1/8-inch thick. Peel and slice the onions 1/4-inch thick; sauté in 2 T. olive oil until golden.
Preheat oven to 375 degrees. Place half the onions in a gratin dish, season with salt, pepper, and 1/4 t. thyme. Layer half the potato, celery, and rutabaga slices over the onions and season with salt and pepper. Make another layer of onions, then the remainder of the potato mix.
Pour the white wine and stock over the vegetables; the liquid should come about half way up. Drizzle generously with olive oil. Season with salt and pepper and the remaining 1/4 t. thyme. Bake covered for 30 minutes. Uncover and press the vegetables down evenly with a spatula, basting the top vegetables. Continue baking uncovered for 30 minutes or until potatoes are soft.
Serves 6.
Beet Salad
2 lbs. beets
1/2 c. shelled walnuts
2 oranges
2 T. red wine vinegar
2 T. orange juice
zest of 1/2 orange
1/4 c. olive oil
salt and pepper
1/4 lb. Belgian endive or any greens
Steam the beets until soft. Cool and slip off their skins. Slice into rounds or bite size shapes. Roast the walnuts on a baking sheet for 5 minutes in a 400 degree oven. Cut the peel and pith off the oranges. Slice the oranges into 1/4-inch rounds.
Make a vinaigrette by mixing together the vinegar, orange juice, olive oil and orange zest. Season with salt and pepper.
Toss the beets with the vinaigrette. Arrange on a plate with the orange slices and the endive or greens. Garnish with the toasted walnut.
Serves 4 to 5.
Alsatian Onion Pie
2 T. oil
3 lg.onions, finely diced
1 c. soy or low-fat milk
1/3 c. firm tofu, crushed by hand
1-1/2 t. salt
1/4 t. pepper
1/8 t. nutmeg
2 T. unbleached white flour
1 T. couscous
1 pie shell in a 10" tart or pie pan
Heat oven to 350 degrees. Heat oil in skillet, add onions and cook until translucent. Blend milk, tofu, salt, pepper, nutmeg and flour in a bowl until smooth. Combine with onion and couscous. Pour into the pie shell. Bake 30 minutes or until firm and browned.
Serves 4 to 6.
Here is a great dressing for livening up the same old vegetables. Try it on thinly shredded cabbage and onions.
Lemon Cream Dressing
(about 1 cup)
1/4 c. sesame tahini
4 oz. silken tofu
zest and juice of 1 lemon
2 t. cider or rice wine vinegar
1 clove garlic, minced
2 T. honey
1 T. white miso
1/4 c. water
Blend or food process all ingredients until smooth.
Curried Winter Salad
Peel and steam 2 lb. potatoes. Cut into bite-sized chunks. Peel and steam 2 lb. firm fleshed winter squash or (unpeeled) sweet potatoes. Finely dice one small onion. Cube the flesh of 1 ripe mango (optional).
Dressing:
1/2 c. mayonnaise
1/2 c.plain yogurt
2 to 3 T. curry powder
2 T. mango chutney (optional)
Mix well. Toss with potatoes and squash. Garnish with chopped scallion or parsley.
Roberta lives in Vassalboro.