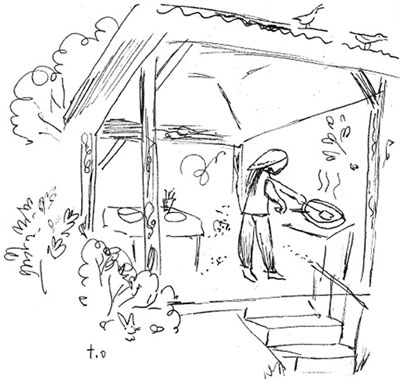 Toki Oshima drawing

By Roberta Bailey

In the pre-dawn hours of a bitter cold February morning, we had a house fire. It is an absolutely surreal process to move through getting everyone out safely, to call 911, to grab coats and a drawer of photographs, a spinning wheel, a computer, then to look around your home as you walk out the door and know that it may well be for the last time, that everything is changing very quickly.

We held each other and watched the fire fighters work, the frosty plumes of our breath mirroring the smoke billowing from the roof.
"Honey," I said, in a high tight voice, "our house is burning."

"I know," my husband responded, "But we will be okay."

"I know," I said and leaned into him.

The next few weeks whirled by in a blur of insurance forms and community support. So many people offered so much. An outpouring of love. A continual balance of gratitude and loss. You don't know what you need. You can barely feed yourself. You curl around each other trying to begin the healing.

Possessions mean nothing anymore, even though you need things to get by. People's generosity makes you cry, because that is all that is really important – the people, the caring for each other. At the same time, you spend hours each night documenting your household losses for the insurance claim. And going through the house, trying to figure out what to do with the stuff that survived, how to keep it from freezing, where to store it … swallowing hard against the wish that it had burned to the ground. It certainly is an opportunity to simplify.

So this summer is a busy one. We are rebuilding. All the people who offered to help are coming to lend a hand on the house or in the gardens, or putting up food in the outdoor kitchen we have set up in our gazebo. One by one, or in groups, the timbers will be raised, the seedlings transplanted as we work and visit together. As one friend observed, "Not many people get to live in a home that they designed and built." I would add that not many get to live in a house molded by friends and family.

And to feed that community, we will be cooking in the gazebo. Summer food; simple, flavor-filled garden fare made to allow plenty of time for all the other things going on, whether it is beach or building, hoeing or hiking.
Grilled New Potatoes and Arugula Salad

1-1/2 lbs. silver dollar-sized new potatoes, washed gently
2 Tbsp. olive oil
2 Tbsp. lemon juice
salt and pepper
1/3 lb. arugula
1/4 c. chives, minced
1/4 c. minced red onion
Dressing
2 Tbsp. olive oil
2 Tbsp. white balsamic or sherry vinegar
1/2 tsp. Dijon mustard
1 large clove garlic, minced and mashed with 1/4 tsp. salt
squeeze of lemon and zest to taste
Slice potatoes in half. Steam them for 10 minutes , then spread them to cool. Season with salt and pepper and toss with the olive oil and 2 Tbsp. lemon juice. Heat the grill. ( You may need to have bigger potatoes or a grill basket.) Grill them until they have finished cooking, about 10 minutes. The closed lid or a baking sheet over them will help. Remove from grill and place in a salad bowl.
Meanwhile mix the dressing ingredients together. Toss with the potatoes, chives, arugula and minced red onion. Add lemon juice, zest and salt or pepper to taste. Serves 4.
Thai Chicken Kabobs
1-1/2 lbs. chicken breast, cut in 1-inch cubes
2 Tbsp. natural creamy peanut butter
1/3 c. tamari or soy sauce
1 Tbsp. minced fresh ginger root
2 tsp. honey
2 cloves garlic, minced fine
1 Tbsp. sri racha hot pepper sauce or 1/2 tsp. cayenne (to taste)
Combine ingredients and marinade overnight in refrigerator. Place cubes on skewers and grill until cooked through. Vegetables such as summer squash, cherry tomatoes, peppers, mushrooms or eggplant lightly brushed with olive oil can be added to the skewers as well. Serves 4 to 5.
Grilled Asparagus
1 lb. asparagus
2 Tbsp. olive oil
sprinkle of salt
lemon juice
grated parmesan cheese (optional)
Toss the asparagus with the olive oil and salt. Place on hot grill and turn every few minutes until tender. Remove and drizzle with lemon juice. Sprinkle with cheese if desired. Serves 3 to 4.
Grilled Corn on the Cob with Chili-lime Butter
8 ears corn in husks
1/2 c. butter, room temperature
2 tsp. chili powder
1/4 tsp. ground cumin
juice of 3 limes
salt and pepper
1/2 to 1 c. feta cheese, crumbled
Heat the grill to medium heat. Grill the corn in husks, about 3 minutes per side. Corn husks will be blackened and inner ones will be soft.
Mix the soft butter with the chili powder, cumin and lime juice. Add salt and pepper as desired.
Once corn is cooked, peel back the husks and rub with chili butter mixture. Garnish with feta cheese. Serves 6.
Chipotle Burgers
1 lb. ground beef
1/2 lb. ground pork
2 cloves garlic, minced
1/2 c. minced onion
1/2 c. minced green pepper
1 roasted poblano pepper, peeled and finely chopped (optional)
1/4 tsp. salt
1 to 2 tsp. chipotle powder
Mix all ingredients together and grill to desired doneness.