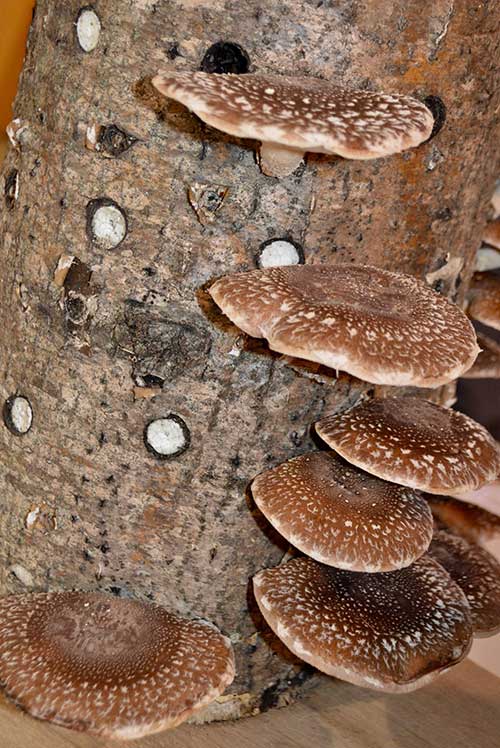 These shiitake mushrooms grown by Toshio Hashimoto of Rumford won a judges' award in the Exhibition Hall at the Common Ground Country Fair. English photo
By Roberta Bailey
Mushrooms have come into the spotlight lately. They are strutting their stuff. Once they were thought of as just another white food, flavorful and filling but void of much nutrition. Now they are the king of umami. We have learned that they are rich in minerals and antioxidants, vitamin D, selenium and folates, all of which interact and manifest in the body as anticancer properties. And they wrap the earth in a vast and beneficial interconnected mycorrhizal web.
In Maine, mushroom cultivation is spreading like its mycorrhizae. Farmers inoculate piles of shredded wood or straw with mushroom cultures. Shiitakes sprout from plug-filled logs. People grow bags of them on counter tops. Wild foraging proves bounteous in the Maine woods. To find a chicken of the woods growing in layered shelves on a hardwood means a freezer full of mushrooms for winter. We have even pickled them.
Farmers' markets offer a wide array of locally grown mushrooms with rich and varied flavor profiles. The store shelves offer portabella, cremini, oyster and combination packs of mixed wild mushrooms. Liven up your dinner tonight with richly flavored, health giving, locally grown mushrooms.
Mushroom Kale Bread Pudding
1 lb. loaf of crusty coarse white bread, cut into 1-inch pieces (12 cups)
10 Tbsp. olive oil, divided
Salt and freshly ground pepper
1-1/2 lb. portabella, cremini or other mix of mushrooms, trimmed and thinly sliced
1 medium onion, finely chopped
4 to 5 cloves garlic, minced
1 c. dry white wine
2 c. thinly sliced kale
2 c. Gruyere or swiss cheese, cut in ¼-inch strips (8 to 10 ounces)
10 large eggs
2 c. vegetable or chicken broth
1 c. milk (or substitute more broth)
1 c. cream (or nondairy substitute)
3 Tbsp. whole grain mustard
Heat the oven to 350 F and place a rack in the middle.
In a large bowl, toss the bread with 3 Tbsp. olive oil and 1 tsp. salt. Spread the bread on a baking sheet and bake for about 10 minutes. Stir the bread and bake for another 10 minutes, until golden brown.
In a 12-inch frying pan, heat 4 Tbsp. olive oil. Add the mushrooms, onion, garlic and ¼ tsp. salt (unless your broth is very salty, then add none) and ½ tsp. freshly ground pepper. Stir, cook, and stir frequently, until the mushrooms release their water (3 minutes). Continue to cook and stir until the water evaporates (6 to 8 minutes). Add the wine. Scrape the bottom of the pan to release the browned juices. Add the kale and stir until wilted. Remove from heat.
Coat a 9-by-13-inch baking dish with the remaining 3 Tbsp. olive oil. Mix the bread and the mushroom mixture together. Spread in the greased baking dish. Layer half the cheese on top. Whisk the eggs in a bowl, add the broth, cream, milk, mustard and more pepper if desired. Pour the egg mixture evenly over the bread mixture. Cover and refrigerate for 1 hour. (Can be kept in fridge up to 24 hours.)
Bake at 350 for 45 minutes. Add the remaining cheese to the top, then bake for another 15 minutes. Remove from oven, cool for 15 minutes, then serve warm. Serves 10.
---
Mushroom Clam Sauce on Pasta
3 Tbsp. olive oil
2 Tbsp. butter or more oil
1 small onion, finely diced
1 lb. mixed mushrooms – portabella, porcini, crimini, shiitake or wild mushrooms, washed and chopped
3 cloves garlic minced
1 qt. raw shelled clams, or canned clams
1/2 c. white wine
Fresh parsley, finely chopped
Pasta
In a deep saute pan, melt the oil and butter. Saute the onion for 2 to 3 minutes. Add the mushrooms and saute until soft. Add the garlic and saute for 2 minutes. Add the clams and cook until the liquid is reduced by half or bit more. Add the white wine and simmer for 3 to 5 minutes. Serve over pasta. Garnish generously with parsley. Serves 4.
---
Roasted Mushroom Soup
1 lb. fresh mushrooms – portabella, chanterelle, oyster or a wild blend
2 tsp. olive oil
2 medium onions, diced
2 cloves garlic, minced
1/4 tsp. dried thyme
1 tsp. rosemary
3 Tbsp. white wine or dry sherry
5 c. stock, vegetable or chicken (may substitute cream for up to half of stock)
Salt and fresh pepper
Crème fraiche or yogurt
Preheat the oven to 400F.
Clean the mushrooms with a moist cloth or brush. Cut them into chunks.
Grease a large roasting pan with 1 tsp. olive oil. Spread the mushrooms, onion and garlic in the pan and toss with 1 tsp. olive oil. Roast for 20 minutes, until vegetables are tender. Remove the vegetables and pour the wine or sherry on the pan while scraping off any juices or bits. Add the stock and herbs. Let sit for 5 minutes.
Transfer the vegetables and stock to a blender and puree in batches, or use an immersion blender. If chunks are desired, reserve some mushrooms and add them to the puree. Add salt and pepper to taste. Serve with a dollop of crème fraiche or creamy yogurt and crusty bread. Serves 4 to 5.
---
Mushrooms in Soy Sauce
(Makes about 2 cups)
6 Tbsp. Japanese soy sauce or tamari
1/2 to 1 tsp. Korean-style chili flakes
2 Tbsp. light brown sugar, maple syrup or honey
3 Tbsp. unseasoned rice vinegar
About 1/3-inch fresh ginger root, finely grated
1 small clove garlic, minced
Scallion tops, thinly sliced
1 lb. cremini or shiitake mushrooms, cleaned, trimmed and sliced
Bring a large pot of 2 to 3 quarts of water to a boil. Cook the sliced mushrooms in the boiling water for 30 seconds. Remove, drain and pat the mushrroms dry on a clean towel. Mix the soy sauce, chili flakes, sweetener, vinegar, ginger root and garlic together. Add the mushrooms to the marinade and stir to mix well. Allow to rest at room temperature for 1 hour. Garnish with scallion. Serve as a side dish or as a pickle. Keeps up to a month, covered and refrigerated.
About the author: Roberta has been cooking up delicious columns and other articles for The Maine Organic Farmer & Gardener for 35 years.