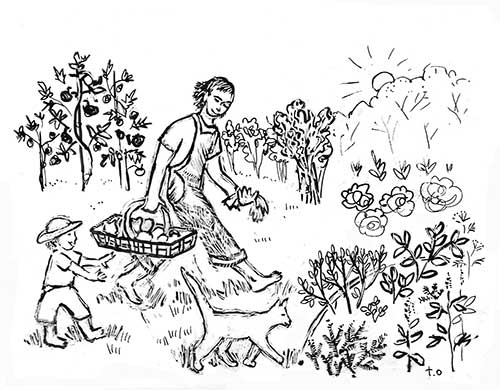 Toki Oshima illustration
By Roberta Bailey
I have been thinking about cycles. Maybe I am always thinking about cycles. As soon as the weather turns colder in September, I start to crave winter squash. And late June has me watching the baby summer squash, balancing my urge to pick it and eat it with the desire for a slightly bigger feast if I wait another day or three.
I lose my taste for tomatoes by late September, when they lose their sweetness. And once the field plots and the house garden are put to bed, often in late November, I can't think about gardening or make plans for the next season. But every January, maybe because of the slight increase in daylength, or because I'm getting just enough rest, I get excited for the next growing season. I'm excited about seed catalogs, new varieties and new growing strategies. I'm looking forward to the sweet rewards of another summer, another chance at getting it right.
Last year brought the death of my father at 93 and the birth of my first granddaughter. My father was the last of my elders to pass. There are no other family members older than my siblings and me now. Overnight, we became the elders. So much comes with that reality: a bit more calm and patience, some wisdom and an ever-pressing value of the time left in a life; the need to make it count; the ever-repeated question of what is important to accomplish; and an awareness of how quickly the seasons of a lifetime have already passed.
I remember my mother, then in her 60s, reflecting that she would never climb Mt. Katahdin again. I, in my late 30s, was so struck by the novel concept of never being able to do something again. I knew no such limits.
Now, although I am still able-bodied and really not that old, I know that concept. And I cultivate the grace to accept and move on. There is a cycle within each day. Time to work hard, and time to rest, time for creative ventures. A tired body allows for permission to sit in the afternoon shade and stitch or read or knit or write. Where was this balance when I was taking in a hay crop as the sun set on a long summer day? We packed in so much work.
And a granddaughter, a bit of sweetness, of immeasurable love, that is already shifting all my life cycles, making me drop everything in order to hold her to my chest and feel her heartbeat. The face that launched a thousand journeys. The reason to keep growing good food.
Every year I assess what will be my work, what will I let go of in trade for time in the shade, time with a grandchild. Growing my food is quintessential. I hope to always be able to eat vibrant food. You can't buy the fullness of flavor that comes with walking into the backyard and picking the vegetables that will be eaten within the hour. That is the true sweetness of life.
Here are some recipes to make and share with your community, your family.
Ginger Salsa Verde
Makes 2 1/2 cups. Spice up roasted root vegetables or protein.
1 large bunch cilantro, stems trimmed mostly
1 Tbsp. drained capers
2 tsp. fresh thyme leaves
1 tsp. dried marjoram
1 large clove garlic, finely minced or mashed
1/2 jalapeno pepper, seeded and minced
1/2 c. olive oil
2 tsp. red wine vinegar
1 tsp. grated lemon zest
Salt and freshly ground pepper to taste
Blend all but the zest and the salt and pepper in a food processor until finely chopped but not a paste. Stir in the zest. Season to taste with salt and pepper. Keeps up to two weeks in the refrigerator. Drizzle over roasted vegetables or anything that needs some spring brightness.
Nutty Hummus
Makes 2 cups. Great with pita, chips, roasted shrimp, carrots or apples.
1/4 c. olive oil
4 cloves garlic, minced
2 c. walnut pieces, toasted
Grated zest and juice of 1 lemon
1 tsp. ground turmeric
1/8 to 1/4 tsp. ground cumin
1 Tbsp. white miso (optional but recommended)
1/2 c. plain thick or Greek yogurt
Salt and pepper to taste
In a small saute pan, heat the olive oil, then add the garlic and saute for 1 to 2 minutes, stopping before the garlic browns at all. Remove from heat and cool to room temperature. Combine the remining ingredients and the garlic/oil in a food processor, blending to a smooth paste. Season with salt and pepper to taste. Serve or refrigerate for up to 10 days.
Rooty Slaw
Serves 4.
2 c. peeled and shredded raw red beets (If you prefer not to eat raw beets, steam or roast them, then julienne them into very fine matchsticks.)
2 c. grated carrots
2 c. finely shredded cabbage
3 to 4 scallions, thinly sliced
1/2 c. toasted sunflower seeds
1 to 4 Tbsp. chopped parsley
Combine all ingredients except the sunflower seeds and parsley, and toss well. Add vinaigrette (recipe below). Adjust salt and pepper to taste. Mix in seeds and parsley before serving.
Orange Vinaigrette for Root Slaw
1/4 c. white balsamic or white wine vinegar
1 Tbsp. minced shallot
Salt and pepper
2 Tbsp. finely chopped hazelnuts or walnuts
1 tsp. grated orange zest
2 Tbsp. fresh orange juice
1 tsp. Dijon mustard
1/2 c. sunflower or vegetable oil
1/4 c. olive oil
Whisk together all ingredients except the oils. Slowly drizzle the oils into the mixture while vigorously whisking. Mixture should thicken and emulsify. Drizzle over the slaw and toss. Serve chilled or at room temperature.
Asparagus Soup
Serves 4-5.
2 lbs. asparagus spears
3 Tbsp. butter
2 to 3 leeks, chopped into rings, using just white and light green parts
1/2 tsp. salt
6 c. vegetable or chicken stock
1 Tbsp. fish sauce or white miso
1/2 c. cream (optional)
freshly ground pepper
1/2 tsp. lemon zest
1 Tbsp. chopped parsley
Parmesan cheese, grated
Snap or cut the asparagus into 1-inch pieces, setting aside the tips. Melt the butter in a soup pot. Saute the leeks for about 3 minutes. Add the remaining asparagus stems to the pot. Add the salt and stock. Simmer until the asparagus is tender. Add the miso or fish sauce. Blend the soup to a smooth puree. Stir in the cream, if using. Season with salt, pepper, lemon zest. Add parsley.
Quickly steam the asparagus tips until just tender and chill them under cold water. Garnish the soup with asparagus tips and grated Parmesan cheese.