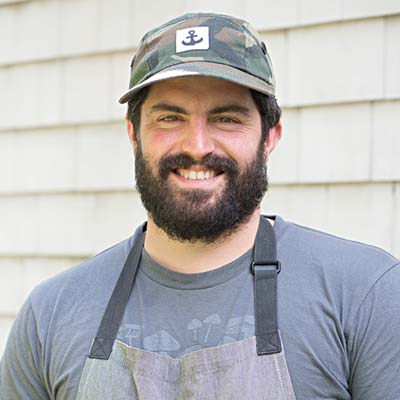 Frank Giglio. Photo by Lynn Karlin
By Roberta Bailey
We are in the short, dark days of winter, a time for reflection as well as a time for revelry; a time to hunker down, a time to read, as well as a time to sharpen the skates, wax the skis, strap on the snowshoes, bundle up the kids and haul the toboggan up the hill. It is a time for deeply satisfying winter foods, such as soups, stews, cornbread and pie. It is a time for making festive creations to share with family and friends.
The recipes in this Harvest Kitchen column were created by Frank Giglio of Three Lily Provisions in Thorndike, Maine. If you have had the opportunity to dine at an event catered by Three Lily, you know that Giglio elevates local foods to the level of the divine. He has a true gift, and his recipes below are a gift to brighten your winter nights.
Giglio is a chef, caterer, teacher, wild forager and gardener in pursuit of perfect flavors. Three Lily Provisions focuses on catering events from small dinners to 125-guest weddings. His creations highlight the full, fresh flavors of the farm field, forest and sea while adding the perfect notes to create a magical dance on your palate.
Giglio also teaches. Last fall he taught a cheese making class at MOFGA's Unity site and a fermentation workshop at MOFGA's Common Ground on the Town educational site at 769 Congress Street in Portland. He teaches online classes as well.
In the past he has created value-added products such as sauerkraut, hot sauces, elder syrup and herbal seasoned salts. Now he is looking at mobile units for his catering business. In the future, look for him behind the counter of his travel rig and keep an eye out for his local catered events.
Upgraded Bone Broth
2 lbs. grass-fed beef bones or chicken carcasses
a splash of apple cider vinegar
4 c. vegetable scraps (onion peels, tomato, celery, carrot, etc.)
2 strips dried kelp or kombu
a handful of dried mushrooms (turkey tail, reishi, shiitake, chaga or other medicinal mushrooms)
1/4 c. medicinal herbs (astragalus, ashwagandha, nettle root, etc.)
2 bay leaves
1 Tbsp. black peppercorns
3 or 4 garlic cloves
2 tsp. dried thyme
1 gal. water
Preheat the oven to 375 F
Place the beef bones on a sheet pan. Roast in the oven until well browned, drain the fat, then transfer to a heavy-bottom stock pot. Add the remaining ingredients, including the vinegar. (This step can be skipped, although it makes for a richer tasting stock.)
Pour in 1 gallon of cold water. Let stand for 10-15 minutes before gently raising the heat, and bring the water to just under a boil. Lower heat and simmer for 8-12 hours. While simmering, skim off any discolored foam that rises to the top.
Remove the pot from the stove and carefully strain through a cheesecloth or fine-meshed colander. Cool the stock immediately in an ice bath; then store it in a glass jar in the fridge. Use within three to four days or freeze in appropriate containers.
Fermented Cranberry Chutney
1 lb. (about 4 c.) fresh cranberries
1/2 c. honey or maple syrup
1 tsp. sea salt
1/2 c. whey, sauerkraut juice or kombucha
1/2 c. fresh apple cider
2 Tbsp. apple cider vinegar or freshly squeezed lemon juice
1 Tbsp. freshly minced ginger root
1 tsp. ground cinnamon
Rinse the cranberries and then place them in a food processor. Pulse to break them into smaller pieces. Be careful not to over-process; you want some texture.
Place the cranberries in a bowl and stir in the remaining ingredients. Pack the sauce into a 1 quart jar and pack down so that the liquid covers the berries. Screw a lid on, place the jar in a warm spot in your kitchen, and let it ferment for 24 to 48 hours. Refrigerate and use within three months.
Sweet and Spicy Winter Squash
1 3- to 5-lb. butternut squash, peeled, seeded and cut into 1-inch chunks
2 crisp apples, peeled, cored and cut into 1-inch chunks
2 to 3 Tbsp. melted butter
1 tsp. ground cinnamon
a pinch of cayenne or chipotle pepper
sea salt to taste
1/4 c. maple syrup
1/4 c. toasted and chopped pecans
Preheat oven to 350 F. Spread the prepared squash and apples in a baking dish. Stir in the butter, salt and spices.
Bake for about 20 minutes or until the squash is tender. Remove from the oven and allow to cool slightly. Transfer the ingredients to a food processor and blend, adding in the maple syrup, until smooth and silky. Fold in the pecans and serve alongside your preferred protein and vegetables.
Buttercup Curry
2 Tbsp. rendered lard
1 c. diced yellow onion
1 Tbsp. minced ginger
2 garlic cloves, sliced
1 lb. carrots, roughly chopped
2 lbs. peeled, chopped buttercup squash (or any winter squash you love)
sea salt to taste
1 lime
For the "coconut-almond milk"
3 c. shredded coconut
6 c. water
8 oz. almond butter
2 tsp. turmeric
1 tsp. ground cumin seed
1/2 tsp. cayenne
1/2 tsp. freshly cracked black peppercorns
1/4 tsp. ground cardamom
Blend the shredded coconut and water for 30 seconds. Pour the milk through a strainer, using a rubber spatula to help push all the liquid through the coconut mass. Pour the "milk" back into the blender, add the almond butter and spices, then blend again to mix the ingredients evenly. Set aside.
Heat a large stock pot, add the lard, then sauté́ the onions, stirring occasionally until soft and translucent. Stir in the garlic and ginger, cooking until the aromas fill the air.
Add the chopped squash and carrot, and then continue to cook for just a few minutes – enough time to meld all the ingredients. Pour in the almond-coconut cream along with an additional 2 cups of water and bring to a simmer. Reduce the heat to medium and let the soup slowly cook and thicken as the squash and carrots break down – about 25 to 30 minutes. As the soup thickens, you may need to add a touch more water. Use your judgment.
Taste, check for seasonings, and then add a squeeze of lime to add a little brightness to the rich, creamy soup. Serve with toasted almonds, pumpkin seeds or shredded coconut.
Roasted Squash Salad with Mixed Greens and Herbs
1 acorn squash, cut in half, seeds removed, then cut into wedges
2 to 3 Tbsp. rendered lard or olive oil
a sprinkle of sea salt
1 c. parsley leaves
2 c. baby kale, spinach or arugula
1/4 c. dried cranberries
Sunflower Sauce
1 c. toasted sunflower seeds
2 Tbsp. apple cider vinegar
1/4 c. olive oil
1/4 to 1/2 c. water
1 tsp. fresh sage
1 tsp. sea salt
Preheat the oven to 350 F.
After slicing and removing the seeds from the acorn squash, place the wedges on a baking dish, coat with fat, sprinkle with sea salt and bake for about 25 minutes or until soft.
While the squash is cooking, make the toasted sunflower seed sauce by blending all ingredients in a high speed blender until smooth and creamy, using as much water as needed to reach desired consistency.
To serve, arrange a layer of parsley and greens on a patter and then top with the acorn wedges. Liberally drizzle the squash and greens with the sauce and then top with a sprinkle of dried cranberries.