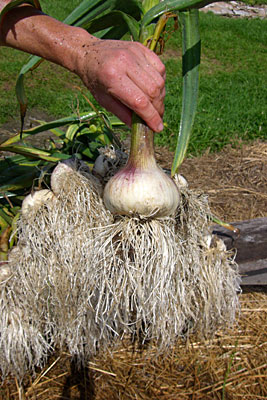 'Phillips' garlic grown by Roberta Bailey. Rob Lemire photo.
By Roberta Bailey
For me, the Common Ground Fair is a continuing conversation that winds through each day and back over 30 years or more. As a celebration of rural living, it draws together many creative minds, and I try to keep my days open enough that I have ample time to wander among them, the threads of conversations weaving into an intricate organic tapestry. There are friends to catch up with and new people to meet, questions to be answered, skills to be learned, vegetables to be marveled over, and food to be tasted – all scented with an overlay of 'Sweet Annie' and festooned with garlic.
Fall is garlic time. This year's harvest ran about two weeks early, which was the case for many crops. (I had one week when I was harvesting late strawberries, summer raspberries, sour cherries, black raspberries and gooseberries, and I glanced at the highbush blueberries and saw that they were turning blue, too. No complaints, but their internal clocks were ahead of mine, and I'm just catching up.)
The fat garlic bulbs came out of the ground in the mid-July heat. I started living on steamed vegetables (especially new potatoes) and aioli, pesto and bruschetta. All are simple foods easily made without heating up the house too much.
The cloves of fresh new garlic are so white and tender. They melt into toast when rubbed onto it. They inspire pasta meals built around olive oil and whatever vegetables are fresh from the garden – broccoli, cauliflower, raab, zucchini.
Add locally made cheeses or Parmesan, and you have a feast that gourmet restaurants can only dream of creating.
The flavor of garlic can be delicate or strong. Garlic purists prefer chopped or minced garlic to the sodden pulp from a garlic press, which cannot even be sautéed properly. For a delicate presence in a dish, sauté chopped garlic in oil so briefly that it does not brown at all, then add the other ingredients, allowing the flavors to meld as in a tomato sauce.
When sautéing garlic, the deepest color you should allow is a pale gold.
The darker the sautéed garlic, the bitterer or more harshly pungent it becomes. A few dishes require the stronger flavor, but most support the delicate flavors best.
For a garlic flavor without garlic pieces, mince the garlic, then, with the flat of your knife, mash some salt into the garlic until it is a smooth paste. This can be added to oil for sautéing or salad dressing. The salt carries the garlic flavor into the oil. Any pulp can be removed.
Aioli (Garlic Mayonnaise)
Aioli can be served as the centerpiece of antipasti or as a meal with cold potatoes, green beans, tomatoes, many other raw or lightly steamed vegetables, hard-boiled eggs, fish and meat. It can be added to soups as sour cream sometimes is. It is great with a Mediterranean style fish stew.
4 cloves garlic, minced
2 egg yolks
1 c. extra virgin olive oil
2 tsp. lemon juice
1/8 tsp. salt
ground black pepper to taste
Have all ingredients at room temperature. In a medium bowl, beat egg yolks well with a wire whisk or a blender on low speed. Add the garlic and salt. Very gradually add oil in a thin stream, beating constantly until light and creamy. Add the lemon juice as the sauce thickens. It should be the consistency of stiff sour cream. Season with pepper or even 1 Tbsp. Dijon mustard, if desired. Refrigerate. Makes about 1-1/2 cups. Keeps four to seven days. If your emulsion "breaks," whisk an egg yolk in a bowl, then VERY slowly add the broken aioli to it in a very thin stream. Do not attempt to make aioli in a thunderstorm, as it will not bind.
Basic Bruschetta
6 cloves garlic
12 slices good, thick crusted bread, sliced 1/2 inch thick and cut 2 to 4 inches wide
extra virgin olive oil
salt and freshly ground black pepper
Before peeling, mash the garlic cloves with the hard press of a heavy knife handle, just enough to loosen the peel. Remove the peel. Toast, broil or grill the bread to a golden brown on both sides. While the bread is still hot, rub one side with the mashed garlic. Place on a plate or platter, garlic side up, and drizzle with a light stream of olive oil.
Sprinkle with salt and pepper and serve warm.
Tomato Bruschetta
6 ripe plum tomatoes
6 to 10 basil leaves
Chop the tomatoes to 1/4-inch dice. Mince the basil and mix it with the tomato. After rubbing garlic on the bread, top each bruschetta with the tomato basil mixture, drizzle with olive oil and season with salt and pepper.
Serve warm.
Toaster Oven Pizzaretta Bruschetta
Make basic bruschetta in a toaster oven. After rubbing garlic, add thinly sliced, fresh mozzarella, tomato, Greek olives or your favorite topping. Return to toaster oven and heat until the cheese melts.
Roasted Eggplant with Garlic Puree
Great on bruschetta, pita or sandwiches
1 large eggplant (about 1-1/2 lb.)
2 to 3 large cloves of garlic, slivered
juice and zest of 1 lemon
1 Tbsp. olive oil
1 to 3 tsp. minced parsley or cilantro
salt and pepper to taste
1 Tbsp. Greek or thick yogurt
Preheat oven to 375 degrees. Cut eggplant in half. Make slits in the flesh and insert the garlic slivers. Rub the halves with olive oil. Bake until soft, about 40 minutes. Place cooked eggplant in a colander to drain for 30 minutes. Scrape pulp and garlic out of the skin. Chop or coarsely puree the pulp. Stir in the remaining ingredients. Adjust seasonings. Serve in a bowl. Garnish with parsley, cilantro or chives. Makes 1 cup.
Roasted Sweet Pepper Sauce with Garlic and Basil
4 thick-fleshed bell peppers, red and yellow or orange
15 to 20 fresh basil leaves
3 Tbsp. extra virgin olive oil
4 to 6 cloves garlic
salt
2 Tbsp. butter
3/4 c. freshly grated parmigiana-reggiano cheese
1 lb. rigatoni, ziti or penne pasta
Wash the peppers in cold water. Cut them lengthwise and remove seed and pith. Peel the peppers with a vegetable peeler. Cut the peppers lengthwise into strips about 1/2 inch wide. Then cut the strips in half for shorter pieces. Tear the basil into small pieces.
Cook the pasta until tender but not mushy.
Put olive oil and garlic in a large sauté pan and turn to medium heat. Cook the garlic until light nut brown. Remove the garlic. Turn heat to high and add the peppers. Cook for 12 to 15 minutes, stirring frequently, until tender
but not mushy. Salt to taste. In a separate pan, melt the butter.
Toss the peppers with the drained pasta, butter, Parmesan cheese and basil leaves. Serve at once.
Green Beans with Parmesan/Feta
1 lb. green beans
2 Tbsp. butter
2 Tbsp. olive oil
2 to 4 cloves garlic, minced
salt
1/4 to 1/3 c. freshly grated Parmesan cheese or crumbled feta
Wash and trim the green beans. Sauté the beans in a skillet with the oil until bright green. Add the butter and garlic. Toss and sauté for 1 minute. Remove from heat. Add the Parmesan or feta and toss. Salt to taste. Turn onto a platter and serve. Serves 6.