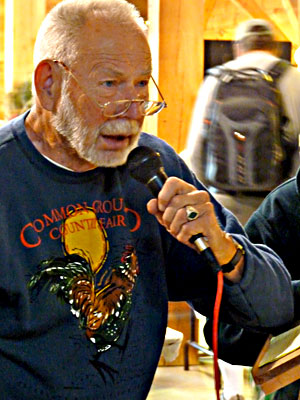 Sam Birch grows more than 100 varieties of beans and displays them at the Common Ground Country Fair Exhibition Hall each fall. English photo.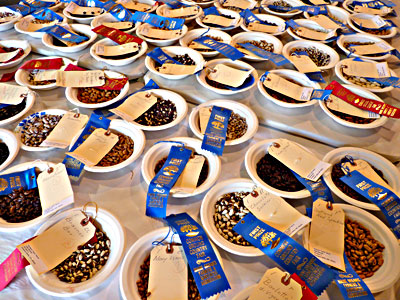 Dry beans at Common Ground's Exhibition Hall. English photo.
By Roberta Bailey
"Beans, beans, the magical fruit … " I have been thinking that Jack (of beanstalk repute) wasn't so crazy after all, that there is a lot of magic in beans. This fall, while harvesting my pole bean seed, I shelled some 'Scarlet Runner' beans into my hand. The large beans shone pinkish purple with black splotches. Their beauty filled me with awe. As I shelled more, filling my pockets, I thought of Jack. I would trade the family cow for these beans. I was already taken in by their magic.
Anyone who has seen Sam Birch's display of more than 100 bean varieties in the Common Ground Fair Exhibition Hall has been taken in by the magic of the simple bean. This fall I stood by the display and watched people trying to resist the urge to touch them, all while gasping, "Ooh, look at this one!" or "Wow, what is that one called?" The beans pull us to them. We want to take them home and plant them. Maybe this is the plants' way of manipulating humans into perpetuating their species.
I used to pack seed for a seed company. When packing large seed such as beans, I would pour 40 or 50 pounds into a box. I always ended up sinking my hands and sometimes my entire arms into the beans. The sensation is very soothing. Once, after a stressful day, I sank my face into the beans. The transition was magical.
While packing, I got to thinking how few people these days get to experience the sensation of sinking their hands into a large amount of seed. Maybe one can do so at a health spa, but few grow that much food or seed anymore. So every year now I set aside 70 or 80 pounds of bean seed to take to the Common Ground Fair, where Fedco Seeds puts out two bushel baskets filled with two kinds of colored beans and a sign that says, "Yes, please do touch. " Kids sit in the baskets and pour beans over each other; adults sink their hands in while talking to each other; many a soup is mixed; many a bean goes home in clothing; a carpet forms on the trampled grass. Smiles and laughter grow from those magical beans.
This winter I cooked more beans. I was reminded of the subtle differences in flavor and drastic differences in texture among varieties – and (no surprise) how much more flavor homegrown beans have. I must say, though, that Maine has a lot of quality locally-grown dry beans available from farmers, markets and health food stores.
Dry and shell beans are an easily grown source of protein (as high as 30 percent). They take some forethought, as they need to be soaked. I got into a routine of soaking 3 or 4 cups of them overnight and pressure-cooking them the next day. From the start of venting the pressure valve, all but the largest beans cook within 45 minutes. They can also be boiled, in enough water to cover them, for about two hours, or until soft.
I put some cooked beans in the refrigerator and a few quarts in the freezer so that they're readily available – at a fraction of the cost of canned beans … and with no nasty bisphenol A from cans.
Here are a few recipes from this winter. Experiment with different beans for different flavors and textures.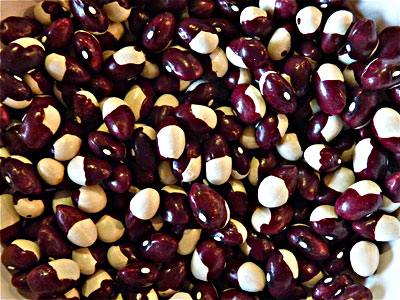 'Beautiful' dry beans grown by Herbert "Sam" Birch of Coopers Mills, Maine. English photo.
Radicchio and Warm Cranberry Bean Salad
2 lbs. fresh or 1 lb. dried Vermont cranberry beans, cooked
1 lb. radicchio (long, if available, or round; or Belgian endive)
1/4 c. minced chives
sea salt
extra virgin olive oil
red wine vinegar
freshly ground black pepper
If using fresh beans, shell them and place them in a pot with water to cover. Simmer for 45 to 55 minutes. They should be warm for the salad. If using dry beans, follow directions in the introduction, above.
Shred the radicchio or endive into 1/4-inch-wide strips. Mince the chives. Drain the beans and mix them with the radicchio in a salad bowl. Add salt and chives. Toss. Add oil, vinegar and pepper to taste. Toss and serve. Serves 4 to 5.
Any Bean Gratin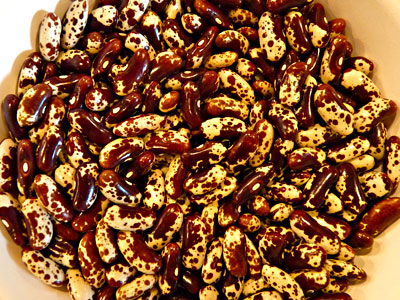 'Brown & White Delight' grown by Sam Birch. English photo.
1-1/2 c. dry beans
salt
1/3 c. diced onion
1/3 c. diced carrot
1/3 c. diced celery
2/3 c. olive oil
5 cloves garlic, thinly sliced
6 leaves fresh sage, rosemary or parsley, or a mix
3/4 c. chopped tomato, fresh or canned
1/2 c. breadcrumbs
Soak and cook the beans. If time allows, let them cool in their liquid. Dice the onion, carrot and celery. Slice the garlic and chop the herbs. Heat a heavy-bottomed pan and add 1/3 c. of the olive oil. Sauté the vegetables until tender, about 10 minutes. Add the garlic and herbs. Cook for 5 minutes and then stir in the tomatoes. Taste and add salt as needed. Drain the beans, reserving the liquid. Mix the beans with the vegetables, add salt to taste, and place them in a medium-sized oiled baking dish. Drizzle with the remaining olive oil. Add enough bean liquid to almost cover the beans. Sprinkle on the breadcrumbs. Bake for 40 minutes at 350 F. Add liquid if beans start to dry out. Serves 5 to 6.
White Bean and Winter Squash Soup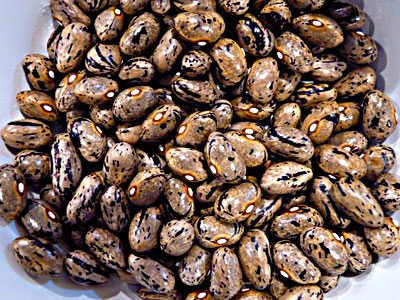 'Serene' dry beans grown by Sam Birch. English photo.
1/2 c. dried navy pea or small white beans
1/2 tsp. dried sage or 3 fresh leaves
1 peeled garlic clove, left whole
1 bay leaf
1/4 tsp. thyme or 2 fresh sprigs
5 to 6 c. water
1 large winter squash for 3 to 4 c. cubed squash
2 Tbsp. olive oil
3 leeks, white only, quartered and cut into 1/4-inch pieces
2 stalks celery, diced
2 cloves garlic, minced
1 Tbsp. nutritional yeast
1/4 tsp. dried sage
1/2 tsp. salt
ground pepper
3 Tbsp. chopped parsley
4 c. vegetable or chicken soup stock
2 c. bean cooking water
Cook the beans in the water with the sage, whole garlic clove, thyme and bay leaf. Drain, saving the cooking water but removing the herbs.
Cut the peeled winter squash into 1/2-inch cubes. Warm the oil in a large soup pot. Add the squash and vegetables, garlic, nutritional yeast, sage and salt. Stir to coat and cook for 10 minutes. Pour in the stock and cooking water from the beans. Bring to a boil and simmer for 1/2 hour, until the squash is soft. Puree all or slightly mash the squash. Add the beans and cook for 10 to 15 minutes. Add salt as needed and a lot of black pepper. Serve garnished with fresh minced parsley. Serves 6.
Black Bean and Pepper Salad
Kids love playing in the baskets of dry beans at the Fedco booth at the Common Ground Fair. English photo.
1 1/3 c. dried black beans
1 bay leaf
1/4 tsp. thyme
1/2 tsp. oregano
1 small onion, finely chopped
1/2 to 1 tsp. salt
Vinaigrette (below)
1/2 c. each red, yellow and green sweet pepper, cut into small squares
1 small red onion, diced
1 stalk celery, cut into small squares
1/4 c. chopped cilantro or parsley
Soak the beans overnight. Pour off the soaking water and cook in a pot with water to cover, adding the herbs, onion and salt. Cook for 45 to 60 minutes, until soft. Drain the beans.
Add the vinaigrette (below) to the drained beans while still warm. Then add the peppers, red onion and celery. Allow to cool before adding the cilantro or parsley. Fold everything together and adjust the seasonings. Add more hot pepper for a spicier salad if desired. Chopped avocado is also a nice last-minute addition.
Vinaigrette with Cumin and Mint
2 Tbsp. lemon juice (can use half orange juice)
1 tsp. lemon or orange peel, grated
1 Tbsp. white balsamic or sherry vinegar
1 clove garlic, minced
1/4 tsp. cumin powder
1/4 tsp. coriander powder
1/4 tsp. paprika
1/4 tsp. salt
1/4 tsp. freshly ground black pepper
6 Tbsp. olive oil
1 Tbsp. minced mint leaves
1 Tbsp. minced cilantro or parsley
1 jalapeno hot pepper, minced (optional)
Whisk all ingredients together. Taste to adjust salt.
Pea or Bean Hummus
I use homegrown soup peas or any bean I have on hand. Soup peas can taste similar to garbanzos and are easy to grow.
3 c. cooked peas beans or garbanzo beans
3 cloves garlic
2 scallions, chopped
1/4 to 1/2 c. parsley and/or cilantro
6 Tbsp. tahini
6 Tbsp. lemon juice
1/2 to 1 tsp. salt
Optional: 1/4 tsp. cumin, 1/4 tsp. cayenne, 1/8 to 1/4 c. chopped mint, 1 to 4 Tbsp. prepared horseradish, chopped black olives, diced roasted peppers, or substitute peanut butter for tahini
Drain the beans or peas. In a food processor, blend the garlic, scallion and parsley or cilantro. Add the tahini, lemon juice and then the beans or peas and salt. Add more bean water for a creamier hummus. Add any optional ingredients.
Makes about 3 cups. This recipe can be doubled – hummus freezes well.