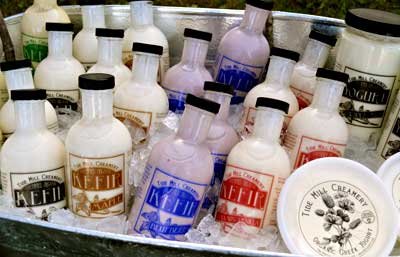 Tide Mill Creamery's products at the Common Ground Country Fair show a few of the many ways to enjoy local, organic dairy products and support our farmers and processors. English photo
By Roberta Bailey
It is the best of times. It is the worst of times. Small dairy and cheese businesses are starting up all over New England and beyond. As a consumer, I love the availability of such a wide range of locally produced cheese, milk, cream, butter and yogurt. But for commercial milk producers, prices continue to be too low, even for organic dairies. Organic grain costs are twice those of conventionally grown. It is a constant gamble whether a market will exist for the milk.
Some people shy away from dairy for caloric or allergy or possible heart health concerns. I recently read a study in the American Journal of Hypertension (Feb. 15, 2018) in which men and women with healthy diets ate two servings per week of yogurt and lowered their risk of cardiovascular disease by 16 to 21 percent. Cross that worry off your list.
Stroll your local farmers' market or health food store and pick up some local dairy products. A specialty cheese can elevate an hors d'oeuvre plate or make a delicious snack that will get you through the workday until dinner. Yogurt with local berries is divine; add maple syrup and it is dessert. Add yogurt to a smoothie for added calcium and energy.
Save a cow. Support a goat. Save a farm. Support a farmer. Eat local dairy.
Stuffed Squash Blossoms
1/2 lb. ricotta cheese
1 large egg
1 to 2 Tbsp. melted butter
1/2 c. grated Parmesan cheese
4 fresh basil leaves, chopped finely
1/4 tsp. salt
1 Tbsp. flour
8 to 10 squash blossoms
Chives, minced
Pick squash blossoms early in the day. Female blossoms with hips attached are optimal.
Prepare the filling by beating together ricotta, egg, melted butter, Parmesan cheese and salt until smooth. Stir in flour and chopped basil leaves.
Stuff clean blossoms three-quarters full with the cheese mixture. A spoon works but a pastry bag is helpful. Gently squeeze the petals together at the top.
Set a steaming rack in a large pot with 1 to 2 inches of boiling water in it. Place blossoms on the rack. Cover pot with lid and steam blossoms for 6 to 8 minutes. They are done when the filling feels firmer.  Serve with minced chives sprinkled over the blossoms.
Tzatziki
A condiment for gyros, grilled meat, raw vegetables; or a dip
3 c. full-fat Greek yogurt
3 Tbsp. lemon juice (1 to 2 lemons)
1 large clove garlic, minced
1 large English cucumber, peeled and diced thinly
1 Tbsp. salt for salting cucumbers
1 Tbsp. fresh mint, minced, or dill leaf, or both
Freshly ground pepper
Peel cucumber and slice as thin as a dime, then chop to a diced size. Place cucumbers in a bowl, sprinkle with 1 Tbsp. salt and mix thoroughly. Let sit for 30 minutes. Drain and rinse the cucumber in cold water. Drain again, pressing to remove most of the liquid. (I sometimes wring them in a clean tea towel.)
Place the garlic, lemon juice and herbs in a food processor or blender. Whiz together for a few seconds, add the yogurt and blend for a few more seconds. Add the cucumber and blend for a few more seconds. Taste and adjust salt if needed. Add pepper and stir. Refrigerate for 2 hours to blend flavors. Serve.
Optional: Instead of salting the cucumber, it can be grated coarsely and wrung in a tea towel to remove excess liquid. Add salt to taste in the final mixture.
Cream of Asparagus Soup
1/2 c. water
1/2 c. dry white wine
30 spears of asparagus, trimmed of tough ends
2 Tbsp. butter
1 Tbsp. flour
1 c. whole milk
2/3 c. sharp cheese, cheddar or other local cheese, grated or diced fine
Salt and pepper
1 c. heavy cream (or substitute 1 c. milk mixed with 2 Tbsp. cornstarch)
In a medium pot, bring the water and wine to a boil. Chop and add the asparagus. Simmer until tender, 5 minutes. Drain the liquid into a cup or bowl. Let liquid and asparagus cool.
In a medium skillet, melt the butter over medium heat. Add the flour and stir. Add the milk and cook until thickened (about 3 minutes), being careful to break up any lumps that form. Do not boil. Add the cheese and continue to heat until melted. Remove from heat.
Puree the asparagus. Save some tips for a garnish if desired. Combine the asparagus and the cheese sauce. Heat gently but do not boil. Season with salt and pepper. Serve in bowls, garnished with asparagus tips.
Low-fat Berry Buttermilk Ice
3 c. strawberries or blueberries
1/2 c. sugar or 1/3 c. honey
1 c. buttermilk
1 tsp. vanilla extract
Combine all ingredients in a blender and puree until smooth. Pour the mixture into a 9- or 10-inch non-reactive pan and freeze until solid, about 2 to 3 hours. Using a large, heavy spoon, scrape the frozen mixture from one side to the other, making shaved ice. Spoon into bowls and serve immediately. Serves 6.