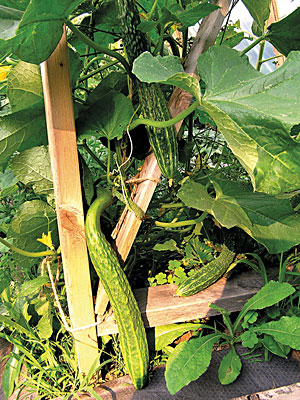 'Shuyo Long' cucumbers growing in a hoophouse. English photo.
By Roberta Bailey
Cucumbers are back in style. They are all the rage! Haven't you noticed?
Hmm … maybe it's just in my backyard or in my mind. Or maybe the buzz just hasn't reached your town yet. But more likely, I am just catching up with all the other hip gardeners out there. Either way, it is the year of the cucumber on my farm.
Usually I start craving zucchini and summer squash in April or May, and have to wait many beautiful long summer days before they are ready to pick. This year it was cucumbers. All spring I anticipated the cool buttery crunch of a young pickling cuke. I contemplated the role of the cucumber in different cuisines. The cool cucumber with the hot pepper is classic. I even succumbed to temptation and bought two organic cucumbers (nestled in a Styrofoam tray and wrapped in plastic). They had the coolness of a cucumber but lacked the tenderness, crispness and sweetness of a garden cucumber. I was left with little more than the empty wrapper and increased anticipation.
I think my cravings have to do with last summer, when I had a few cucumbers from an early crop before the rain and slugs got the better of them. Then nothing, until a few weeks before frost when my third or fourth planting outlived adversity and fruited. Too little, too late.
Have you tried white cucumbers? This summer I'm truly anticipating 'Boothby's Blonde', 'Edmonton' and 'Silver Slicer,' an upcoming variety from Cornell University's farmer-breeder collaborative. The white cucumbers are particularly crisp and buttery tender at the same time. I eat most of them right in the garden. The green pickling cukes make better pickles, but white cucumbers are all I eat out of hand or in recipes like the ones below.
Cucumber Gazpacho
4 to 5 pickling cucumbers, coarsely chopped (about 3-1/4 cup), plus 1 small pickling cucumber, diced small for garnish (about 1/4 cup)
2 scallions (white and green parts), coarsely chopped
1/2 c. loosely packed, assorted fresh herbs, such as basil, chives, parsley and mint, coarsely chopped, plus 1/4 cup finely chopped (for garnish)
1 (1/2-inch) piece of fresh ginger, coarsely chopped (optional)
1 clove garlic, coarsely chopped
3 Tbsp. olive oil
1/4 c. plain low fat yogurt (optional)
1/2 tsp. salt
1/4 tsp. freshly ground black pepper
1/4 to 1/2 tsp. hot sauce
In a blender or food processor, combine coarsely chopped cucumber, scallions, coarsely chopped herbs, ginger, garlic, olive oil and yogurt and process until smooth, about 1 minute. Stir in salt and pepper, and hot sauce to taste. Refrigerate for 1 to 4 hours.
In small bowl, stir together remaining cucumbers, herbs and salt. Divide soup evenly among four chilled bowls and top each with a dollop of cucumber and herb mixture. Serve immediately.
Cucumber Kimchi (Oi Gimchi)
10 pickling cucumbers, just over a pound
1/3 c. sea salt
4-1/3 c. water
6 cloves garlic, minced
1 small onion, diced
5 scallions, cut into 1/2-inch lengths
1 or 2 fresh hot peppers, thinly sliced, or 1/2 tsp. dried hot pepper flakes
1 Tbsp. coarse sea salt
1 tsp. sugar
Preparation
Cut the cucumbers lengthwise into quarters and place them in a large bowl. Dissolve the table salt in the 4 cups water and pour over the cucumbers. Soak the cucumbers for about 20 minutes.
Combine the garlic, onion, green scallions, hot peppers and sea salt in another large bowl.
Remove the cucumbers from the salt water and rinse. Add the cucumbers to the spicy mixture and mix until the cucumbers are well coated. Stuff the cucumbers into a 1/2-gallon glass jar, pressing firmly until filled.
Dissolve the sugar in the remaining 1/3 cup water and pour the mixture over the cucumbers. Cover tightly. Let the filled jar sit in a cool, dark place for two to three days before opening to see if the kimchi is ripe. The cucumbers should be sour and should have absorbed the salt and flavors of the seasoning. Refrigerate after opening. It will keep for almost two weeks in the refrigerator.
Thai Salad
Dressing:
1/4 c. fresh lime juice
3 Tbsp. golden brown sugar or evaporated cane juice
2 Tbsp. fish sauce
2 Tbsp. vegetable oil
1 Tbsp. finely grated lime peel
1 tsp. hot chili paste
1 tsp. grated peeled fresh ginger
Salad:
2 pounds pickling cucumbers
1-1/2 tsp. sea salt
1 Tbsp. vegetable oil
3/4 c. lightly salted roasted peanuts (optional)
1 lb. cooked, deveined, peeled medium shrimp
4 c. thinly sliced Napa cabbage
1 large red bell pepper, cut into matchstick-size strips
3 green onions, cut into matchstick-size strips
1/2 c. fresh cilantro leaves
1/2 c. torn fresh Thai basil leaves or regular basil leaves
2 tsp. black or white sesame seeds, toasted
For dressing:
Whisk all dressing ingredients to blend in a small bowl; let dressing stand while preparing salad.
For salad:
If desired, peel half the cucumbers; cut in half lengthwise and scoop out seeds (if formed) with a small spoon. Cut into 1/4-inch cubes (about 2 cups) and place in a large strainer set over a bowl.
Cut off ends from remaining cucumbers and cut in half lengthwise. Scoop out seeds. Cut halves crosswise into 1/4-inch-thick slices (about 2-1/2 to 3 cups) and add to strainer. Sprinkle with 1-1/2 teaspoons salt; let drain for 30 minutes.
Heat 1 tablespoon oil in a heavy, medium skillet over medium-high heat. Add peanuts and sauté until golden. Using a slotted spoon, transfer the peanuts to a paper towel to drain.
Combine the shrimp, cabbage, bell pepper, green onions, cilantro and basil in a large bowl.
Pat the cucumber pieces dry and add them to the salad. Toss with dressing; sprinkle with peanuts and sesame seeds.
Cucumber Mint Soup
1 lb. small cucumbers, peeled, halved, seeded, cut crosswise into 1-inch-thick slices (about 2-1/2 cups)
2 c. chicken broth or vegetable broth
4 oz. finely crumbled feta cheese (about 3/4 cup)
3/4 c. chopped onion
1/2 c. loosely packed fresh mint leaves
1/2 c. loosely packed watercress leaves
1 Tbsp. fresh oregano leaves
1 medium garlic clove, peeled
1 tsp. salt
2 c. whole milk or nonfat yogurt
2 hard-boiled eggs, chilled, coarsely chopped
3 Tbsp. chopped fresh chives
Puree cucumbers, broth, feta, onion, mint, watercress, oregano, garlic and salt in blender until smooth. Pour the soup into a large bowl; whisk in yogurt. Refrigerate until cold, about 2 hours.
Before serving, put the soup in the freezer for 30 minutes. To serve, pour it into bowls and top it with chopped egg and chives. Makes 6 servings.
Beet-Cucumber Salad
2 or 3 large beets, trimmed
1/2 c. sour cream or yogurt
2 Tbsp. white balsamic vinegar or white wine vinegar
2 tsp. prepared white horseradish
1 tsp. honey
2 bunches watercress, tough stems trimmed
2 Tbsp. vegetable or olive oil
16 1/3-inch-thick rounds of unpeeled European cucumber
Preheat the oven to 400 F. Bake beets on a baking sheet until tender when pierced with fork, about 1 hour 15 minutes. Cool and peel the beets, then cut them into 16 rounds. Whisk the sour cream/yogurt, 1 tablespoon vinegar, horseradish and honey in a bowl to blend. Season the dressing with salt and pepper. (Beets and dressing can be made one day ahead. Cover separately and chill.)
Toss the watercress with the oil and remaining 1 tablespoon of vinegar in a large bowl. Season with salt and pepper. Divide the watercress among four plates. Overlap beet slices and cucumber slices atop each. Drizzle with dressing and serve.
Cucumber Raita
4 or 5 pickling cucumbers
1 small red onion, thinly sliced
1 small hot pepper, minced (or as desired), or hot pepper
flakes
1 c. lowfat yogurt
2 to 3 Tbsp. lemon juice
1/4 c. spearmint leaves, minced
1/4 c. cilantro leaves, minced (optional)
salt to taste
Slice cucumbers and layer with onion. Mix pepper, yogurt, lemon juice, mint and cilantro. Add salt to taste. Stir into cucumber and onions. Chill for 20 minutes or serve at room temperature.
Spicy Thai Shrimp with Cucumber Mint Raita
Raita
1 c. nonfat yogurt
1/4 c. peeled, seeded and diced cucumber
1/4 c. thinly sliced green onions
1/4 c. mint leaves, minced
2 tsp. lemon zest
Shrimp
2 tsp. olive oil
2 tsp. sesame oil
2 tsp. minced fresh ginger
1 tsp. minced garlic
24 large shrimp, peeled and deveined
1/4 c. Thai red chile paste
Juice of 2 lemons
2 Tbsp. snipped fresh chives
In a bowl, combine all raita ingredients and set aside.
Heat olive and sesame oils in a medium saucepan over high heat. Sauté ginger and garlic for about 45 seconds. Add shrimp and chile paste, tossing to cook evenly, for about 3 minutes. Add lemon juice and stir. Serve raita with shrimp; garnish with chives.