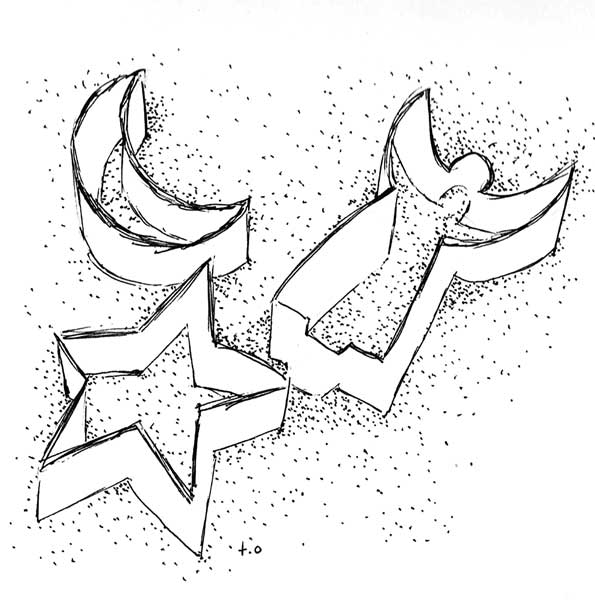 Drawing by Toki Oshima
By Roberta Bailey
Well, we have made it this far in the pandemic. It is a time of such extremes: the extreme pain of missing people, of not being there for holidays, birthdays, weddings and deaths. Some businesses are thriving and some have closed their doors; some had to temporarily shut down because the order volume was overwhelming. All of us are carrying extra burdens. If we can remember that about each other, perhaps it helps us be kinder.
Toilet paper and flour are back on the shelves. Can you get canning jar lids now? Or canning jars? I heard that appliances were in short supply. And isopropyl alcohol. I usually use an N95 mask to process hot pepper seed crops. None were available, so I put new elastic on one from last year. Not a mask to wear in public, but it worked well for farm tasks.
Aisha Ahmad (an associate professor of political science at the University of Toronto and director of the Islam Global Affairs Initiative) talks about the six-month wall. Whether one has a job in a war-torn area, works for a relief agency in the aftermath of a natural disaster or lives in the midst of a pandemic, there is a mental wall that stalls us at about six months. You are ready to be done, move on or go back to life as usual. Everything feels like a huge hurdle.
September was our six-month wall, just as we shifted toward winter. I know I had to dig deep to find the motivation to keep doing the tasks on my farm list. I realized that I was not in balance. I did not have my gatherings with other women to stitch and knit and feed my soul, to help balance the physical and the mental. I had to find new ways to create that balance, to care for myself.
We are indoors more now. Make sure to get out and breathe the fresh air – there is no bad weather, just bad clothing choices. Then come in and bake some cookies with a family member. Here are a few of my less sweet and more healthy old favorites, plus a few that pack a wallop.
---
Lemon Sesame Seed Cookies
Makes about 2 ½ dozen
Mix together:
1 ¼ c. rolled oats, ground or food-processed into flour
¾ c. unbleached white flour
½ c. whole wheat pastry flour
¼ c. toasted sesame seeds
½ tsp. baking soda
¼ tsp. sea salt
In a small bowl, mix together:
½ c. maple syrup
¼ c. vegetable oil
1 tsp. vanilla extract
1 tsp. rice vinegar (or substitute cider or white vinegar)
1 Tbsp. lemon zest
Mix together the dry and wet mixtures. Chill dough for a half-hour (it can be worked warm). Heat oven to 375 F. Roll out dough to quarter-inch thickness. Cut with a knife or cookie cutters. Bake on a greased baking sheet for 10 to 12 minutes. Cool on a rack.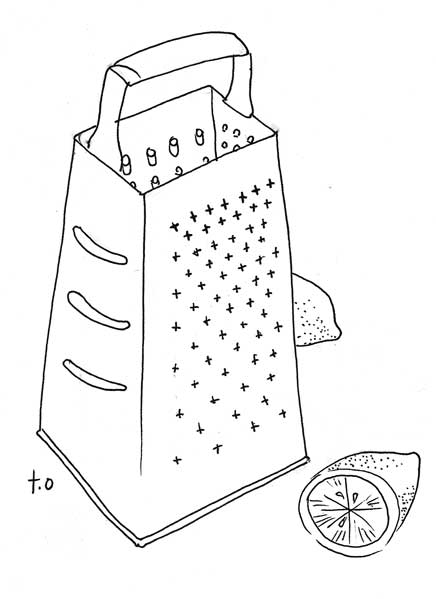 Drawing by Toki Oshima
Elevator Lady Spice Cookies
Cream together:
¾ c. butter
1 c. sugar
1 egg
¼ c. molasses
Sift together and stir:
2 c. white flour
2 tsp. baking soda
¼ tsp. salt
1 tsp. ground cinnamon
¾ tsp. ground cloves
1 tsp. ground ginger
1 tsp. fresh ginger root, grated (optional)
Stir all ingredients together. Heat the oven to 375 F. Form walnut-sized balls with the dough. (Optional: Roll them in sugar.) Place 2 inches apart on a greased cookie sheet. Bake for 10 to 12 minutes.
Nut Torte Jammy Cookies
Grind or food-process together to a course flour consistency:
1 c. raw almonds or other unsalted nuts
1 c. rolled oats
Whisk together:
½ c. maple syrup
½ c. vegetable oil
Mix the wet ingredients with the nut/oat mixture. Then add:
1 c. whole wheat pastry or white flour
¼ tsp. ground cinnamon (ginger is nice as a substitute)
Heat oven to 350 F. Shape cookie dough into round balls, then make a well in the center of each cookie by pressing with your thumb or finger.
Fill the well in each cookie with:
½ tsp. to 1 tsp. jam of your choice
Bake for 15 minutes. Cool on rack.
Sunflower Seed Cookies
(Adapted from "Stocking Up," 1st edition)
2 egg whites
1 c. of honey, warmed/thinned over hot water
1 c. raw sunflower seeds, chopped or coarsely ground
1 tsp. vanilla extract
Preheat the oven to 275 F. Beat the egg whites until they hold a peak, then gradually beat in the honey, then the seeds, and finally the vanilla.
Drop cookies on a well-greased baking sheet and bake for 30-40 minutes in the middle of the oven. Test for doneness by inserting a toothpick into a cookie; the cookies are ready to take out of the oven when the toothpick comes out clean. Loosen from baking sheet immediately, as they can stick. Cool on rack. Store in a container with a tight lid.
And for those times when you need to go all in …
Chocolate Espresso Cookies
(Adapted from Gourmet magazine, March 1997)
3 oz. unsweetened chocolate, chopped
2 c. (12 oz.) semisweet chocolate chips
8 Tbsp. butter (1 stick)
3 large eggs
1 c. sugar
2 ¼ tsp. instant espresso powder or finely ground dark roast coffee beans
¾ c. all-purpose flour
⅓ tsp. baking powder
¼ tsp. salt (omit if using salted butter)
1 c. toasted walnuts
Preheat the oven to 350 F. Grease two heavy baking sheets.
In a double boiler or metal bowl set over a saucepan of barely simmering water, melt the unsweetened chocolate, butter and half of the chocolate chips; stir until smooth. Remove from heat. In a mixer bowl, beat eggs, sugar and coffee on high speed for about 3 minutes – until the mixture is very thick and pale and forms a ribbon when beaters are lifted. Beat in chocolate mixture. Then sift in flour, baking powder and salt, and stir until just combined. Stir in walnuts and remaining chocolate chips.
Drop heaping tablespoons of batter about 2 inches apart on the greased baking sheets. Bake in batches on the middle shelf of the oven for 8 to 10 minutes, until puffed and cracking on top. Do not over-bake! Cool on the baking sheet for one minute then transfer to a cooling rack.
About the author: Roberta grows an abundance of produce and saves seeds at her Seven Tree Farm in Vassalboro, Maine. She is the longest-running columnist for The MOF&G.
This article was originally published in the Winter 2021 issue of The Maine Organic Farmer & Gardener.
Looking for more seasonal recipes? Sign up for MOFGA's Local and Organic Kitchen Newsletter.