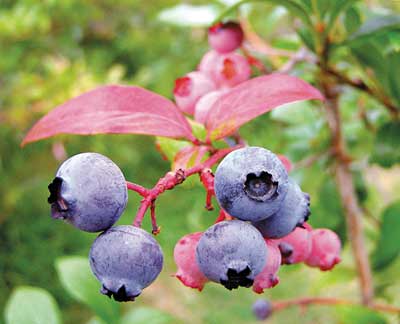 Our farm and garden produce stores the summer sun, enabling us to thrive on these crops – frozen, canned or otherwise preserved – all year. English photo
By Roberta Bailey
In a few of the essays in her collection "The Faraway Nearby," Rebecca Solnit explores the long cycles of light and darkness in Iceland. I was particularly struck by her thought that when we live through cycles of long winters or seasonal darkness, we hold the summer sun and the return of the light within us. It brought to mind a bear storing fat for hibernation. It brought to mind the seasonal cycles of Maine life. I liked the concept of storing or holding summer's energy in our minds, so that we make it through to the next spring.

All summer long I try to soak in the sun's energy, the light on a flower petal, the frenzy of bees on the Cleome or poppies in the morning, the quiet hum of them on the wheat celosia in the late afternoon, the sweet scent of black locust, blueberry or grape in bloom. I try to slow it down, to soak it in, and relish the first strawberry, pea, green bean, zucchini, the sweetness of baby lettuce, the feel of lake water on hot skin, and the breeze as a thunderstorm rolls in – all the while, filling freezers with greens and berries and summer bounty.

Strawberry picking rolls into raspberry and then blueberry picking. Under the weight of their ripening berries, the blueberry bushes bend to the mulch below them. In the cool of evening, we pull up chairs and pick. One gallon each, many nights each week, for six or eight weeks. We fill each other with reflections on the day and relish the birdsong that travels on the breeze. If we are lucky, the grandkids come by, and they get to eat as many berries as they can pick. We quote the mother bear in Robert McCloskey's "Blueberries for Sal": "Little Bear, eat lots of berries and grow big and fat. We must store up food for the long, cold winter."

We store up the sun's energy for winter, in jars, freezers, in our bodies and in our minds. We replenish our core so that we can hold the return of the light and the warmth within us; so that we can believe in the cycles, pick up the seed catalogs, sow the seedling flats, turn the earth, watch the asparagus push through the ground, and wait for the berries to swell and ripen to sweet tart perfection.
The following recipes have been adapted from the U.S. Highbush Blueberry Council website. For more of its great recipes, see blueberrycouncil.org.
Note that the recipes work well with both highbush and lowbush berries.
Blueberry Bisque
4 c. fresh or frozen blueberries
4 c. orange juice
2 c. apple juice or cider
1/4 tsp. cinnamon or allspice
2 Tbsp. cornstarch
2 Tbsp. water
3/4 tsp. grated orange peel
3 Tbsp. honey
pinch of salt
sour cream, Greek yogurt or crème fraiche for garnish
In a large saucepan, combine blueberries, juices and cinnamon or allspice. Bring to a boil. Mix the cornstarch and water together and stir in to the berry mixture. Cook and stir until the mixture thickens slightly. Remove from heat and cool slightly. Blend with an immersion blender or in batches in a blender. Return to pot. Stir in honey, salt and orange peel. Chill. Serve as an appetizer, entrée or dessert topped with a dollop or swirl of sour cream, yogurt or crème fraiche. Serves 8.
Chipotle Blueberry Barbeque Sauce

1 Tbsp. vegetable oil
6 shallots, sliced
3 cloves garlic, minced
1 to 2 tsp. grated fresh ginger root
3 c. fresh or frozen blueberries
4 Tbsp. maple syrup
3 Tbsp. molasses
3 Tbsp. apple cider vinegar
1 Tbsp. ketchup
1 Tbsp. Worcestershire sauce
1 Tbsp. Dijon mustard
1 tsp. chili powder
1 tsp. cumin
1 tsp. paprika
1/8 tsp. allspice
1/8 tsp. nutmeg
1/8 tsp. cinnamon
1/2 to 2 tsp. chipotle powder
1/4 tsp. black pepper
1/4 tsp. salt
In a heavy saucepan, heat the oil and lightly brown the shallot. Add the garlic and ginger, stirring until browned. Add the remaining ingredients to the sauce and bring to a boil. Simmer for 12 to 15 minutes. Set aside to cool. Once cooled, blend in a blender or with an immersion blender. Season to taste. Flavors will mature overnight. If too thick, add a little water. Store in refrigerator. Use it up soon or freeze it in small batches.
Fruit Pasta Salad
3 Tbsp. olive oil
2 Tbsp. white balsamic vinegar
2 Tbsp. orange juice
1 tsp. lemon juice
1 tsp. orange or lemon zest
1/4 tsp. sea salt
1/4 tsp. freshly ground pepper
1/2 lb. orzo pasta
2 c. fresh blueberries
1 large peach, pitted and diced
1 c. arugula
1 c. mixed baby lettuce
Cook the orzo until just al dente. Drain and cool with cold water. In a small bowl, whisk together the oil, vinegar, juices, zest, salt and pepper. Toss the blueberries, peach and greens with the well-drained, cooled orzo. Mix in the salad dressing. Makes 6 cups.
Blueberry Cream-free-sicles
1-1/2 c. fresh or frozen blueberries
1 Tbsp. water
1 to 2 Tbsp. maple syrup
1-1/4 c. unsweetened coconut milk (from a carton)
3 Tbsp. coconut cream
1/4 tsp. grated lime zest
In a small saucepan over medium heat, combine the blueberries, water and maple syrup. Lightly crush the berries with the back of a spoon and cook until liquid is syrupy and thick. Remove from heat and cool to room temperature. In a small bowl, whisk together the coconut milk, coconut cream (the thick part of canned coconut milk) and lime zest. Fill popsicle molds or small paper cups half full with the coconut milk mixture, then spoon 1 to 2 Tbsp. of blueberry sauce into each popsicle or cup. Place in freezer. Allow about 4 hours to freeze solid. Cups can be peeled down to eat or can be sipped. Yields 6 popsicles.
Blueberry Oat Bars
2 c. rolled oats, divided in two
1/2 c. almonds, chopped a bit
pinch of salt
1/2 c. dates, pitted
2 Tbsp. coconut oil
2 Tbsp. maple syrup
1/2 tsp. vanilla extract
1 c. fresh or frozen blueberries
Preheat the oven to 350 F. In a food processor, combine 1 cup of oats, almonds and salt. Process until the oats are a sandy consistency. Add the dates, coconut oil, maple syrup and vanilla extract. Process for another 30 seconds. Transfer the mixture to a new bowl and gently fold in the remaining 1 cup of oats and the blueberries. Mix until sticky and incorporated and a bit purple. Press mixture into a parchment-covered 8×8-inch square pan and bake for 25 minutes. Cool completely before cutting the bars. For rapid cooling, place pan in freezer for 15 minutes or so. Yields 12 bars