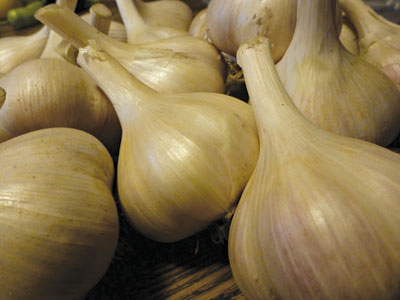 Georgian Fire garlic. Nason photo.
By Roberta Bailey
The late psychologist James Hillman once said that our duty is not to rise above life but grow down to it. He believed that each of us has a purpose or calling in life that reveals itself at an early age and reappears until we heed it.
This certainly rings true for me. And I wonder if most farmers would find truth in it. I'm not talking about sinking in the ankle deep mud here. Rather that once we land, we put down deep roots. We dig in. We ground. We farm out of passion, whether we make any money at it or not. There is nowhere else to go, no other way to live. You can't "grow down to it" any more than tilling the earth. Work it and walk it long enough, and the land reaches up and entwines you in its mycelial web. It talks to you.
And just when you think you are solidly rooted, that you have a good feel for what may come, the earth humbles you. Hopefully, you can step back and laugh at yourself and learn.
I learned a lot in 2012, with the cold, wet spring soil, and drought, and crop harvests off by a month. (My raspberries died back probably due to the March heat wave. My strawberries were finishing on the date that I usually begin to pick them, and my highbush blueberries began to ripen the first of July. I guess they knew there were no raspberries.) I am still not sure when the best time would have been to harvest the garlic.
But the garlic harvest was a bumper crop … spice of the earth. Hunker down, lean into the wind, brace yourself against the adversities to come, grow down to it all. Fortify yourself with garlic.

Garlic, Oregano and Lemon Vinaigrette
Makes 1 cup
3 garlic cloves, peeled
2 anchovy filets (optional; can substitute 1 Tbsp. pine nuts)
1/4 tsp. crushed red pepper flakes
1/2 seeded, finely chopped lemon with peel
pinch of salt and pepper
2 Tbsp. chopped fresh oregano
2 Tbsp. parsley
1/4 c. olive oil
fresh lemon juice
In a food processor or blender, finely chop garlic, anchovies or pine nuts, red pepper with salt and pepper. Add the lemon, oregano and parsley. Pulse until quite fine. Add oil and puree to desired consistency. Add lemon juice and more salt to taste.

Garlicky Thai Brussels Sprouts
4 c. Brussels sprouts, halved
1/4 c. vegetable oil
3 Tbsp. thinly sliced garlic
1/4 c. oyster sauce
1 Tbsp. fish sauce
2 Tbsp. soy sauce or tamari
2 tsp. maple syrup
1/2 tsp. finely sliced red chilies (optional)
1/2 c. low salt chicken or vegetable broth
Steam the Brussels sprouts just until they're bright green, then set them aside. Heat oil in a sauté pan or wok. Add garlic and stir until golden, about 30 seconds. With a slotted spoon, transfer garlic to a small bowl. Add the Brussels sprouts to the pan and stir-fry until the sprouts are just softening. Add the oyster sauce, fish sauce, soy sauce and chilies. Stir-fry for 30 seconds, then add the maple syrup and broth. Bring to a boil and cook for a few minutes until the liquid is slightly reduced. Stir in the garlic. Serves 4.

Edamame Hummus
2 lbs. shelled edamame (soybeans). Can substitute fresh or frozen peas for half the edamame.
salt
1/2 c. fresh lemon juice
1 Tbsp. minced garlic
1/2 tsp. ground coriander
1/4 tsp. ground cumin
3/4 c. extra-virgin olive oil plus more for drizzling
1/4 c. chopped, fresh cilantro or parsley plus more for garnish
1/4 c. chopped fresh mint plus more for garnish
Freshly ground black pepper
Cook edamame in a large pot of boiling salted water until tender, 3 to 5 minutes. Using a slotted spoon, transfer edamame to a large bowl of ice water to cool, then drain well. Shell out the soybeans. If using frozen peas, use the water to warm them and drain them as well.
Working in batches, pulse the edamame (and peas) in a food processor until a coarse purée forms, about 30 seconds. Transfer to a medium bowl. Stir in juice and next three ingredients. Gradually stir in oil; mix well. Stir in 1/4 c. cilantro and 1/4 c. mint. Season with salt and pepper. Makes 5 to 6 cups.

Tzatsiki
Great with lamb or spread on pita wedges topped with tomato, etc.
1 European cucumber, peeled
10 cloves garlic, smashed and finely chopped
1 c. white wine vinegar
4 shallots, thickly sliced
1 c. small, picked sprigs dill
2-1/2 c. strained or Greek yogurt
2 Tbsp. extra-virgin olive oil
2 Tbsp. fresh lemon juice
Salt and cracked black pepper
Quarter the cucumber lengthwise and trim off the triangular wedge of seeds. Cut the cucumber into a very small, even dice. Transfer it to a mixing bowl.
In a food processor, combine the garlic, vinegar, shallots and dill. Pulse until finely chopped but not puréed. Add the mixture to the cucumbers; add the yogurt. Fold together with a rubber spatula, adding olive oil and lemon juice. Season liberally with salt and pepper, starting with 1 Tbsp. salt. Taste for seasoning. You can store Tzatsiki in a covered, clean jar in the refrigerator for up to a week.

Olive and Garlic Tapenade (Spread)
Great on bread, crackers, potatoes, in omelets, etc.
1 c. Nicoise or Greek olives, pitted and rinsed
2 Tbsp. capers (optional)
2 cloves garlic, minced
1 c. pine nuts (or 3 to 4 anchovies)
1 Tbsp. olive oil
1 to 2 Tbsp. fresh lemon juice
5 fresh basil leaves
1/4 tsp. ground black pepper
1-1/2 to 2 c. stemmed fresh parsley
Using a food processor, blend all ingredients until just smooth enough to spread but not yet a paste. Will keep in the fridge a week. Flavor intensifies with age. For a milder version, substitute half the Greek olives with canned black olives.