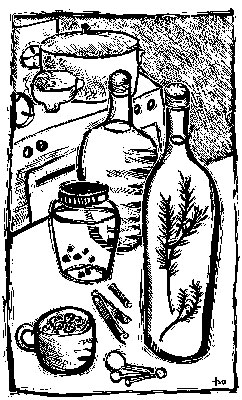 Toki Oshima drawing
By Roberta Bailey
Summer is winding to a close. Even as the days cool, we scramble to pack in a few more picnics, one last long swim, and another slice of watermelon. In the garden, the race is on to ripen the remaining green tomatoes, pick the late sweet corn, bring in the onions, and harvest all the perishable herbs before frost comes. It is a busy time, trying to preserve all the goodness of summer, all the fresh vegetable flavors, and the savoriness of summer-grown herbs.
Herbal vinegars are a great way to preserve that fresh herb flavor all winter. Easy to make and beautiful to look at, they are a savory splash of summer in a bottle. Imagine a dill-garlic vinegar in potato salad, or a ruby red cranberry vinegar on a fall spinach salad.
These vinegars make great gifts, too. Some popular combinations are basil and tarragon, basil and garlic, dill with nasturtium buds, and opal basil and sweet basil for a purple-tinged vinegar.
Any type of vinegar can be used, though white wine vinegar is the mildest, allowing the full flavor of the herbs to come through. Cider vinegar's full flavor can mask delicate, more subtle flavors of some herbs. Red and rice wines can be used to create specific flavor combinations.
Use one herb or combine as many as you wish. Fruit can also be used. Add the herbs to the vinegar, about a handful or four to five sprigs per quart, and allow it to steep at room temperature in a covered crock or glass jar until it is as full flavored as you desire. Steeping usually takes at least two to four weeks. Whole or crushed herbs or seed can be used, and strained later, unless you want the herbs to remain in the vinegar. For faster results, heat the vinegar to just below a boil, pour it over the herbs and allow it to cool and steep at room temperature. The vinegar should be ready within hours or a few days.
Always use nonreactive containers such as stainless steel or glass. The vinegar will react with other metals, creating undesirable color and flavors.
Once steeped, vinegars can be strained to remove herbs or fruit. If they are not clear enough, they can be strained a second time through a sieve lined with a coffee filter.
Select and sterilize your storage bottles. Decorative sprigs of herbs can be added at this time. Pour the vinegar into the bottles and secure the caps. The vinegar will keep indefinitely.

Raspberry or Blueberry Vinegar
2 to 2-1/2 c. berries, lightly crushed
2 T. sugar or honey
2 c. red wine vinegar
Combine ingredients in the top of a stainless steel double boiler. Cook over simmering water for 10 minutes. Pour mixture into a screw top jar and let sit at room temperature for three weeks. Strain to remove the berries and strain again through a coffee filter. Pour into sterilized bottles and cap.

Peach/Apricot/Nectarine Vinegar
As above except use WHITE wine vinegar. Dip fruit in boiling water to remove peel (some recipes leave peel on for deeper color and flavor), then cut into cubes. Continue as above.
Ruby Vinegar
12 ounces cranberries
3/4 c. white wine or cider vinegar
1/3 c. honey
1 stick cinnamon, 2 inches long
Rinse and pat dry cranberries. In a stainless steel, glass, or enamel saucepan, combine all ingredients and bring to a boil. Simmer until cranberries burst, 5 to 10 minutes. Strain, pour into hot, scalded jars and seal. Store in refrigerator up to one year.

Rosemary-Tarragon Vinegar
2 large sprigs each of tarragon and rosemary
2 c. white wine vinegar
Place herbs in bottle, pour in vinegar.
Let steep for 4 weeks. Use as needed. Or heat the vinegar and pour it over crushed herbs, set for 1 to 2 days, strain and bottle.

Hot Pepper Vinegar
4 to 6 hot chili peppers
4 c. white wine or cider vinegar
Wash peppers and make two or three small slits in each. Place in sterilized quart jar. Pour vinegar over peppers. Cover tightly. Let stand three weeks before using. Remove the peppers. Store in refrigerator up to one year.

Roberta's Lemon Grass Splash
2 c. rice vinegar
2 T. fresh or dry lemon grass
1/4 c. sugar or mild honey
1 hot chili pepper
Heat vinegar to just below a boil. Place lemon grass and washed chili pepper in a sterilized pint jar. Pour hot vinegar into jar. Steep at room temperature for two to five days. Remove pepper when desired heat is attained. Strain if desired. Store in refrigerator up to one year.
About the author: Roberta is a long-time MOF&G writer. She lives in Vassalboro.