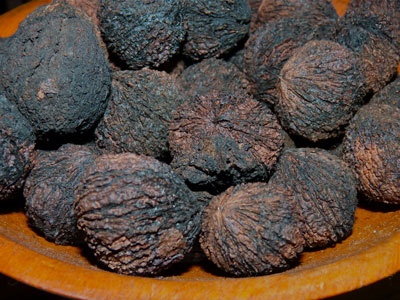 Summer's bounty, such as these black walnuts shown in the Waldo Organic Growers' booth at the Common Ground Fair, and raspberries picked and processed into jam, add local flavor to winter comfort foods. English photos.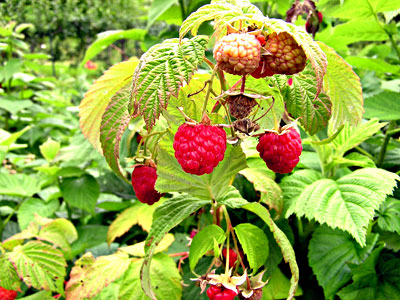 By Roberta Bailey
The winter winds are blowing. The colors on the horizon are deep evergreen and the pale gray of bare tree bark. Ice knits on the ponds. The gardens are as cleaned up as they are going to be, and the garlic crops lie dormant below their mulch.
This time of year, many of us struggle with the urge to hibernate, to stay home and drink tea by the fire and read or work on a winter project, yet the social demands of the holidays pull us out far and, often, long into the night. Add in the hours of a full-time job and we are often pulled in too many directions.
My solution is warm comfort food. A long lunch of homemade soup and some good bread goes a long way toward making me feel like I have all the time in the world to take care of myself. Add a few homemade cookies and I am ready to dive back into the holiday festivities, or the day-to-day of winter work.
Baking cookies in the early evening warms up the house. Double or triple the batch and freeze a few containers full for those times when you have to dash out to visit or when company drops by. Serve them with a pot of tea or coffee and you are back to the comforts of winter.
Here are a few of my favorite cookie recipes.
Raspberry Almond Torte Cookies
Blend in a food processor or grind to flour:
1 c. whole raw almonds
1 c. rolled oats
Add:
1 c. whole wheat pastry or white flour
1/4 tsp. cinnamon
pinch of salt
In a separate bowl, blend together:
1/2 c. maple syrup
1/2 c. vegetable oil
Stir together with the dry ingredients. Place walnut-sized or slightly smaller spoonfuls of batter onto a greased cookie sheet. Make a recessed well in the center of each cookie and add to each well:
1/2 to 1 tsp. raspberry or other jam
Bake in a 350 F oven for about 15 minutes.

Elevator Lady Spice Cookies
Cream together :
3/4 c. room temperature butter
1 c. sugar
1 large egg
1/4 c. molasses
Sift together, then stir into wet ingredients:
2 c. flour
2 tsp. baking soda
1/4 tsp. salt
1 tsp. cinnamon
3/4 tsp. ground cloves
1 tsp. ground ginger
Form into walnut-sized balls. Place on a greased cookie sheet. Bake at 375 F for 10 to 13 minutes. Makes about 2 dozen.

Nutty Shortbread
1 c. soft butter
1/2 c. light brown sugar
1 c. finely chopped nuts – cashews, filberts, walnuts, pecans or almonds work well
1 tsp. lemon or orange zest (optional)
2 c. flour
1/4 tsp. salt
1/2 tsp. baking powder
Cream together the butter and sugar. Add the chopped nuts. Add the zest if you choose. Mix well. Sift the dry ingredients and then work them into the butter. The dough will be crumbly. Let it sit at room temperature for 10 minutes. Roll to 1/4-inch thickness between two sheets of parchment or on a well floured surface. Cut with a knife into desired shapes. Bake on an ungreased cookie sheet at 375 F for 8 to 10 minutes. Makes 3 dozen cookies.

Lemon Sesame Seed Cookies
1-1/4 c. rolled oats
3/4 c. unbleached white flour
1/2 c. whole wheat pastry flour
1/4 c. toasted sesame seeds
1/2 tsp. baking soda
1/4 tsp. salt
To toast the sesame seeds, heat them in a dry skillet and toast them for a few minutes until they start to brown slightly; remove them from the pan.
Mix together the dry ingredients. Then stir together in a separate bowl:
1/2 c. maple syrup
1/4 c. vegetable oil
1 tsp. vanilla
1 tsp. rice vinegar (cider can be substituted)
1 Tbsp. grated lemon zest
Add the liquid mix to the dry ingredients, mixing well. Chill for 20 to 30 minutes. Roll out the dough to 1/4-inch thick. Bake for 10 to 12 minutes in a 375 F oven. Makes about 2 1/2 dozen cookies.

Chocolate Espresso Cookies

3 ounces unsweetened chocolate, chopped

2 c. (12 ounces) semisweet chocolate chips

8 Tbsp. unsalted butter, cut into pieces

3 large eggs

1 c. plus 2 Tbsp. sugar

2-1/4 tsp. finely ground dark-roast coffee beans, such as Italian-roast, or instant espresso powder

3/4 c. all-purpose flour

1/3 tsp. baking powder

1/4 tsp. salt

1 c. toasted walnuts or pecans


Preheat the oven to 350 F and grease two large, heavy baking sheets.


In a double boiler or a metal bowl, set over a saucepan of barely simmering water, melt the unsweetened chocolate, 1 c. chocolate chips, and butter, stirring until smooth, and remove the top of the double boiler or bowl from the heat.
In a bowl with an electric mixer, beat the eggs, sugar and ground coffee on high speed for about 3 minutes, until the mixture is very thick and pale and forms a ribbon when the beaters are lifted. Then beat in the chocolate mixture. Into the mixture sift the flour, baking powder and salt, and stir until just combined. Stir in the remaining chocolate chips and walnuts or pecans.


Drop the batter by heaping tablespoons about 2 inches apart onto baking sheets and bake in batches in the middle of the oven for 8 to 10 minutes, or until puffed and cracked on top. Do not over bake! Cool the cookies on baking sheets for 1 minute and then transfer them to racks to cool completely.