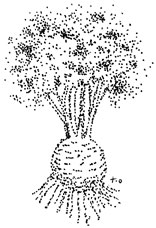 Toki Oshima drawing
By Jean Ann Pollard
What's so round, so firm, so – strangely hairy? If you've never seen celeriac, you couldn't guess. The literature has few references to it – at least in America.
It's a root vegetable that's been around for about 4000 years, but its lack of publicity wouldn't tell you so. In Europe, however, this member of the Umbelliferae family, related to parsnips (Pastinaca sativa), carrots (Daucus carota) and parsley (Petroselinum crispum), has long been revered. A curious little booklet called The Healthy Life Cook Book, published in London in 1915, says, "This is a large, hard white root, somewhat resembling a turnip in appearance, with a slight celery flavour. It is generally only stocked by 'high-class' greengrocers."
Which may be surprising considering its humble history. Bert Greene, in Greene on Greens, tells us that celery "in its wildest guise is a stubby, tough, fibrous weed that holds no possibilities whatsoever for any stockpot." Early horticulturists, however, bred three forms of cultivated celery from the original. As described by William Woys Weaver in Heirloom Vegetable Gardening, Apium graveolens var. dulce is the crunchy green stalk with which we are familiar. Apium graveolens var. secalinum is the soup or leaf celery that is easy to grow, and Apium graveolens var. rapaceum is the large, turnip-like root with a celery flavor of which we are suspicious. "All three forms," he says, "belong to the same species and therefore will cross if grown in proximity."
According to historians, both celery and celeriac were developed by the gardeners of Persia's King Cyrus the First around 2000 BCE. Ancient Egyptians, Greeks and Romans considered celery a gift from the gods. Says Greene, "Egyptian physicians divided celery's medicinal properties sexually: the strong stalks that grew upward from the ground were judged to be a cure for all masculine dysfunctions from bed-wetting to impotence, while the hairy, tuberous root that swelled beneath the earth's surface was prescribed for female disorders."
Very interesting.
According to J. I. Rodale, the end of the 16th century saw celeriac cultivated for food by Europeans. And, says cookbook writer Marian Morash in her Victory Garden Cookbook, it used to be a fairly common vegetable in America. "The 1824 Beecher cookbook mentioned it, as did Mrs. Rorer in 1886. In those days, however, celeriac was invariably boiled up and then drenched in cream sauce."
By 1915, one English cook had a different inspiration. "It is nicest cut in slices and fried in fat or oil until a golden brown."
During World War II celeriac was widely cultivated in England, because it was less trouble than regular celery, would grow in shallow soil, and could be stored for winter use. It does fine in New England.
Low in vitamin C, celeriac is "richest in calcium and phosphorus, providing 467 milligrams of calcium and 71 of phosphorus per 100 grams, 0.8 milligrams of iron; 3 grams of protein; and a total of 38 calories" – in a half cup, at least according to J. I. Rodale's 1967 calculations.
When meeting celeriac for the first time, choose roots that are round, firm and not withered. Be prepared for a lot of waste. A 1-3/4 pound giant, for instance, will produce only 6 cups of julienne strips after trimming.
Since, like apples, the pale inner flesh darkens on contact with air, slices or julienne strips about an inch long should be dropped immediately into a mixture of cold water and lemon juice. It's fine in winter soups for a faint celery taste, but possibly best when eaten raw.
Basic Celeriac Preparation
Scrub well, then cut off the hairy roots and the top from:
1 large celeriac
Cut off the outer skin as thinly as possible, removing all blemishes.
Slice into fine julienne strips.
Place strips in a bowl containing:
2 quarts cold water
juice of half a freshly squeezed lemon
When ready to use in any of the following recipes, remove from bowl, drain and pat dry.
Apple Celeriac Salad in Mustard Sauce with Cilantro
(for 4)
Celeriac, fall apples and windowsill cilantro make a tasty combination.
In a blender or a medium-size bowl, whisk together well:
3 tablespoons finely chopped onion
1 tablespoon Dijon mustard
1 scant teaspoon white sugar
1/2 cup sunflower seed oil
1/2 cup extra-virgin olive oil
2 tablespoons basil-flavored red-wine vinegar
sea salt to taste
freshly ground black pepper
In a large bowl, place:
4 cups prepared celeriac cut into 1-inch matchsticks
two large apples, peeled, cored and cut into chunks
Pour the blended sauce over the celeriac/apple mixture.
Chill for at least one hour.
Add and mix lightly:
1/2 cup freshly chopped cilantro
1/4 to 1/2 cup thick yogurt or sour cream
To serve, heap mounds of the mixture on individual beds of crisp lettuce or cooked, cooled Basmati rice.
At the last minute sprinkle with:
walnut or pecan halves
Cooked Celeriac with English Cream Sauce
(for 2)
The celeriac:
Prepare and cut into matchsticks as directed above to equal 4 cups:
1 large celeriac
Into a large saucepan pour:
1 tablespoon extra-virgin olive oil
Add and brown lightly:
1 tablespoon finely chopped onion
Add and simmer till tender (about 10 minutes):
the 4 cups celeriac sticks, drained
2 cups vegetable stock or water
Remove from liquid with a slotted spoon, place in a serving bowl, and keep warm.
The sauce:
In a smaller saucepan, reheat the cooking liquid and reduce it to 1/2 cup by boiling.
Stir in:
1/4 cup heavy cream
Return to a boil and remove from heat.
In a small bowl lightly beat:
1 egg yolk
Very carefully mix two tablespoons of the hot, cream liquid into the yolk. Then whisk the mixture into the remaining hot liquid. Cook, stirring constantly, until thick.
Add:
sea salt to taste (optional)
freshly ground black pepper
Serving:
To serve, spoon the sauce over the warm celeriac.
Sprinkle with:
a lot of chopped parsley
A winter salad of broccoli and carrots goes well with this.
Céleri-rave Rémoulade
(for 2-4)
Famous Céleri-rave Rémoulade, or Celery Root in Mustard Sauce, is a classic way to present celeriac as an hors d'oeuvre.
Dig or purchase:
1 or 2 celeriac roots (to weigh about 1 pound)
Peel and cut into matchsticks to equal 3 to 3 1/2 cups.
In a 2-quart bowl, pour:
1-1/2 teaspoons sea salt
1-1/2 teaspoons freshly squeezed lemon juice
To prevent browning, add the celeriac matchsticks and toss to cover.
Allow to rest at least 30 minutes.
Rinse the matchsticks in cold water, drain them, dry in a towel and set aside.
In a blender, whiz until smooth:
4 tablespoons Dijon mustard
3 tablespoons boiling water
1/3 to 1/2 cup extra-virgin olive oil
2 tablespoons rice wine vinegar
sea salt to taste
freshly ground black pepper
Pour the sauce into a bowl and stir in:
the prepared celeriac matchsticks
Marinate for 2 to 3 hours.
Serve as an appetizer on a bed of:
washed, dried, trimmed watercress
Pauline Schultz, in her 1891 Deutsch-Amerikanisches Koch-Buch, offered Sellerie-Salat, or Celeriac Salad:
"Clean a few medium-sized, smooth white celery roots, cook them in salted water until tender but not soft, cool in cold water, then cut the roots into quarters. Cut these into thin slices, then sprinkle pepper and salt over them and serve with vinegar and olive oil."
William Woys Weaver, whose book describes heirloom vegetables, suggests that the variety of celeriac that Schultz used was the Apple-Shaped Celery.
About the author: Jean Ann Pollard and her husband, Peter Garrett, have a CSA farm, Simply Grande Garden, in Winslow, Maine. Jean Ann wrote and illustrated The Simply Grande Gardening Cookbook (Burford Books), and Peter contributed gardening notes to the book.