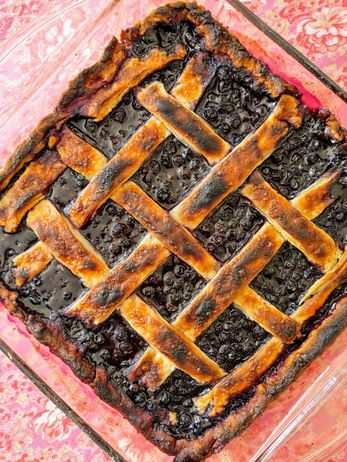 Today is National Blueberry Pie Day! At the end of April, you ask? Why not?!
Maybe there are some frozen organic wild Maine blueberries taking up residence in your freezer from last summer that need to be used up in a delicious pie! If you are hankering for blueberry pie, but don't have the fruit on hand, you can purchase organic wild Maine blueberries year-round from co-ops and natural food stores. Here is a blueberry pie recipe we cobbled together with MOFGA staff input that we think you'll enjoy.
½ c. cold water plus lemon juice (use the juice from one lemon and add enough water to make it ½ c.), plus more cold water as needed
egg wash or milk wash (optional)
Make sure all ingredients are very cold before incorporating. Use a food processor or knife and hands to combine the butter, flour and salt until the mixture is granular with pea-sized butter bits. Try not to handle it too much as your hands will warm the butter. Add ½ cup of the cold lemon juice/water mixture to start, adding more cold water if the mixture seems too crumbly. Form into two dough balls on the sides of the bowl – the goal is to touch the pastry as little as possible to prevent it from getting tough. Cover and refrigerate for at least eight hours.
6 c. frozen organic wild Maine blueberries
2 heaping Tbsp. instant tapioca or substitute the same amount of tapioca starch (use a little less if you prefer a softer filling)
¾ c. granulated sugar (may use up to ¼ c. maple syrup)
1 lemon, zested and juiced
In a large bowl, make the filling: whisk together sugar, spices, tapioca, salt and lemon zest. Fold in 4 cups blueberries and lemon juice (and maple syrup if using). Let stand at room temperature 30-45 minutes until juices form. Gently fold in the remaining 2 cups of blueberries.
Preheat the oven to 400 degrees. Remove dough from the refrigerator about 20 minutes before you roll it out to make it easier to roll. Roll out the bottom layer and place in a dry pie plate. Spread blueberry mixture evenly into dough-lined pie plate. Roll out top crust – woven crust is great because the steam vents are built in. If you want to do a solid top crust, be sure to cut out steam vents. Crimp edges. Brush crust with egg wash or milk wash if desired – heavy cream was used for the pie pictured here.
Lower oven temp to 375 before putting pie in the oven. Bake for 40 minutes, checking once to make sure the crust isn't too brown. Cover the edges with foil if it is browning too quickly. Make sure the bottom is golden brown. Bake for another 10-15 minutes if it is too pale. Let cool for at least 40 minutes before enjoying.
Want to receive seasonal recipes in your inbox monthly? Sign up for our Local and Organic Kitchen newsletter.