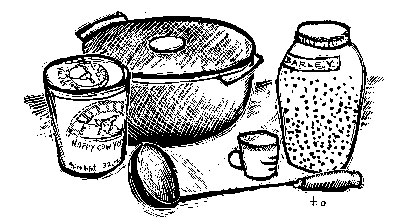 Toki Oshima drawing
By Roberta Bailey
"Simplify, simplify," said Thoreau. I sit at my table and eat steamed kale and a barley pilaf. Outside the winter wind whips snow against my windows. Other than that, silence prevails. No radio, no stereo, no television fill my house with the sensational and negative news of the world. I'm not sure that human beings are meant to assimilate the news of an entire world, just as I'm not sure we were meant to consume a steady diet of food from an entire world. Perhaps these are two of the reasons for increases in rates of cancer and other diseases.
In an attempt to maintain health, I am trying to simplify. No major campaigns or anything, just more local news, a focus on places where my voice can make a difference, and eating more whole and local foods. This month I'm eating more barley.
Barley is an ancient grain whose ancestors fed prehistoric man. It was a staple grain of many cultures until the advent of leavened bread, when the more glutinous wheat became popular. Barley remains a staple in areas where wheat cannot be grown. It tolerates cold, drought and salinity. It grows well in Maine. Hulless varieties that require no machinery for cleaning are available in some seed catalogs.
Barley is a low-fat, high fiber grain with a ready supply of vitamins, minerals, and anti-oxidant phytochemicals. Its soluble fibers reduce serum levels of cholesterol and help regulate blood sugar levels after a meal. The bran fiber helps ward off colon cancer and helps with regularity.
Two types of barley are commonly available – Scotch or whole, and pearled barley. Scotch barley retains the bran and has more fiber. It may need to be pre-soaked or to cook longer than pearled barley, which is smaller and whiter because the bran has been removed.
Try these health promoting recipes, turn off your television, listen to the wind or the returning birds of spring, and eat your barley.

Yogurt Barley Soup
2/3 c. uncooked barley*
5 c. vegetable stock or water
2 T. butter
2 c. chopped onions
1 large carrot, diced
1 T. chopped fresh mint (1/2 t. dried)
1 to 2 t. salt
pepper to taste
2 c. plain yogurt
2 T. minced fresh parsley
Combine the barley and stock in a soup pot and bring to a boil. Simmer until tender. In a separate pan, saute the onion and butter in a pan until translucent. When barley is tender, add the vegetables, mint, and seasoning to the soup pot. Simmer for 10 minutes, then add the yogurt and parsley. Warm the soup, adding more stock if it's too thick.
* 2-1/2 c. of cooked barley and 3 cups of stock may be substituted for the uncooked barley.

Barley Pancakes
1-1/3 c. whole wheat flour (or half white, half wheat)
1-1/2 t. baking powder
3/4 c. cooked barley
1-1/2 c. skim, rice or soy milk
1-1/2 c. mashed bananas
2 eggs
2 T. maple syrup
1 T. oil
Sift the flour and baking powder together. Stir in the barley. In a separate bowl, whisk together the milk, bananas, eggs and maple syrup. Combine the wet with dry ingredients. Do not overmix. Spoon batter onto a hot oiled griddle. Cook until bubbles form, then flip the pancakes and cook them on the other side for a minute or two. Serves 4.
Skillet Barley and Beef
6 oz. lean steak, trimmed of all fat
1 c. barley
4 c. water
1 bay leaf
1 T. olive oil
1 onion, chopped
2 to 3 cloves garlic, minced
2 carrots, sliced
10 to 20 mushrooms, sliced
1-1/2 c. beef or vegetable stock
1/2 t. dried thyme or savory
Cut beef lengthwise into 2-inch strips, then slice it paper thin across the grain. (This is more easily done if meat is partially frozen.) In a 2-qt. pan, combine the barley, water and bay leaf. Bring to a boil and simmer for 20 minutes. In a large frying pan over medium heat, stir-fry the beef in oil until cooked. Add the onions and garlic, carrots and mushrooms to the beef. Cook for about 3 minutes. Drain the barley. Discard the bay leaf. Add the barley to the beef. Stir in the stock and thyme. Cover and simmer for 15 to 20 minutes or until the barley is tender. Add salt and pepper to taste. Serves 4.

Barley Pilaf with Grilled Apples
PILAF:
1 c. barley
2 t. oil
1 t. vanilla extract
1/8 t. ground cinnamon
1/8 t. nutmeg
1/8 t. ground cardamom
1-1/2 c. cider or apple juice
1-1/2 c. water
APPLES:
2 baking apples
2 T. apple cider or juice
1/4 t. cinnamon
To make the pilaf: In a 2-qt. saucepan, combine the barley, oil and spices. Saute until fragrant, 1 to 2 minutes. Add the juice and water. Bring to a boil, reduce heat, and simmer for 45 to 60 minutes, until the barley is tender and all liquid is absorbed.
To make the apples: Core the apples and cut them crosswise into thin slices. Place them on a greased baking sheet and sprinkle with cider and cinnamon. Broil about 4 inches from the heat for about 3 minutes. Serve hot with the pilaf. Serves 4 to 6.