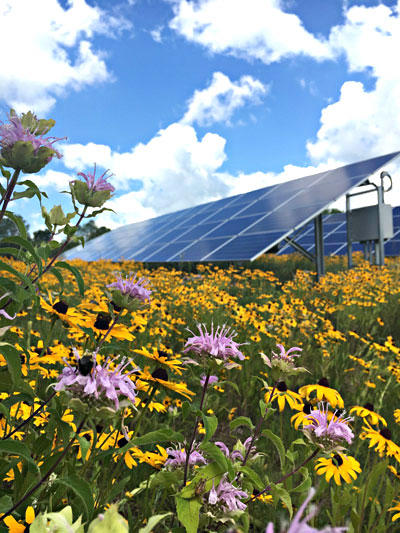 A pollinator-friendly solar farm in Minnesota. Photo by Rob Davis, Center for Pollinators in Energy, used with permission.
By Sue Smith-Heavenrich
Solar farms are sprouting everywhere, from small community clusters of arrays to large industrial installations. Colby College, in Waterville, recently flipped the switch on its 9-acre, 5,300-panel solar field. The Madison Business Gateway in Madison, Maine, recently went online with 26,000 panels spread over 22 acres, and at the end of December, the Pittsfield solar farm began powering local homes. With more than 40,000 panels arrayed across 57 acres, the Pittsfield solar farm is the largest one in Maine – and in New England. That may be temporary because other companies are planning even larger solar farms.
Humans aren't the only ones who can benefit from solar farms. Energy producers in Minnesota, Wisconsin and other states have seeded native grasses and flowers in and around their solar arrays. Their solar farms do double duty: converting sunshine to electricity and supporting a population of pollinators. In Minnesota, more than half of the 4,000 acres of commercial solar projects installed from 2016 to 2017 were planted in pollinator habitat. Not only did neighboring fields benefit from a diverse bee population, but one enterprising apiary located hives in one of the solar farms and now markets the product as "solar honey."
Organic Valley, in Wisconsin, recently launched a community solar partnership with the goal of getting 100 percent of its power from renewables by 2019. It plans to adopt pollinator-friendly solar standards. In an October 2017 press release, it outlined plans to plant native grasses and flowers instead of turfgrass or covering the area beneath and around the solar arrays with gravel. These meadows will create bee habitat equal to 30,000 6-by-12-foot pollinator gardens.
Pollinator-friendly solar is not new and it's not radical, says Rob Davis, director of the Center for Pollinators in Energy. It's been a common practice in Europe for years, and a recent study in the United Kingdom reports that pollinator-friendly solar sites help more than bees and butterflies. Pollinator meadows also mitigate erosion, store carbon and enhance habitat for wasps, birds and other pest-controlling species. According to Davis, the cost of planting a native mix of grasses and flowers is equal to or less than using gravel.
Compared with planting turfgrass, it's more. "About $200 per acre more," says Colleen Hollinger, who works in public relations and business development for Prairie Restoration in Princeton, Minnesota. But the benefits far outweigh the initial cost, she says.
Prairie Restoration does a lot of native landscaping for industrial sites, and more recently it has been collaborating with solar companies. Hollinger sees pollinator-friendly solar farms as benefiting landowners leasing to solar farms, the companies installing and managing the solar arrays, and the local community.
For farmers who lease land to solar farms, requiring the land in and around solar arrays to be planted to native flowers helps their other crops. Pollinator meadows located adjacent to cropland increase bee visits to soybeans, blueberries, apples and pumpkins. And increased bee visits translate into increased fruit set, as Maine blueberry growers using wildflower strips have discovered.
Pollinator Meadows Reduce Costs
Substituting flowers for gravel or turf makes economic sense for solar companies, too. Planting a pollinator meadow requires less soil preparation than turf. Although the first three years require more labor to ensure the native plants become established, after that the meadows require mowing only once a year. Turfgrass, on the other hand, is usually mowed three or more times a season. Tending turf also means fertilizer costs; pollinator meadows simply decompose and recycle the mulch left from their annual mowing. Plus, turf maintenance usually entails the use of herbicides – another recurring cost that is not necessary with pollinator meadows.
It's not just farmers who are interested in how the land beneath the solar arrays is managed. This year the National Renewable Energy Laboratory (NREL), with funding from the U.S. Department of Energy, will conduct research at 15 solar sites across the country as part of a study to determine what plants and types of species thrive in those environments. By 2030, predicts NREL, 3 million acres will be devoted to solar farms, with double that acreage by 2050. The lab wants to see how different grasses compare with pollinator habitats and mixes of agricultural crops.
Pollinator Meadows Reduce Stormwater Impacts
Pollinators are one part of the picture. Native landscapes also improve stormwater management and reduce erosion because native vegetation sends roots deeper into the soil – often 4 to 5 feet down – while turfgrass has a shallow root system of 4 to 6 inches. Not only that, says Hollinger: Native plantings have faster infiltration, absorbing water at a faster rate than turfgrasses. That means decreased erosion, especially on hills.
It also means decreased stormwater runoff, which benefits the entire community. During heavy storms, runoff carries silt and contaminants into surface waters that may serve as sources of local drinking water. When NREL used computer models to compare stormwater runoff between native plantings and row crops, the native plants reduced stormwater runoff 23 percent for a two-year storm event (2.9 inches of rain). This is an important consideration, given that more solar projects are being built in the rainy Northeast. Climate models predict that storms will increase in intensity and bring more precipitation, so using native landscapes for stormwater management makes sense.
Hollinger sees leasing marginal agricultural land to solar farms as a good way to promote farmland preservation – especially when managed as pollinator habitats. Flowers provide a good alternative to gravel or turf, and provide a low visual barrier. The long leases keep the land from development. Best of all, if the landscape is managed as a pollinator meadow, it increases the agricultural value of the land.
Pollinator Meadows Build Soil
Since many solar leases are for 25 years, pollinator habitats become opportunities for sequestering carbon, says Hollinger. At the end of that time, the solar arrays are removed and the farmer is left with rich, fertile soil. Not only is it rich in organic matter, says Hollinger, it may have been managed for more than 20 years without synthetic chemical inputs. That makes it perfect for planting, or leasing to someone wishing to raise organic crops.
Landowners and solar companies need to consider some factors when developing a plan, says Hollinger. The height of flowering plants and native grasses requires that solar panels be mounted 32 inches or higher from the ground. For northern areas where snow is an issue, this tends to be a common height for panel placement.
When negotiating a lease, farmers and landowners need to include a clause in their lease that spells out that the land will be "native pollinator friendly." Similar language can become part of a town's planning policy, as the benefits of pollinator plants extend beyond farm boundaries. Solar farm developers have to put something in place to hold the ground between the arrays, and pollinator meadows work better because of overall decreased costs and increased ecological benefits.
"But," says Hollinger, "we're still learning the best practices on how to do this most efficiently and most effectively."
Resources
The Center for Pollinators in Energy has links to a TED Talk by Rob Davis and many links to articles.
https://fresh-energy.org/beeslovesolar/
Examples of pollinator plans from Minnesota
https://www.cleanenergyresourceteams.org/blog/how-can-solar-developers-plant-pollinator-friendly-habitat
Pollinator-friendly solar resources from the University of Vermont
https://www.uvm.edu/extension/agriculture/pollinator-friendly-solar
Xerces pollinator conservation resources for the Northeast
https://xerces.org/pollinators-northeast-region/