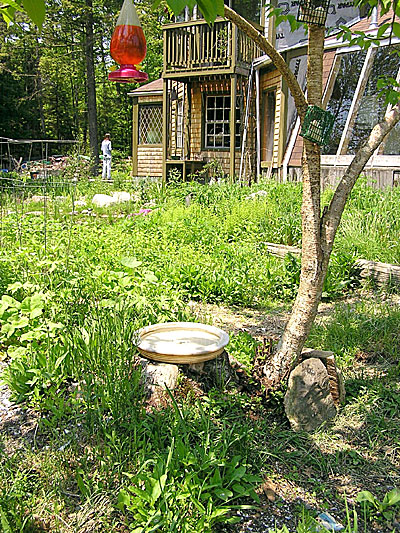 Garden beds and ponds are just a step from any door at the home of Charles and Julia Yelton in Whitefield, Maine. The Yeltons have a worldwide reputation for excellence in permaculture design. Photos by Jean English.
By Jean English
In his book Introduction to Permaculture (Tagari Publications, Australia, 1991), Bill Mollison defines permaculture as "a sustainable agricultural system based on a multi-crop of perennial trees, shrubs, herbs (vegetables and weeds), fungi, and root systems." He also calls it "a philosophy and an approach to land use which weaves together microclimate, annual and perennial plants, animals, soils, water management, and human needs into intricately connected, productive communities."
After visiting Charles and Julia Yelton's Humustacia Permaculture Gardens in Whitefield, Maine, I came away with my own definition: Take one part concentrated life and add water. Water in numerous ponds, fountains and birdbaths enables an abundance of life to spring forth and multiply here.
A World of Knowledge
Charles, originally from upstate New York, and Julia, from Australia, have lived, learned and taught permaculture all around the world. As a computer engineer and teacher, Charles lived in Hawaii, Winnipeg, France, and for 23 years, in Australia. He and Julia (a multitalented woman who is an architectural ceramist and yoga teacher) lived at the Crystal Waters Permaculture Village in Queensland, Australia-probably the best known, established permaculture teaching community in the world. There, their site became the demonstration garden for the many teachers and students. Now the Whitefield gardens of this cheerful, charming, knowledgeable and intelligent couple are drawing students from near and far.
While in Australia, these permaculture experts had invitations to teach in Nepal, India and beyond, "so," says Julia, they "decided just to go where the wind took us" on a two-year, worldwide trip. They explored permaculture practices that many indigenous peoples had developed. Julia tells how Bill Mollison and David Holmgren came up with the term 'permaculture' to describe practices that existed in pockets throughout the world. "Mollison lived with a lot of indigenous peoples … He took the best of the practices that stood well for many years without disturbing the natural balance" and unified them.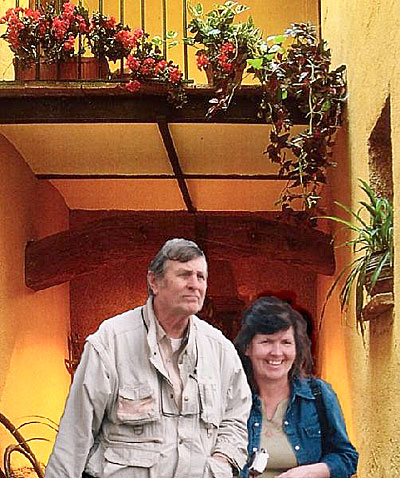 Charles and Julia Yelton of Whitefield, Maine. Photo courtesy of the Yeltons.
Odyssey Takes Couple to Maine
After completing their design work with the Earthlight Ecovillage in North Carolina in the summer of 1996, and having vacationed and enjoyed a previous visit to New England, the Yeltons decided to head for Maine. They had been developing their marionettes while traveling and decided to try some art shows with them. A friend offered the use of her house in southern Maine for a few weeks, and so the wheels of synchronicity started into motion. After their first Art Event in Kennebunkport, they had several orders for marionettes. They felt very much at home with the people and general atmosphere of Maine, so they decided to try a winter here. The following spring they taught their first Permaculture workshop in Whitefield and eventually bought the land where they now live. Julia became head gardener for Avena Botanicals in West Rockport, Maine, and each year they have run workshops through Avena Institute, which has helped them find their niche here.
Swales Make Productive Gardens
In Whitefield, the Yeltons carved their comfortable, energy-efficient home and their gardens out of the woods. Trees cut to make room for their house and "sun trap" were milled on-site and provided about 70% of the timber for the house, which is located on a gentle slope. The house is built on sound cedar poles formerly used by Central Maine Power. (Unsound poles were saved for garden edging.)
The suntrap is an arc where as few trees as possible were removed to make room for the house and gardens. Trees remaining on the north side of the house are tall enough that winds move over and beyond their house and gardens and into trees on the south side of the property, so harsh winds are rare at Humustacia. Thus, their site is about 8 degrees F. warmer in the spring than that of their neighbors.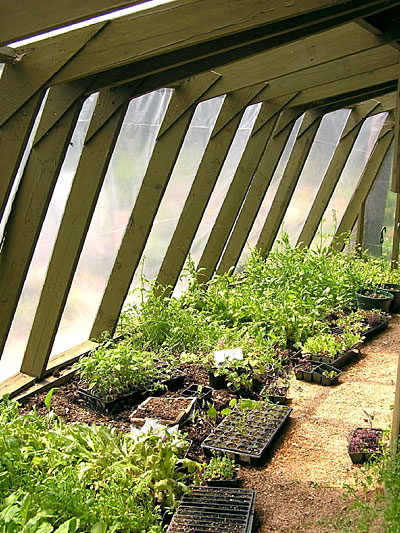 Greenhouses attached to the home house seedlings in the spring and provide greens all winter.
While prospective gardeners are usually advised to avoid woods, slopes and not-so-great soil, the Yeltons step out any door of their house into a paradise of food, medicinal plants, water, wildlife and beauty.
Permaculturists talk about zone 1; the home's immediate surroundings that contain items used daily. By swaling (terracing) their gentle hillside, the Yeltons have made numerous garden beds right up to their house, held them in place with logs that weren't useful for other purposes. The width of the terrace, Charles explains, is determined by the slope of the land; the steeper the land, the narrower the bed. Swales, which are cut on the contour of the land, are level and provide excellent water holding and erosion control, even after torrential rains.
The beds are initially "sheet mulched"-i.e., several layers of newspaper are placed on the beds and topped with compost. This is done in the fall, preferably, so that the beds sit and percolate for a while, then are ready to plant, without tilling, the following spring as soon as the weather permits.
Additional beds are made over time by building compost windrows. When these windrows decompose (with the help of "heaps" of nettles and comfrey that Julia grows to activate and add fertility to the piles), the humus-rich material is used on gardens, leaving just enough behind for the new bed. One windrow that was composting when I visited had a cold frame embedded in it, gathering heat and insulation from the windrow to help push plants along in the spring.
Established beds are supplemented minimally with compost each year. Beds that won't be planted right away are seeded with cover crops, such as buckwheat, which grow for a few weeks, then are covered with newspaper and straw, through which plants are placed. "We dig the ground as little as possible," says Julia, since tilling destroys soil and soil life. In addition to minimizing digging, sheet mulch creates gardens with few weeds.
Beds in front of their house sit on level ground so are not bordered by logs; they're simply separated from one another by cushy paths of sawdust. Paths are created initially with newspaper topped with sawdust; in subsequent years, they're topped with sawdust as needed.
The solar-heated greenhouse attached to their home provides greens all year. The Yeltons placed this greenhouse on the southeast side of the house rather than having it face directly south. "A southeast aspect is best because the plants get the early morning sun up until midday, which is their primary growing period; plants tend to shut down during the hottest part of the day," Julia explains.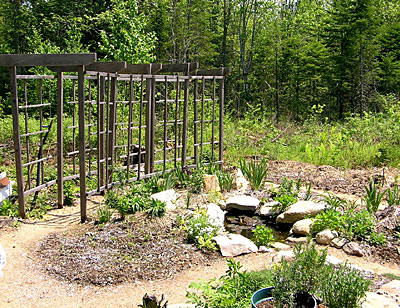 A garden path encircles a small pond. All ponds at Humustacia will be connected so that water can circulate from one to another, providing aeration.
Water for Life
As for adding water, the Yeltons have done that abundantly and beautifully. Their largest pond to date is separated from the south side of their house by a narrow walkway, and rain shed from their roof keeps the pond full. Such a pond, says Charles, can capture some of the 25,000 gallons of water running off their 20 x 30 roof. Other, smaller ponds, birdbaths and a solar-powered fountain (a demonstration for people who don't want open water when they have young children) are placed throughout the landscape and around the house. Eventually the ponds will all connect, with water flowing from the highest to the second highest, and eventually to the lowest, then being solar-pumped back to the highest to keep the water aerated so that it doesn't become stagnant. "The price of small, solar pumps has really come down," Charles observes, adding that 12v sump pumps for boats are half the price of regular12v pumps for ponds. He finds a lot of his solar equipment and other goods on the Internet.
The abundance and diversity of plants and water attracts all kinds of life. While visiting, I saw numerous birds, including two kinds of woodpeckers; a frog on a lily pad; a snake; a snake eating a frog… Dragonflies are common. Wild turkeys roost on a pea and bean arbor, and osprey nest on the power lines. (The Yeltons are connected to the grid but pay only about $20 per month; their goal is to reach CMP's minimum bill of $7.50 per month, after they install solar panels. Despite the low energy bill, they enjoy a spa and run a large, efficient freezer, power tools, computers and a TV.). Moose wander through their mostly undisturbed woods, while Mason bees frequent the houses that Charles made and set in the garden for them. A mother bobcat and her young come around, "even though we've taken part of the habitat," notes Charles.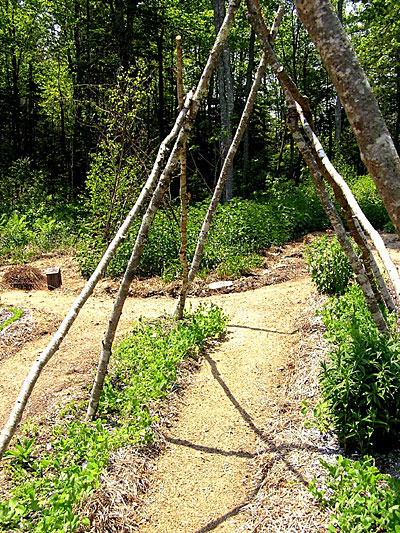 Peas and beans will grow on string supported by this arbor. The Yeltons will be able to walk under the arbor and pick the dangling vegetables in the shade.
Design Business Niche
But the Yeltons seem not so much to have taken as to have improved habitat. As Julia says of their design business, they design ecosystems rather than landscapes – which can be a problem when dealing with clients who commonly use herbicides and chemical fertilizers on the vast green lawns surrounding their million-dollar homes. Many people are not aware of the far-reaching effects and toxicity of herbicides and lawn care products to the pollinators, wildlife, amphibians and water table.
Charles and Julia find plenty of eager students for their workshops. They teach, for example, a whole day on water in the landscape: graywater systems; water catchment and storage; alternatives to flush toilets, such as humanure systems or composting toilets; ponds; swales… "If you've got water in the landscape, it means you've got the pollinators coming and staying close by," notes Charles. "We've seen a number of places [mostly out-of-state, town situations, where a lot of sprays are used] where there are no bees and no water close by, and you almost have to hand-pollinate everything."
One place they've helped add water is at Tom Griffin's Hope's Edge Farm & CSA in West Rockport, Maine, where they did an "elegant pond workshop" with Avena Institute class members, resulting in a pleasing environment for CSA potlucks and other functions.
Waste Not
In their own setting, the Yeltons use a humanure toilet that's a "really simple, very basic…bucket system and composting area that's screened," says Charles. "We use sawdust as filler, and straw." The composting area consists of three bins: "one you're filling; one that's just been filled; one that's a little over a year old. We let them go for a year or a year and a half [preferably through two summers]. Then we can use that material around berries, fruit trees-anything other than root vegetables or grains." The compost isn't turned unless a bin needs to be cleaned out. "We like to start off after the winter with a new bin," Julia explains, and they make sure they have easy access to piles during the winter.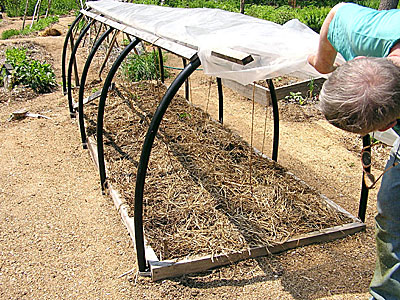 Charles peeks under a hoop house where paste tomatoes have been transplanted. The tomatoes get an early start here, and can be covered again in the fall to extend the harvest season.
The compost reaches 140 to 145 degrees F. Having the right combination of air, water, brown and green materials is the trick, says Charles. "People make the mistake not so much on the water, air or amount of brown material; it's the amount of green material. It's really 3:1 green:brown. Brown is basically green material without the water." [Humanure is the green material; sawdust is the brown; and the 3:1 ratio is by volume.]
"It's definitely something people have to accept-dealing with waste," Charles believes. Julia says that Crystal Waters in Australia, after 18 years of drought, is looking at "horrendous water restrictions. They've announced that they've got probably two years of public water left. You really need to look at every drip of water that's coming your way."
Digging Deeper
The Yeltons are now concentrating on "the next step-'Beyond Permaculture.' We're dealing with Zone 00-care of self, our connection with everything," says Charles. "Deep ecology," Julia elaborates. Some of their inspiration for this step comes from the six weeks of travel that they enjoy every winter.
They also follow the work of biodynamic expert Hugh Lovell of the Union Agricultural Institute in Blairsville, Georgia. For instance, this market gardener and CSA manager uses a cylindrical "broadcaster" inside which he places crystals, copper wire and a little shelf holding glass vials of homeopathic preparations, with the idea that the preparations will be broadcast over his farm. "Now he writes his intent on a piece of paper and puts it in" the cylinder as well. "A lot of homeopathics, you could say, is around intent," Julia explains, "and he's having amazing things happen-like he gets increased yields and showers of rain that his neighbors do not."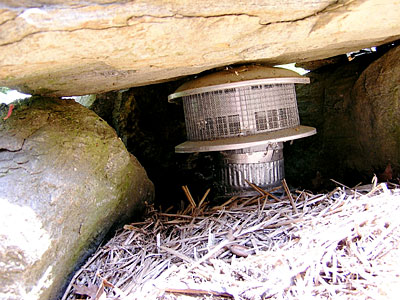 This dolman (an Irish term for a stand of stones) encloses a screened pipe that goes underground and under the house, descending in elevation until it reaches the kitchen area, where it comes up under a food cupboard that serves as a refrigerator. Air cooled by the earth is the refrigerant.
They mentioned another goal: to design and build an ecovillage somewhere in the world, "a place for people to go and enjoy, recharge their batteries, learn a whole lot and go away empowered again to do whatever they do-not just permaculture." They did help design Earthlight Ecovillage in North Carolina, and they are actively looking for that "somewhere" and a few like-minded people.
To learn more, visit the Yeltons' Web site, permaculturedesign.org. The Yeltons recommend Joseph Jenkins' The Humanure Book, which is available free as a PDF file at this link or for $19 as a paperback from Chelsea Green; Gaia's Garden by Toby Hemenway, which is carried by Avena Botanicals; Introduction to Permaculture by Bill Mollison and Reny Mia Slay; and Permaculture Two by Bill Mollison; Permaculture Principles & Pathways Beyond Sustainability, by David Holmgren. They also mention the year-long, "fabulous Permaculture program" at Kinsale Further Education College in Kinsale, Co. Cork, Ireland, and the full Permaculture Designers Certificate Course they will be teaching that is being planned for next summer at the University of New Hampshire in Durham, New Hampshire.