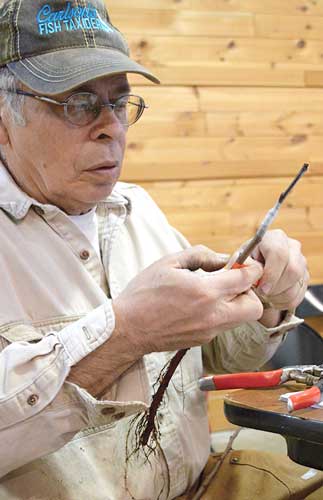 Delton Curtis grafting at the Seed Swap and Scion Exchange. English photo
By John Bunker
Springtime in central Maine was designed for orchard activity. The long days and the warming sun lure me out the door like the Pied Piper's flute. Get up early and cook up a saucepan of apples from the last bushel or two of Black Oxford and Northern Spy. A bowl of oatmeal and sauce should last me till noon. The snow surface has that dazzling crust that makes you feel like you're 10 feet tall as you glide between the trees, pruning saw in hand. March, to me, is the shortest month of the year. It's never long enough! Bring on more March! Three weeks more March! March forever!
March is time to complete annual pruning and, while doing so, to collect scionwood for spring grafting. I triple-bag scionwood and put it in the cold basement or fridge. I began pruning about wassail-time in mid-January and complete it in time for the Seed Swap and Scion Exchange held at MOFGA.
The Seed Swap and Scion Exchange is the perfect way to spend the last Sunday of the month. If you can't be outside, what could be more wonderful than bumping around in a crowd of gardening geeks in the MOFGA Exhibition Hall. Not only that, all the scionwood is free!
One of my favorite things about the scion exchange is the all-day grafting demonstration. Fedco Trees grafters donate their time to graft trees for sale. You pick a scion from one of the tables, snag a rootstock from Fedco, and one of the grafters puts them together right before your eyes. The grafted tree costs you $10, and all proceeds support MOFGA's Maine Heritage Orchard. You can watch the grafters as long as you like. Ask questions. Get pointers. Learn new tricks.
Sadly March will come to an end. Fortunately, then we get April. A week or so after the scion exchange, I do bench grafting (grafting a piece of scionwood onto a rootstock) in our shop. I crank up the wood stove, turn on the radio and bench graft all day. I "heel in" the small, newly-grafted trees in 5-gallon buckets of damp sawdust, as many as 40 or 50 trees per bucket, and place the buckets in the warm living room where the grafts get established and begin to grow. In May I take them outdoors on cloudy days to harden them off as you would a tray of tomato plants. Later, in mid-May, I plant them in a nursery row about 1 foot apart, where they'll grow for a couple of years until I transplant them into the orchard.
In mid-April I take the wire screening and plastic spiral tree guards off our trees in the orchard and nursery. Every fall I put them on and every spring I take them off. It's a slog – especially when you have several hundred trees – but it's worth knowing that the voles "probably" will not girdle them. Once the trees are about 6 to 8 inches in diameter, I no longer screen them; at that point they're on their own. Has anyone done a cost-benefit analysis of screening trees? Without much statistical evidence, I can say: It's worth it.
I remove the screening and tree guards because, left on, they attract the dreaded roundheaded apple tree borer, a beetle that lays its eggs on the trunk surface of young apple trees. The egg hatches and the larva then tunnels throughout the base of the small, young tree. After a year or two, the tree breaks off and tips over on a windy day. You think you have a black thumb but actually you have a borer!
Mainers have been battling borers for generations. I've tried everything. The one thing I've found that works is painting annually a coat of undiluted neem oil on the trunk of every tree up to about 6 inches caliper, about mid-June, from ground level up about 36 to 40 inches. I let some oil dribble into the soil around the base of the tree. Borers hate neem. It really works.
Around the end of April, I plant new trees in the orchard. Give me a few trees, a shovel and a wheelbarrow, a couple of 5-gallon buckets, some compost and a little pond to dip the buckets into, and I'm set for the day. April is almost as fun as March.
In early May I topwork. This form of grafting is performed outdoors on mature trees and is especially good for trees with trunks or branches of 2 to 5 inches diameter. MOFGA offers excellent classes in bench grafting and topworking, taught by local experts.
Next I chip all prunings and branches from our newly cut firewood and spread them around the base of apple trees. I'm fooling the trees into thinking they're in the woods. (Can you really fool a tree into anything?) Trees like the forest, and the forest floor is not that different from a bed of wood chips. The chips break down and feed those trees.
Finally the weather has warmed, sweaters and jackets are in the closet, and it's time to celebrate. I hop in the car and drive down Route 3 to John's Ice Cream in Liberty for a medium sugar cone. It is the best ice cream east of the Mississippi, or maybe anywhere. And nothing's better than ice cream, except maybe oatmeal and hot apple sauce.