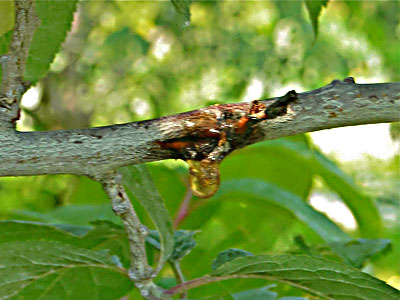 One symptom of brown rot is an oozing canker, as shown on this 'La Crescent' plum tree. Photo by C.J. Walke.

By C.J. Walke
Over the past few years, interest in cultivating organic tree fruit has steadily increased, as has the general desire to integrate these perennial crops into backyard garden and farm ecosystems. This is evidenced by the growing popularity of MOFGA's Organic Orcharding Workshop Series, where I'm seeing many familiar faces, and our annual Seed Swap & Scion Exchange, which drew close to 250 people this March, filling the Exhibition Hall and making it clear that next year we need to squeeze in a few more tables for all the wood and seed.
I'd like to keep this enthusiasm blossoming by offering two suggestions: Let me know what you'd like to see more of at our orchard events and how we can maximize your experience; and create at profile at www.mofga.net and join the Fruit Trees forum, where we can learn from each other and get more trees in the ground and fruit on the limbs!
Shifting Weather Patterns
Regardless of where you fall on the climate change/global warming discussion, weather patterns are becoming erratic, such as the two days above 80 F in March. This is cause for some concern with our fruit trees. A recent report from Highmoor Farm said that this season is on the same track as the 2010 season, when apple bloom was close to two weeks earlier than average, and a few nights of frost around Mother's Day killed a high percentage of blossoms and significantly reduced the Maine apple harvest. By the time this issue of The MOF&G goes to print, we will know if we dodged this frosty bullet or if we need to turn our thoughts to a bumper crop in 2013.
I have kept detailed records of orchard activity at MOFGA for a few years, and bud development this year is similar to that in 2010. That year, the majority of apples were at 1/2-inch green on April 21, pink on May 5 and petal fall on May 21. (The MOFGA orchards have numerous varieties and don't progress evenly, so these dates are based on development of the majority of trees; some are further along and others a bit behind.) In 2011, 1/2-inch green was on May 2, pink on May 15 and petal fall began June 4. This year, a couple of the earliest varieties showed a little green on March 25, then cooler weather seemed to stall development for the next couple of weeks, and as of April 15 the apples are approaching 1/2-inch green. So as I write this on April 19, trees in Unity are on a similar track as in 2010.
Brown Rot in Stone Fruit
Last year, the hybrid and European plums in the MOFGA orchards were heavily infected with brown rot, a fungal disease that affects stone fruit (peach, plum, cherry, nectarine and apricot). When the plums hit petal fall at the end of May, some blossoms didn't fall off the tree, but clung and blackened. I wasn't sure if this was brown rot or a bacterial disease. By early July, I started noticing fruit infected with brown rot, which first shows as soft brown spots but quickly progresses to a mass of tan powdery spores that will cover the entire fruit and can easily spread to adjacent fruit, especially those touching each other. The plum crop wasn't very full last year, but the majority of the fruit became infected, leaving very little for harvest in August.
Brown rot overwinters on infected mummies that cling to the tree or remain on the ground. These mature and shoot out spores during bloom time, infecting new fruit and continuing throughout the season.
I picked up all fruit drops regularly and diligently, and I picked infected plums from trees and off the ground a few times a week, but the infection never slowed.
Then I started to notice small cankers with a little ooze on young pencil-sized limbs, as well as some at the base of those flower shoots that never fell from the tree. The brown rot infection had spread into limbs, producing these small cankers. I had a significant infection on my hands.
Sulfur sprays are the only effective organic treatment for this fungal disease, but I stay away from the mineral fungicides that will also kill beneficial fungal allies. So, to limit the infection this year, I have been heavily pruning trees with cankers and burning the wood to kill the disease. As I write this article, plum bloom is still about a week away. I will provide an update in my next article. Stay tuned!
C.J. Walke is MOFGA's development associate, librarian and organic orchardist. You can address your orcharding questions to him at 568-4142 or [email protected].