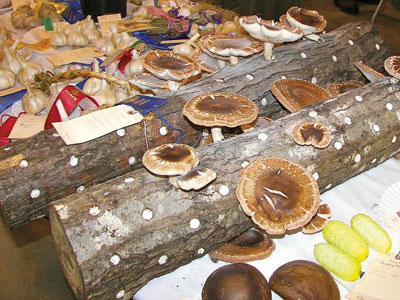 Shiitake mushrooms in the Exhibition Hall of the Common Ground Country Fair. Amy LeBlanc photo

By Steve Gabriel
Research based at Cornell University in partnership with the University of Vermont, Chatham University, county Cooperative Extension personnel and farmers has increased demand for and interest in forest mushrooms. This effort was boosted by almost a decade of research by recently retired Cornell professor Dr. Ken Mudge on shiitake and lions mane cultivation.
This research fed into a SARE-sponsored project, "Cultivation of shiitake mushrooms as an agroforestry crop for New England," in which more than 250 farmers learned the basics of cultivation and forest management. Fifty-five completed a 5-year enterprise plan for a shiitake operation, and of these, 27 were selected to inoculate 100 logs and record the time, expenses and sales of product. Fifteen followed through on log inoculation and provided complete data sets. Ten of the 15 reported net profits.
The study found that 53 percent of labor was spent felling trees for inoculating bolts (3- to 4-foot-long logs), 32 percent for maintenance and harvesting, and 15 percent for marketing and distribution. Much of shiitake cultivation labor occurs in the colder months, as forest management is least cumbersome in winter and logs can be inoculated any time after harvesting, although sooner may be better. So farmers can do the bulk of the work when other farm activities are minimal.
Growers spend just over 1 hour per bolt throughout the entire process – most of this time upfront, for felling trees and inoculating. A good log can fruit for four or more seasons.
A well-designed laying yard makes maintenance and harvesting more efficient.
Expenses and earnings varied among the 15 participants who reported their data. The average cost per bolt was around $4.74, although approximately half of participants' expenses went toward "durable goods" – equipment and supplies that are often a one-time purchase. So after some initial investment, the cost per log could decrease as much as 50 percent. For instance, 22 percent of costs were for tree cutting equipment (chainsaws, safety gear, etc.), which a farmer may already have or may not need if logs are purchased. Supplies for inoculating, harvesting and sales were around 75 percent or less of the total above.
While conventional, indoor-grown shiitake sells for $4 to $8 per pound, log-grown shiitake has commanded $10 to $16 per pound. Most mushrooms (46 percent) were sold to restaurants, 19 percent by direct sales, 15 percent at farmers' markets, 15 percent at grocery stores and 5 percent through other markets. Most growers reported that demand at local markets far exceeded supply.
Of the 15 participants who submitted full data sets, 10 made a profit of $1.39 to $11.88 per log in just the second year of production, with an average profit of $5 per log per season, or $15 to $20 per log over its productive life. Extension specialists developed sample budgets for a farm with 100 logs inoculated each year until a total of 500 logs were inoculated. A profit is expected in year two, and over $4,000 in profit in year five. Total profit over the five years is estimated at $9,000. Most commercial growers manage 1,000 to 3,000 logs.
When we cut and inoculated red oak and American beech trees at 3-month intervals for a year, we found that winter- and spring-harvested logs produced similar mushroom yields that were substantially better than trees cut in fall or summer, both of which performed about the same.
Bolts inoculated earlier in April produced more mushrooms than those inoculated later in spring, and the earlier the log was inoculated after felling, the better.
Oak is said to be best for shiitake production, with other hardwoods such as hop hornbeam (Ostrya virginiana), musclewood (Carpinus betulafolia), sugar maple and American beech being acceptable and red maple being less acceptable. Sweet birch, black birch, yellow birch and bitternut hickory are variable, while white ash, elm, poplar and conifers (pine, spruce, hemlock) are not suitable. These recommendations are based on input from many growers and from our own research, but they are not absolutes. The performance of one tree species will depend on the shade and other aspects of the microclimate of the laying yard as well as the time of year, so the preferred species for one grower is not necessarily the same for another. One experiment at Cornell's Arnot Forest showed that ironwood performed significantly better than oak, sugar maple and hop hornbean. The performance of any tree species is influenced by factors over which the grower may have little or no control. A new grower should try several species until the best has been identified for the site.
We discovered a positive link between mushroom cultivation and forest health. Forest preservation provides optimal shading for the fruiting mushrooms, but beyond that, forest thinning was linked with stand improvement.
For stands with small diameter (4- to 10-inch) trees, the main product is firewood, which has limited use and value. At 6-inch diameter, roughly 20 trees make a cord of wood, which equates to $10 – $15 of revenue generated per tree (whether selling it or for personal use). The same tree harvested for shiitake mushrooms may yield 5 to 10 logs of 3-foot length. Mushroom cultivation could yield $25 to $50 per stem – a much improved margin if one is willing to put in the time and work over several years. Timber stand improvement thinnings can yield both mushroom logs and firewood to maximize efficiency and productivity.
Harvesting mushroom logs can focus on thinning some of species in order to support the long-term, positive ecology of the woods. For example, beech trees declining from beech bark disease are not considered a high value timber species but can be thinned for mushroom logs. Instead of seeing beech sprouts as weeds, farmers could manage young shoots or thin older, diseased trees for mushroom logs. Farmers should develop a stand management plan, thinning for forest health, with the byproduct of that thinning being mushroom logs and other products.
Resources at www.cornellmushrooms.org include a free PDF of "Best Management Practices for Log-Based Shiitake Cultivation in the Northeastern United States"; production videos and analyses; farmer testimonials; a grower network and email listserve; and information on meetings, conferences and workshops.
This article was adapted from "Mushrooms turning a profit for forest farmers in the Northeast," by Steve Gabriel, Cornell Small Farms Program, Winter 2015; https://smallfarms.cornell.edu/2015/01/12/mushrooms/. Gabriel, an agroforestry Extension specialist for the Cornell Small Farms Program, also runs a farm with his wife in Mecklenburg, N.Y., where they grow and sell mushrooms, duck eggs, lamb and more. He can be reached at [email protected].