By Melissa White Pillsbury
The buzz in the food scene lately has been "locally grown" – and even though the nature of buying your food locally from "farms with a face" goes against the predominant commodity-based supply system of supermarket chains and national food brands, it's not stopping many of those mega-businesses from trying to cash in on the marketing value of "locally grown" – where "local" may be many states away from the supermarket. Such markets also advertise with terms such as "free range," which has no legal definition and no third-party verification.
The "organic" label, on the other hand, assures stringent production criteria and is certified by a third party, such as MOFGA Certification Services LLC.
If you truly want to contribute to a local food economy, know the story behind the label.
How do we transcend the current trendiness of "local" and build an authentic local food system in Maine? The first pillar of a local food system is farms. We need more farms, more farmers and more farmland. To that end MOFGA incubates about 15 new farm businesses a year through its journeyperson program, and many more new farms and local food businesses are filling the need for more local foods.
For example, Maine continues to add about five new farmers' markets every year, and more and more existing markets are staying open through winter. The number of farms selling Community Supported Agriculture (CSA) shares also continues to grow by at least 15 per year.
A local food system can't be built on direct marketing alone. As farm businesses grow in size and number, outlets offering larger volume are needed for those farm products. In addition, to reach a broader segment of the population, food needs to be more widely available through more traditional and convenient sources than the farmers' market that meets once a week.
This is where the other pillars of a strong local food system come into play: distribution, processing and retailing.
Companies such as Crown of Maine and Farm Fresh Connection that distribute only Maine foods have pioneered building the local food economy, convincing customers to buy local before it was trendy. Today, it's a challenge for them to maintain sufficient year-round supply to meet demand from their restaurant, buying-club, institutional and natural food store customers.
Thanks to the success of these companies, new local food distribution companies are testing the waters. Newly launched Maine Harvest Link is focusing its distribution efforts in central Maine but hopes to expand coverage area as demand increases.
Processing is a key ingredient in offering Maine foods year round, and one with which our developing Maine food economy continues to grapple. A few examples demonstrate the potential for year-round supplies of more Maine organic foods with the right combination of adequate seasonal supply, appropriate markets and a sound, if somewhat creative, business plan.
Until recently no significant processing capacity existed for organic wild Maine blueberries. Merrill Blueberry Farms, a wild blueberry processor in Ellsworth, became a certified organic processor in 2009 and in the same year purchased more than 50,000 pounds of Maine organic wild blueberries that otherwise would have gone unharvested or been sold to the conventional blueberry market for a lower price. Now, organic growers who lack the infrastructure to do their own processing, or the markets where they can sell everything fresh, can grow and sell more berries, and value-added food businesses can source organic wild Maine blueberries all year.
Maine's Own Organic Milk Company created opportunity out of crisis. In the winter of 2009, 10 MOFGA-certified organic dairy farms received letters from their processor saying that their contracts were not being renewed. With no other bulk market for their organic milk, these farmers were faced with a no-win situation until collaboration between the farmers, MOFGA, Maine Farm Bureau and the Maine Department of Agriculture resulted in the formation of Maine's Own Organic Milk Company, which came on line in January 2010. For the first time, organic milk produced and processed in Maine is widely available all year at retail locations statewide.
Retailers bring the local food movement to the masses by their convenience. Many independently owned food co-ops and natural food stores in Maine have been committed to supporting local agriculture for decades. Notably, Royal River Natural Foods in Freeport has a policy of buying only certified organic fruits and vegetables for its produce section, sourcing from Maine certified organic farms whenever possible.
A few new retailers take the commitment to local product to the next level by making it a focus of the business. Barrels Community Market in Waterville aims to source most of its products within 20 miles of the store. This commitment provides a significant incentive for local farms and food businesses to ramp up production. Barrels also hopes to begin supplying area businesses, schools and institutions with local foods.
In Rockport, Farmers Fare is a new market and café committed to sourcing as much Maine grown and produced food as it can. Taking a comprehensive approach to its theme, the new building contains a commercial kitchen, café and butchering facility, while the surrounding grounds contain demonstration gardens, a heritage orchard and root cellar. Both Barrels and Farmers Fare are committed to educating the public about local, seasonal eating through workshops, classroom programs and hands-on demonstrations.
With every new Maine food business that opens, another block is added to the foundation needed to make the local food system in Maine robust, sustainable and self-sufficient.
The one other pillar of a local food system is you, the community. Fewer than 5 percent of Maine households make a regular commitment to buying food from locally grown sources. Without a strong base of support from consumers, the other elements of the local food system – farms, distributors, processors and retailers – can't continue to expand their products and services. So get out there and eat!
To buy from or sell to any of these new, all-local markets, contact:
Barrels Community Market, David Gulak, market manager, [email protected], 207-660-4844; 74 Main St., Waterville, ME 04901; www.barrelsmarket.com
Farmers Fare, Sarah Greer, director of vendor relations, [email protected], 207-236-3273; Route 90 and Cross St., Rockport, ME 04856; www.farmersfare.com
Maine Harvest Link, Mike Gold, owner/operator, [email protected], 207-877-1182; www.maineharvestlink.com
For a list of Maine food co-ops, natural food stores and local food distributors, see:
www.mofga.org/Resources/FindLocalFoods/LocalFoodRetailers/tabid/793/Default.aspx
For a list of marketing opportunities for Maine farmers, see:
www.mofga.org/Resources/MarketingOpportunitiesForMaineFarmers/tabid/917/Default.aspx

Top

---

Company Profile: Barrels Community Market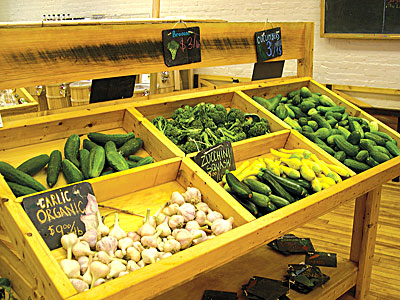 Barrels Community Market in Waterville is committed to supporting local producers. Photos courtesy of Barrels Community Market.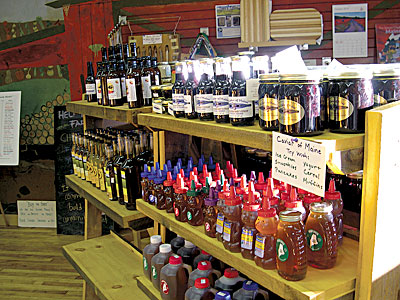 After several years of planning, Barrels Community Market opened in July 2009 in a formerly vacant storefront on Main Street in Waterville in the "Barrell Block," named for former owner Charles Barrell. The market emphasizes community in everything it does. Products sold at the market are sourced primarily from area farmers, food producers and crafters. Market manager David Gulak says, "We want to know and tell customers where each product was grown, who grew it, and what methods they used."
Food products at the market include produce, meats, cheeses, breads, baked goods, drinks, pickles, jams, oils, grains and other dry goods. The food side of the business is augmented with crafts, tools and home goods made from locally sourced or naturally occurring inputs. These include bath and beauty products, candles, bags, clothing, wooden products, cards, prints and pottery.
The parent organization of Barrels is Waterville Main Street, which found after several years of surveying downtown area residents and businesses that the most requested service was a market selling fresh foods year round. After several unsuccessful years of trying to recruit a grocery store to the area, Waterville Main Street's executive director, Shannon Haines, met with Gulak and some Colby College students who were interested in helping get a market started. In 2008, after conducting a Colby-funded feasibility study, surveying potential suppliers and customers, and meeting with accountants and other professionals, a business plan was created for what would become Barrels Community Market.
As a non-profit, a primary mission of the market is to provide year-round educational programs to community members on topics including carbon footprints, health benefits of local organic produce, cooking tips, information about suppliers and more. With the retail space established, the market is now increasing its educational component, both within the retail space through signage, literature and face-to-face consumer education, and in the event space downstairs through workshops, lectures, classes, and mixed media installations and presentations.
Coming events include a month-long wheat workshop series on history and varieties, growing your own, farms and mills in Maine, and culminating with a whole wheat bread making workshop.
Barrels also plans to partner with local seed companies to put on a home gardening workshop series and with local health professionals on an "Eating for Health" series.
Barrels welcomes input and support from the community. The market's mission of buying exclusively local and natural products is difficult to achieve, and it has taken time to establish steady supplies of staple products. Says Gulak, "If people want it to work, we really need them to keep coming down and supporting us in any way they can: shopping, volunteering, attending events, telling their friends/colleagues, visiting our Web site, talking on Facebook, et cetera. As manager I try to listen to everyone's input and incorporate it into the vision of the market. Keep the dialog active and healthy!"
Melissa White Pillsbury is MOFGA's organic marketing coordinator. You can contact her at [email protected] or 568-4142.