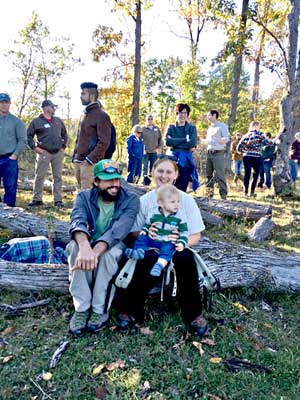 Heather, Tyler and Atom Omand resting a few feet away from happy cows at a Cornell agroforestry training at Angus Glenn Farm in Watkins Glen, New York.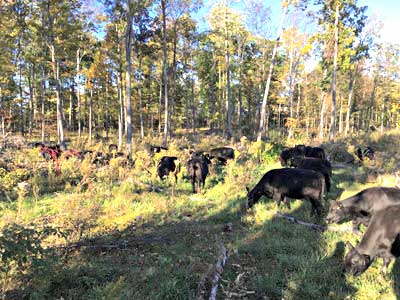 Black angus cattle eagerly grazing after being released into a fresh paddock in a black locust/black walnut silvopasture system at Angus Glen Farm, Watkins Glen, New York. Photo by Heather Omand
By Heather Omand
MOFGA Organic Marketing and Business Specialist
In October 2017, my family and I attended a four-day training on agroforestry in New York hosted by Cornell University. We went for our own aspirations to implement agroforestry practices on our home farm, but I ended up talking a lot about my conversations with MOFGA-certified organic farmers and about the work that MOFGA does, such as our online organic farmer business toolkit and our journeyperson program. Based on that experience, I was invited by the USDA National Agroforestry Center (NAC) to attend a USDA workshop in Washington, D.C., on the economic opportunities of agroforestry. A kind of interactive listening session, the goal of the workshop was to help identify barriers to adopting and key opportunities for supporting broad implementation of agroforestry nationwide.
Agroforestry is the intentional combination of agriculture and forestry to create integrated and sustainable land-use systems. These systems take advantage of the interactive benefits of integrating trees and shrubs with herbaceous crops and/or livestock. Agroforestry practices include alley cropping, forest farming, riparian forest buffers, silvopasture, windbreaks and a few other special applications. The most common practices in the United States are riparian forest buffers and windbreaks – which, in many states, the Natural Resources Conservation Service (NRCS) helps fund.
Between the two trainings, I want to bring some points and resources to the attention of the MOFGA community. They include the abundance of resources available regarding agroforestry, the farms and models that could inform Maine agriculture, the economic potential for agroforestry and, finally, a few cautions.
Resources
The USDA NAC website has a wealth of information, including fact sheets on each of the different practices, a new publication titled "Agroforestry: Enhancing Resiliency in U.S. Agricultural Landscapes Under Changing Conditions," and economic modeling tools and design tools for a variety of practices. Many of these resources focus on the research-documented climate and ecosystem services agroforestry practices provide, or they detail the documented economic benefits that farmers who implement those practices have realized. You can order most NAC resources in print form from the website, but I have amassed a physical library of many of them; if you're in Unity and want to check them out, please stop by.
Additionally, the Center for Agroforestry at the University of Missouri is a national leader in agroforestry research and training. It offers an online, graduate-level degree program on the topic. In addition to bountiful research and policy resources related to agroforestry, the center dedicates a page on its website to profitable agroforestry enterprises.
Cornell University also has numerous resources on its agroforestry website.
Model Farms
During the training in New York, I toured several agroforestry farms, and in D.C. I heard from a few more practicing farmers who participated in a panel. Farms that Maine could learn more from include but are not limited to Twisted Tree Farm in Spencer, New York – a nursery for many tree species typically used in agroforestry; Angus Glen Farm in Watkins Glen, New York, which has a beef/black locust silvopasture enterprise; Wellspring Forest Farm & School in Trumansburg, New York, which has forest-farmed shiitake mushrooms, sheep silvopasture and agritourism; Good Life Farm in Interlaken, New York, which practices alley cropping, silvopasture with poultry, and agritourism; Green Fire Farm in Monticello, Wisconsin, which converted a traditional soybean farm to multispecies livestock silvopasture; Ridge to Reef Farm in the U.S. Virgin Islands, with alley cropping, forest farming and agritourism; Integration Acres in Albany, Ohio, which silvopastures goats with pawpaw, has fruit and nut orchards and welcomes agritourists; and Mark Shepard's well known Forest Agriculture Enterprises in Viola, Wisconsin, which has silvopasture, a fruit and nut nursery and a dairy enterprise.
In addition, windbreaks and riparian buffers are increasingly common on many conventional and organic farms across the country. Many of the publications from the NAC and the University of Missouri feature other farms practicing agroforestry.
Economic Potential
A major focus of both trainings was the economic potential for agroforestry to reduce costs or increase profits for farmers. Many resources from the organizations already mentioned offer cost/profit modeling tools and enterprise budgets.
Two important concepts are incentives and markets for ecosystem service benefits of agroforestry practices, and creative financing. The first concept can be complex. I was challenged trying to understand the ins and outs, but the important takeaway is that some U.S. states incentivize agroforestry practices, and Maine could move in that direction. Producers can advocate for this at local NRCS offices – especially at NRCS annual Local Working Group meetings (typically in late fall/early winter). Letting NRCS know that you are interested in support for implementing agroforestry practices – and that the USDA NAC has many resources and much research on the benefits of those practices for conservation – is important. I have connected Kate MacFarland at the NAC to our state NRCS office, but the more NRCS hears from producers, the more likely it is to learn more.
Other models exist as well. In many states water quality is a highly localized trading market. For example, a wastewater treatment plant is considered a point source of water pollution, and the federal Clean Water Act attempts to limit pollution from these sources. These plants can pay for agroforestry practices to offset and remediate pollution from their facilities. I do not know yet the extent to which this applies in Maine, and I am not commenting here on the ethics of these practices; I am simply noting that they can be an economic opportunity for agroforestry. In one example from Oregon, a technological solution to addressing point pollution from wastewater treatment cost over $16 million and was expected to impact overall watershed quality less than the alternative $6.5 million riparian buffer along several miles of the waterway. Some of that $6.5 million went directly to farmers to implement riparian buffers on their land.
Some states are just becoming aware and accepting of agroforestry practices in carbon trading markets, although this is new and not widely adopted. It is currently more common for companies that are willingly investing in sustainable practices (outside of the federally managed trading market) to consider investing in farms and operations practicing agroforestry. A significant opportunity exists to connect sustainably minded companies with research on mitigating climate change through agroforestry. The Virginia Department of Transportation has done considerable research and adopted agroforestry practices relating nutrient trading credits to the water quality of the Chesapeake Bay.
The creative financing community is also supporting agroforestry practices. For example, Propagate Ventures, co-founded by the young and brilliant entrepreneur Harry Greene, provides short- and long-term financing to farms seeking to implement agroforestry and regenerative agriculture practices. Greene participated in both trainings I attended. Although he is not working with any Maine farmers or landowners currently, he is interested and has roots in Maine – his parents operate a summer camp in the Rangeley Lake region. Propagate Ventures offers agroforestry audits, direct planting establishment and maintenance for landowners, and profit-sharing arrangements and investment for farmers from a network of financing partners.
At the USDA event in D.C., Greene moderated a panel that included representatives from the Savanna Institute, which has begun working with farmers on agroforestry-focused land arrangements – e.g., long-term leases, etc.; Iroquois Valley Farms, an organic farm investment group that added its first agroforestry operation to its portfolio in 2017; and the Farm Service Agency, which is starting to learn more about agroforestry enterprises and how existing loan programs can support them. Economic opportunities for agroforestry are expanding rapidly.
A Few Notes of Caution
Like any kind of agricultural or forestry practice, blending the two philosophies can be practiced poorly and can lead to environmental degradation rather than climate change mitigation. The most common practices that can go wrong are forest farming and silvopasturing. Forest farming is often related to managing and harvesting crops that grow naturally in the forest, such as maple syrup, ginseng, wild mushrooms and a myriad of other possible enterprises – hopefully sustainably. Managed poorly, these harvests can devastate an ecosystem or can infringe on the rights of indigenous peoples. Some believe forest farming should not be practiced at all; that the benefits of the forest for carbon mitigation (without or with minimal human intervention) supersede the economic bottom line.
Additionally, many operations nationwide purport to be practicing silvopasture but are simply keeping animals in the forest. This practice has massive potential for forest and soil degradation and destruction. The "Photo Guide to Northeastern United States Silvopasture" by Joseph Orefice, John Carroll and Leanne Ketner compares well managed silvopasture with livestock-led forest destruction side by side. Many of the farms I list above planted timber, fruit or nut trees in fields and then rotationally graze animals through these forests; substantial research supports the economic and environmental benefits of this type of silvopasture. Still, more research is needed.
If you have questions or thoughts about my experiences at the trainings (I took lots of pictures), the resources I encountered or brought back, or anything else regarding agroforestry, please be in touch – [email protected].
---
Agroforestry in Maine
MOFGA's landscape coordinator, Jack Kertesz, set up an alley cropping site, funded by a USDA Sustainable Agriculture Research and Education (SARE) grant, in the south orchard at our Common Ground Education Center when MOFGA first moved to Unity. Over the years, economic crops planted between the young orchard rows have included woody nursery stock, herbs, flowers and vegetables. Read more in "Alley Cropping in MOFGA's Demonstration Orchard," by Jack Kertesz, spring 2001.
Kertesz also founded The Maine Tree Crop Alliance, which is dedicated to promoting woody plant species that can be grown for food, feed, fodder, bee forage and beneficial companion plantings. See www.snakeroot.net/MTCA/ or log in to Facebook, search for "Maine Tree Crop Alliance" and request to join the alliance's Facebook group.
Interplanting orchard trees with herbaceous and woody companion plants to create biodiversity is a core practice in MOFGA's Maine Heritage Orchard. See "Maine Heritage Orchard Update: A Successful Spring Planting: April 24, 2015," by Abbey Verrier.
The Maine Grass Farmers Network and the Common Ground Country Fair sometimes offer talks on silvopasturing, and Diane Schivera covers this topic in some of her writing – as in her "Meeting Notes from 2016" in the spring 2017 issue of The MOF&G (link coming soon).
MOFGA's Low Impact Forestry Project covers this topic, as well. See, for example, "MOFGA's Low Impact Forestry Program: What We're Doing on Our Farms," by Peter Hagerty, fall 2015.
David Fuller is UMaine Cooperative Extension's agriculture and non-timber forest products professional. His work includes educating small woodlot owners as well as industrial forest landowners about the value of their property beyond boards and pulp, with an emphasis on income streams from sustainable harvests. He is based in Farmington.
Agroforestry-related articles appear regularly in The MOF&G. Here are a few:
"Growing Ramps from Seed," by Heather McCargo, winter 2016-2017 (link coming soon);
"Farming Fiddleheads?" By David Fuller, summer 2016;
"Cultivating Shiitake Mushrooms as an Agroforestry Crop for New England," by Steve Gabriel, summer 2015;
"Polycultures in Orchards," by C.J. Walke, fall 2011;
"Agroforestry: Good for Growers and the Earth," Coverage of the 10th North American Agroforestry Conference at Université Laval in Quebec in June 2007, by Jean English, fall 2007
"Black Cohosh – A Native Woodland Plant," by Deb Soule, fall 2003