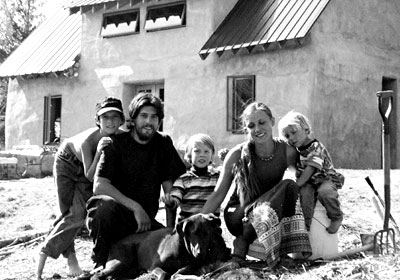 Forrest, 10, Joe, Zephiren, 6, Julia, and Atticus, 3, with Douglas Fur in the foreground and their straw bale house in the background.
By Joyce White
Beautiful and sturdy, the Gonsalves' straw bale house fits snugly, organically, into its cleared niche between forest and brook with a sense of permanence and belonging. If the idea of a house of straw should conjure images of it being blown away with a huff and a puff from the big, bad wolf, seeing this real, lived-in straw bale house would quickly dispel any notion of impermanence or fragility.
The knowledge that this young couple with two children and no prior building skills – or even experience of Maine living – could build this home for themselves for $20,000 may give others with a similar dream the courage and confidence that they, too, can build their own home.
The Gonsalves were living and working in Massachusetts, Julia says, and spending all their free time outdoors, camping, hiking and backpacking. They realized that the way they really wanted to live their lives was one in which they would live in close contact with the natural world on a daily basis, not just on weekends and vacations. And they were already developing their convictions that they wanted to create a lifestyle that would be respectful of that natural world, a model of sustainable and harmonious living for their children.
Soon after they started looking for land in the hills of New England, Joe says that they learned about straw bale houses in a Real Goods publication. The book The Straw Bale House, by Athena and Bill Steen, David Bainbridge and David Eisenberg, led them to believe that they could build a straw bale home for themselves and their two sons. "It seemed like something novice builders like us could do," he says.
They planned to buy land and build a house they could afford without incurring any debt. They were looking for a town whose zoning ordinances would not present a problem for building an unconventional home, and they were looking for land with a brook. After two years, they found 3 acres for $6000 in the small, very rural, western Maine town of Sumner. Julia had worked in coffee houses and Joe made a lot of money in lump sums by painting houses in the Boston area, so they had saved enough to pay cash at the 1997 closing. "I could paint a house outside Boston and walk away with a few thousand dollars," Joe elaborates.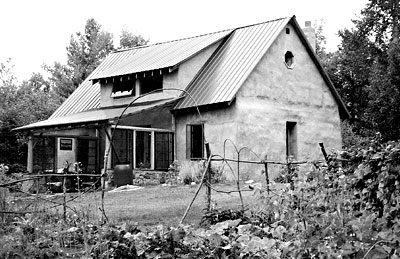 The Gonsalves family built this house themselves for only $20,000 by using straw bale technology, their own labor and scavenged materials. Joyce White photo.
Recycling and Labor Save Money
They also began collecting windows, doors, kitchen cabinets and other goods that people were discarding. Often things were new but of a single, odd size; sometimes, people were remodeling and discarding perfectly usable cabinets and shelves.
They continued studying The Straw Bale House and began camping on the land. Then they met someone who was part of a community in the Kennebunk/Arundel area who had already built a straw bale house, with help from many friends. Noah Wentworth was always ready to answer questions, Joe says, and was immensely helpful when they began building.
An outhouse with an adjoining section for storage went up first. They continued clearing land for the house and gardens during camping "vacations." By 1999, the 20- x 30-foot concrete slab was in place with threaded rods and rebar pins in the perimeter where the straw bales would later be placed. That outer, 18-inch-wide border of the slab, on which the straw bales sit, was raised 2 inches higher than the interior of the slab that forms the downstairs floor, so that the straw bales would not sit directly on the slab.
Since Joe and Julia had no family in the area and hadn't yet established friendships there, they were pretty much on their own with the building, although a neighbor had loaned them a camping trailer, which was immensely helpful in the summer of 2000 when they began building. They did have occasional help from visiting friends, relatives and neighbors.
Lacking any farming background, neither Joe nor Julia knew that they couldn't buy new straw in spring. They were ready to get started, but the earliest they could get straw was July 26 – 300 bales of first-cut rye from a farm in New York.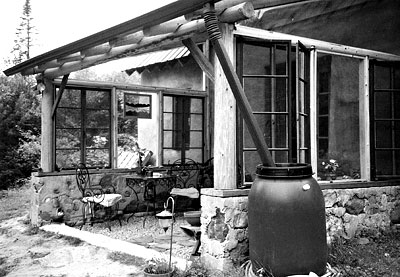 A rain barrel outside the sunroom catches irrigation water from the roof for the garden. Joyce White photo.
Lumber for the roof had been ordered ahead of time from a local source, and they had acquired all of the windows and doors they needed while they were living in Massachusetts. "Our basement was full of windows, doors and door knobs," Joe laughs. Cupboards, shelves, a soapstone sink and bathtub and other products were either very inexpensive or salvaged free.
The straw bale frame took two weeks to get in place – a tense time, Julia comments, because of the worry about keeping the bales dry. It's especially important, Joe explains, with the load bearing straw bale construction they used, that the bales not get wet. While some straw bale houses are framed the conventional way and later filled in with straw, in the Gonsalves' house, all the weight of the house and roof bears directly on the straw. Joe advises others who are building straw bale houses to "have a way to keep the straw dry at all times. It doesn't work to just put a tarp over it; it gets condensation unless you provide ventilation."
They built the walls by impaling straw bales on the threaded rods, which extend to the roof plate. Bales were pinned every few courses with rebar pins. Nuts and washers threaded on the rods above the roof plate compressed the plates against the bales. This initial compression of the bales allows the walls to be leveled before the rafters are set.
They chose that method of construction, not because it was easier, but because it saved about $5000. "It was labor intensive," Julia notes, and rather than requiring a lot of complicated math, it mainly required common sense. "It was, by no means, easy, though. A lot of things are irregular, but that doesn't matter to us. It just gives it character."
They began the building plans with a smaller family than they had at the end. By the time they got to the roof, Julia was late in the pregnancy of their third son, and she wasn't able to help much. "I basically put the roof on by myself," Joe says. It's a conventional, double roof with a vented air space. His process of building was "to read how to do something, then try to figure out how to do it in the least expensive way possible."
All the concrete and stucco for covering the walls was made with water from the brook, and the sand, gravel and rocks for the foundation also came from the brook. They use water from the brook for everything except drinking; drinking water comes from a nearby spring.
A Family at Home
On the early May day when I visited, Joe was sitting at the entrance of their southeast-facing home cutting seed potatoes. That area has since been made into a greenhouse/ mud room, and the next project in the plans is to add another bedroom. The boys, Forrest, almost 10, Zephiren, 6, and Atticus, 3, played happily around the yard. Their large, mixed breed dog, Douglas Fur, stayed near the adults.
The boys are home schooled with planned learning activities from 9 to noon every day. The brook is a favorite place for adventures and play, another important kind of learning, says Julia. Joe adds: "If you're concerned about education, be a living example and home school. If you want good food, grow your own." It's important to learn to do things for yourself, to be independent and self-sufficient," he believes, and that's something else their boys are learning.
The downstairs living area has a feel of spaciousness and light. A wood stove provides all of the heat for this naturally well insulated home; a small solar set-up provides some electricity. The artistry of the builders is evident everywhere – as in hand carved counter stools and stenciled designs around the windows. The dining table rests on a hand-painted canvas floor cloth that Julia created, a form of floor covering dating back to Colonial times.
Except for the cost of their gas cookstove, the whole kitchen cost 3 dollars. The soapstone sink was free – "I just love it," Julia beams – the cabinets were salvaged but new, and Joe made the counter from scrap lumber. Doing things this way involves a lot of time, says Joe. "Figuring how to fit things into the spaces is like a puzzle."
The words "Live Within Your Harvest" on a small, ornamental wall plaque in the kitchen area speak concisely of their philosophy of living well but simply and harmoniously, being respectful and appreciative of all resources.
The bathroom floor tile is leftovers, and the tub was used. They have a grey water drainage system and leach field; but a full septic system is not necessary, because they use an outhouse rather than a flush toilet.
A naturally curved rail of smooth, white wood guides us to the upper floor, open space with the boys' beds and hand painted dressers at one end, the parents' bed in the large window area that overlooks woods and hills. Floor space at the other end is covered in Julia's floor coverings in various sizes, colors and stages of completion.
"We've stripped down our lives," Julia comments. "We have no closets, and it took awhile to get to where the house stays really neat. In winter, with tools inside and snowsuits, the house gets smaller."
These canvas floor cloths are earth friendly, she notes, and "last forever." She uses acrylic craft paint for the color in her unique designs and several coats of water based varnish. They were originally made in France, but were the first American-made floor coverings. People can find them for sale at the Maine Discoveries store in Norway, Maine (866/ 747-0444, toll-free). Those who want to make their own floor cloths can get directions in books sold in craft stores, which also sell small pieces of canvas. Since Julia's creations are so large, she buys her canvas wholesale from a marine supply company in Massachusetts.
Growing Gardens
Their gardens are all hand dug, slowly, with Joe and Julia removing more roots and rocks each year. The garden spot is on a south facing slope between the house and the brook, and they raised a good crop of vegetables last year. In early May, new, green garlic shoots were showing through the mulch.
Horse manure, comfrey and lime nourish their gardens. Last year the Gonsalves experimented with their abundant comfrey, brewing comfrey tea. They tied a softball-sized ball of leaves in a piece of hardware cloth (screening), set it in a 5-gallon bucket of water, covered it and let it sit in the sun for four to six weeks. The mixture turned black and smelled like manure. It's common sense science, says Joe, to use plants to feed plants. In their experiment, plants on one side of the garden were fed the comfrey "tea," while those on the other side were not. The Gonsalves soaked the area around the roots with the tea after a rain had moistened the soil. Those receiving the tea – the only difference between the plots – grew observably better. (Both plots had been amended earlier with the same amounts of lime and horse manure.)
Forrest, who was 10 in July, says he loves the Norway library because he loves to read. He began reading at five and started reading novels at seven. He doesn't have a favorite book, but likes the Red Wall series by Brian Jacques. Julia read the first two Harry Potter books aloud to all three boys, then Forrest read the others by himself.
Forrest had the choice at age seven of going to public school or being schooled at home, and he is still choosing home schooling. When kids are taught together, the learning "trickles down," Joe believes. Zephiren has learned a lot – the multiplication tables, for example – just by being with Forrest.
Home schooling takes a lot of time and a lot of work, Joe emphasizes, and can only be done by people who can take the time to do it. "As with the gardens and the house," he says, "you put in your time and reap the rewards."
Julia doesn't work outside of the home now; Joe does seasonal work on an organic farm and rakes blueberries for cash. With neither mortgage nor electric bill, they don't need as much money to live as many people do. Joe cuts firewood on the property, and the house heats easily and retains heat well – one more way that the Gonsalves live within their harvest.