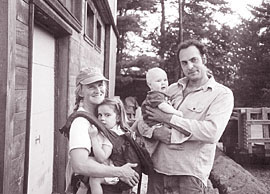 The Gagne family – Becka, Oceanna, Rowan and Jeff, strive to balance work and play. Photo courtesy of the Gagnes.
by Rhonda Tate
"Ahh, country living," laughs Becka Smith Gagne as she prepares lunch for her four-year-old daughter, Oceanna, tells her apprentice Katie where to store onion braids, answers questions on life and the pursuit of happiness–all while eyeing her baby son, Rowan, who is moments away from learning to crawl.  "Country living" is a catch phrase that she and her husband, Jeff, use to describe the life they've built on 22 acres of land in the shadows of Schoodic Mountain in Franklin, Maine. "Country living is when you come in exhausted, sit down and realize someone has to go back out to start up the generator, or any other bit of maintenance that a homestead requires," she explains. "But," Becka quickly adds, "it's also what we say when we've just eaten an amazing meal made from our own pesto."
Country living at Schoodic Hollow Farm isn't just about the Gagnes' gardens and their home with earth plastered walls, solar power and water trickling from a hand-dug well.  It's also about striving to balance work and play, farming and family – and about seeking community.  Having young children, and not having other family members close by, "what we feel keenly is the need for community," says Becka.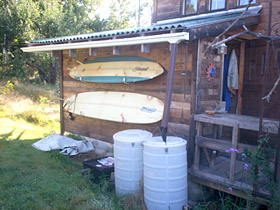 Water interests – Surfboards hanging on the Gagnes' home remind them to take time to enjoy themselves. Rain barrels collect irrigation water. Rhonda Tate photo.
Our Own Lives as Activism
Surfboards hanging on the siding, where a row of neatly sharpened tools might be expected, create amused bewilderment.  The farm is within walking distance of Hog Bay in Franklin, but surfing seems a bit of a stretch.   The explanation:  Becka is from exotic coastal New Hampshire. While the surf is rarely right in these parts, the boards are a nice reminder of how she lured Jeff from the rocky soil of Vermont to the waves of New Hampshire. They also remind Becka of why she has committed her life to homesteading and family and not to farming for market.
After spending 10 years working on organic farms, teaching at a farm camp and growing and marketing herbs and flowers, Becka burned out. A self-described driven person, she worked dawn to dusk until her body made her stop.  When a doctor told Becka she was suffering from ovarian cysts, she returned to the fields where she had worked so hard and sat and watched spiders weave webs in clusters of lavender. "I got up," she explains, "and decided I needed to go surfing." And she did … then and many mornings after. But a surf bum was not the life she was meant to live – at least not very often.
Becka and Jeff, both environmental activists, met at a nonviolence training workshop before their protest of the Seabrook Station nuclear power plant in New Hampshire. Their passion for activism led them to the often-overlooked realization that the life we choose to live is the most important form of activism. "When you're growing your own food and living your life as an example and doing it well," you are making a difference, according to Becka.  She and Jeff made this commitment, which led them to the little town of Franklin.
Finding the Land
After traveling the globe with WWOOF (World-Wide Opportunities on Organic Farms, www.wwoof.org) and studying permaculture, deciding where to settle and build was tricky, as the Gagnes debated over Jeff's home state of Vermont and Maine's longer growing season.  Finally a "magical" kayaking trip in Phippsburg convinced them that Maine was the place. To locate the precise property, they  "tried the dowsing method of Helen and Scott Nearing," explains Becka. This involves deciding which motion of a pendulum means 'yes' and which means 'no,' then holding the pendulum over a certain area of a map to see which answer is elicited.  Just as such dowsing led the Nearings to Harborside, it also led the Gagnes to Hancock County.
They scoured Uncle Henry's, searched town records for vacant properties and made cold calls to owners inquiring about possible sales. They researched soil maps.  It took two years, but ultimately a realtor pointed them to their "perfect" property at the base of Schoodic Mountain.
"Perfect" is up for debate, as the open 5 acres of their 22 acres had been stripped of topsoil decades earlier, and the heavy, clay soil had been eroding since – not exactly a gardener's dream, but the land spoke to them. The property borders a state reserve and is in one of Maine's wonderfully scenic coastal towns.  "We camped out on the property one night and listened to the coyotes," says Becka, but it was the old meadow at the base of the property, with abandoned, overgrown apple trees, that convinced the Gagnes that they could make this cut over wasteland work. "I loved the idea of bringing a piece of land back to health," Becka notes. Her permaculture training through the Yeltons in Whitefield, plus her degree from Evergreen State College in Olympia, Washington, gave her the background to rescue the land.  She had studied sustainable agriculture at Evergreen, where she focused on compost and learned enough soil science and entomology to "give me a comfort level for the work of farming."  (Jeff received a B.S. in Environmental Conservation from the University of New Hampshire.)
Unlocking the Potential of Clay
"The first thing we did," she says, "was dig swales to cut the erosion."  These crosscut swales also welcomed peepers and many other frogs just one spring into the homesteading. "Build a farm pond," laughs Becka, "and peepers will come."
About the soil, Becka says, "There are great nutrients in clay; you just have to unlock them."  Red clover, oats and alfalfa were broadcast on the clay with some spoiled hay to hold the seeds.  They also started their gardens using the methods of permaculture, which Becka describes in three steps:  throw down some compost, cover it completely with cardboard or newspaper, throw down some straw.  Instant soil.  Within three years, ½ acre of small plots and a small greenhouse were producing vegetables to feed a family from March through December.
Half of the compost comes from the Gagnes' own food scraps and yard waste; the rest has been purchased from Duerr Brothers, who use a lot of fish waste.  (The Gagnes hope their farm is self-sustaining in compost by next year.)  The Gagnes also use humanure that is over three years old around trees and ornamentals.  More fertility comes from seaweed that they harvest themselves and from Azomite (the A to Z of minerals, from Fedco) and gypsum, which improves the structure of clay soils.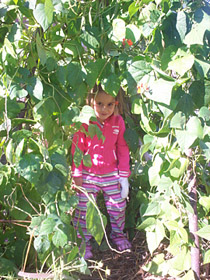 Oceanna grew her own highly productive permaculture garden last summer. Rhonda Tate photo.
The results of their gardening efforts are eaten fresh, canned, fermented or stored in an experimental "root cellar."  The latter is actually their straw bale well house, which they hope will stay above freezing and will work well for crops such as celery, carrots and cabbage.
Oceanna herself forayed into permaculture gardening this year, producing an enormous trellis of beans, a pumpkin patch that Linus would be proud of, and a few flowers.
Making Mud Pies
While the property was being revived to a productive farmstead, the Gagnes needed a home – fast, since Becka was pregnant with Oceanna.  How could they build an environmentally friendly home quickly and without taking out a mortgage?  The answer came when Jeff attended a workshop at The Fox Maple School of Traditional Building in Brownfield, Maine–and from the clay soil they had purchased.  Jeff was sharpening his skills in timber framing, a specialty of the Fox Maple School, while Becka surveyed the alternative building techniques on display. Both had considered straw bale construction, but had decided that straw was too costly to import and tricky to keep dry.  At Fox Maple, they stumbled across a lesser-known but similar technique called woodchip-clay infill.  Their 16- x 16-foot house went up quickly.
The technique began with a 2 x 6 stick-built frame on a foundation of utility poles.   Insulation is a mixture of 1 bucket of clay with 3 buckets of wood chips, combined in an old cement mixer found in Uncle Henry's.   By trial and error, they got the right mixture so that clay completely covered the wood chips but was not too thick. The Gagnes used chicken wire, instead of the commonly recommended wooden lath, to hold this insulation between studs. The chicken wire was cheaper and easier to use.
Then they made a plaster coating by mixing 3 parts clay, 1 part sand and 1 part chopped straw into a slurry.  Once the insulation mixture set, they coated the walls with this earthen plaster, just as one would use in straw bale construction.
The compact house, with its south-facing windows, is warm and cozy.  The Gagnes burned about 1½ cords of wood last year.  (Now that their house is built, the cement mixer is used to make potting soil – but it could be put back into action next year, when they plan to build a bigger home, potentially with cordwood and clay.)
Building their own efficient house; receiving tools, solar panels and other goods as birthday gifts or as their parents downsized their own homes; and growing their own produce helped enable Becka to stay home with the children.  She adds, "Jeff's mom is a 'resource liberator.'  She has found a huge proportion of our housewares at her local dump!"
Jeff's business – Northern Elemental Designs – brings in income through his custom carpentry and natural craftsmanship.  He does everything from timber framing to finish work, although he hopes to be in his own shop more often now that it is built, creating metal sculptures and other art for the gallery that is part of the building.  Becka, in addition to being home with the children and doing much of the gardening, also grows fruit trees for Fedco for added income.
Tree Crop Business
Becka says that the most fabulous and valuable service MOFGA offers is the annual Seed and Scion Exchange, held in early spring in Unity.  She took a one-hour grafting course from Mark Fulford of Teltane Nursery at the exchange, bought a grafting knife and headed home to dabble in grafting.  Then, at the Fedco Tree Sale a few years ago, Becka told John Bunker that she would be interested in growing for Fedco.  He sent her off that day with over 150 plants to grow out, and since then she's become a tree grower for the Waterville-based co-op (www.Fedcoseeds.com/trees).
Becka propagates a number of species, such as Korean pine (grown for its edible pine nuts), pears, roses, mulberry and apricots, and she is beginning to find her niche. "I would most like to be providing mostly native but also noninvasive, productive fruit and nut trees.  One of my hopes is that I can move to being a big pear supplier," and she thinks her marginal soil is advantageous. "The pear rootstocks Fedco had been buying from out west are grown in sandy soil and often have only one long taproot, which doesn't transplant here very well," she explains. This may spell disaster for the person who purchases the tree and tries to grow it in clay or rocky soil.  Trees grown in her clay soil, however, have a well-developed, shallow, spreading, fibrous root system, so they are easier to transplant successfully in any type of soil.
As we stroll through plots of Korean pine, interplanted with herbs and vegetables, we come across a patch of Northern mountain ash (Sorbus decora), or Rowan tree – significant because both the Gagnes and I named our sons Rowan.  Becka notes that a European species of  Sorbus  has been used as rootstock for many apple varieties in Scandinavia. The cold-hardiness of this tree may bring more fruit trees to northern Maine.
A Swing Built for Four (or Maybe Two)
Oceanna's favorite spot on the farm is in the timber-framed shop her dad built by hand, where she relaxes on a swing that hangs from the hefty beams as she shares stories. She's been known to help with her dad's many woodworking projects, but prefers time on the swing.
After showing off the swing, Oceanna is anxious to get to the old orchard to pick up dropped apples with the help of MOFGA apprentice Katie Savalchak.  "There's a party of apples down there," exclaims Oceanna, and she's right.  Soon, in the midst of play and conversation, Oceanna and Katie have collected bushels of apples, illustrating the joyful nature of work at Schoodic Hollow Farm.
"Becka has an amazing reverence for life," Katie notes, "and her respect for the world inspires me to slow down and process more fully what we're doing."  Katie did not experience "slowing down" during past farm apprenticeships.  She chose Schoodic Hollow after a brief visit, when she got a "good vibe."
The Gagnes see apprenticeships as opportunities to let young people know that they can achieve a sustainable life without becoming deeply indebted and working 100 hours a week.  They'd like more people to see that homesteading is an achievable goal, even with two small children and hard clay soil.
"I would love to help people have more food right from their own land," Becka concludes. She sees herself as a permaculture consultant in the future, helping others take property, no matter how challenging, and create a sustainable homestead.  This would be the perfect outlet for her diverse background, allowing her to help others achieve the dream she and Jeff strive for every day.
Building Resources:
Fox Maple School of Traditional Building, Brownfield, Maine.  www.foxmaple.com
Serious Straw Bale: A Home Construction Guide for All Climates, by Paul Lacinski and Michel Bergeron
Mortgage Free! by Rob Roy
Permaculture Resources:

Permaculture: A Designers Manual, by Bill Mollison
Edible Forest Gardens, by Dave Jacke
Permaculture Activist, a quarterly journal that Becka loves for its "on the ground" nature.
Food Preparation and Preservation:
Simple Food for the Good Life, by Helen Nearing
Wild Fermentation, by Sandor Ellix Katz
Nourishing Traditions, by Sally Fallon
Keeping Food Fresh – Old World Techniques and Recipes, by the Gardeners and Farmers of Terre Vivante
About the author: Rhonda Tate teaches biology and wildlife ecology at Ellsworth High School and finds time to write, with the help of her husband Wes, in between teaching and raising her young son, Rowan.