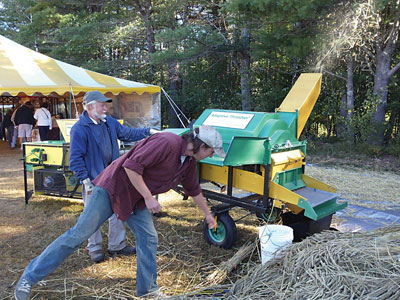 Threshing Jon Strieff's 'Sirvinta' winter wheat at the Common Ground Country Fair. Photos by Geoff Johnson

By Mark Fulford
The lack of right-sized grain and bean processing equipment for Maine's many small farms is a decades-long problem that is especially acute today, as demand for locally-grown dry crops is strong and enthusiasm high among both crop and livestock farmers who recognize the economic and agronomic benefits of diversifying into grains and beans. Indeed, many an innovative and entrepreneurial Maine farmer has produced a test plot of emmer wheat, yellow eye beans or some other heirloom variety only to find each step of harvesting, threshing, drying and storing the crop to be a labor-intensive challenge that cannot be scaled efficiently into commercial production.
Several years ago, while studying farming practices overseas, I encountered threshing and seed cleaning machines designed by a Southeast Asian agricultural extension agent and mechanical engineer. Due to their durable, mobile and user-friendly design, I since dreamed of these machines making their way to Maine in order to alleviate our processing bottleneck. At long last, they are here.
Together with a business partner and former MOFGA journeyperson Geoff Johnson, who has a skill set complementary to my own, we formed a company and imported the bodies of the machines, which arrived in midsummer. We then adapted them for the Maine and greater New England market by outfitting them with commercially-warrantied Honda engines for the threshers, electric motors for the seed cleaners and OSHA-compliant guarding for both. We also worked closely with the original equipment manufacturer on small design modifications to improve the portability and versatility of the machines in processing a variety of crops, including wheat, barley, oats, rice, corn, sunflower and so forth. We considered these improvements particularly important for shared-use applications.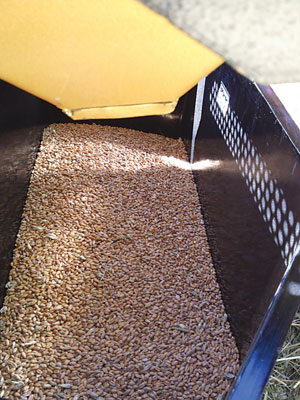 Threshed 'Sirvinta' wheat

Our business, Adaptive Ag (www.adaptive.ag), was originally conceived as a vehicle for bringing the threshers and seed cleaners to Maine, but in light of related challenges facing Northeast farmers that Geoff and I would like to address, we soon decided to distribute an expanded line of products covering crop drying and storage. In our wet climate, too many bountiful crops are spoiled or nutritionally depleted when farmers cannot cure them quickly enough or elect to store them in poorly sealed containers.
To date we have relied on Maine organizations and farmers to help us test these products. At MOFGA-certified organic Grange Corner Farm in Lincolnville, farmer Sam Mudge employed a Solar Bubble Dryer to reduce the moisture content of 1,000 pounds of rye seed from 16 percent to 10 percent in fewer than three days – a level suitable for long-term storage. At MOFGA's Common Ground Country Fair, Jon Strieff of Good Morning Farm in South China brought us sheaves of 'Sirvinta' winter wheat, which we ran through the thresher, allowing us to demonstrate small-scale grain processing to farmers and families in the Farm and Homestead Area at the Fair. By the time this year's post-harvest activities are complete, we expect that several other farmers will coordinate with us to process their crops at Adaptive Ag's shop on Route 1 in Searsport.
Not least, we have enjoyed the support of the Maine Grain Alliance. The MGA's Bread Fair in Skowhegan last August was the site of our first public thresher demonstration. In September MGA acquired a seed cleaner, Solar Bubble Dryer and storage containers with capacities ranging from 60 to 2,200 pounds for its Seed Saving Project coordinated by Rich Roberts of Blue Ribbon Farm in Solon.
In late October, Adaptive Ag was readying for open hours, to be posted on our website, at the Searsport shop and was finalizing recipes for soil amendments featuring some Maine-sourced ingredients. Amendments include Waldo Custom Blend, which targets regional soil deficiencies, and BioRem for cleaning up nitrates and other salts in over-fertilized, confined areas such as greenhouse beds and potted soils.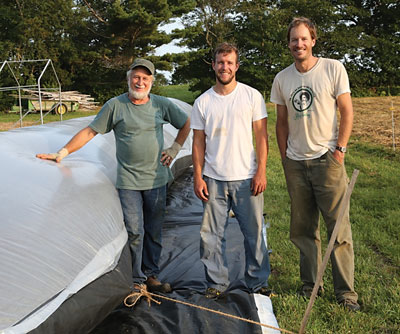 Solar Bubble Dryer on the job at Sam Mudge's Grange Corner Farm in Lincolnville. From left: Mark Fulford, Geoff Johnson, Sam Mudge

By spring we also hope to offer off-grid water filtration solutions.
Finally, we are evaluating pyrolysis-based syngas cookstoves that return a high grade of biochar – a value-added product used in a great range of agricultural systems, particularly in Europe and Asia. With the recent interest in growing, processing and consuming attached-hull ancient grains such as emmer, spelt, einkorn, buckwheat, sunflower and even northern-grown rice, there is the overlooked byproduct of grain hulls, which are an ideal syngas fuel for one of our planned camp and summer cookstoves.
The small-farm grain challenge triggered this multifaceted approach to re-outfitting highly efficient farm systems. Just as our own work has delved deeper into locating and developing appropriate tools, we look forward to seeing how Maine farmers might take these tools and apply them in creative and productive ways.