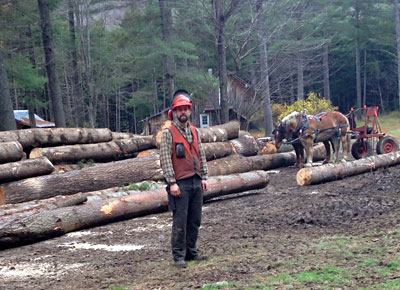 Brad Johnson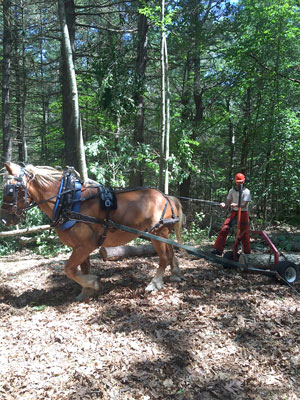 Ben Coerper
Elizabeth Koltai
By Peter Hagerty
This is the first of a regular column that will note what graduates and instructors of MOFGA's Low Impact Forestry program are doing. For more about our work, please visit https://mofga.org/Programs/LowImpactForestry/tabid/227/Default.aspx and look for us at the Common Ground Country Fair.
Brad Johnson, Randolph, Vermont, LIF teaching staff
I am currently in the woods with my horses 200 to 250 days a year, and horse logging generates about 80 percent of our farm income. With my team of a Belgian mare and a Suffolk gelding, we use a log arch, bobsled, scoot and lots of work on the ground to harvest saw logs, firewood and a small amount of pulp. Working with another teamster with a pair of horses and a small tractor, we harvest 300,000 to 400,000 board feet of logs plus firewood and pulp annually. Our area has enough logging work to keep us busy, and I really enjoy the time I get to spend in the woods!
Ben Coerper, Exeter, Rhode Island, LIF class of 2012
Rachael and I founded Wild Harmony Farm three years ago with the intention of being able to educate people on a way of food production and land management that is healthy for the animals, the land and the people. The LIF workshop expanded my ability to manage the land in the best ways possible. Our draft horse has enabled us to selectively thin our woodlot both for a timber stand improvement thinning grant through the USDA Natural Resources Conservation Service (NRCS) and for silvopasture for our pigs. The NRCS grant has been our primary source of income during these difficult start-up years, and we have found that a silvopasture environment is the healthiest way to raise pigs, both for the animals and the land. Horse logging has proven to be the lowest impact way to remove unwanted trees in both scenarios. In addition to logging, we use our horse, Bud, for maple sap collection and for weaving our pigs' shelters through the woods as we rotate them to different areas.
Lizzie Koltai, Bowdoinham, Maine LIF class of 2014, and Peter Hagerty, Porter, Maine, LIF teaching staff
I requested Pete as a mentor three years ago because after seeing his round-pen demonstration with Willie at the Common Ground Country Fair, I knew that if I could work with his horses I could work with any horses. That first fall we seeded down a 3-acre field on his farm in Porter, and by the time it snowed, Willie, his brother Nick and I were all on the same page. That winter we cut enough lumber to make a walk-in barn the following spring for my new team on my MOFGA-certified organic Helios Horsepowered vegetable operation in Bowdoinham. MOFGA's mentorship program is a great way for a student new to farming or logging to learn how to get into and out of trouble.