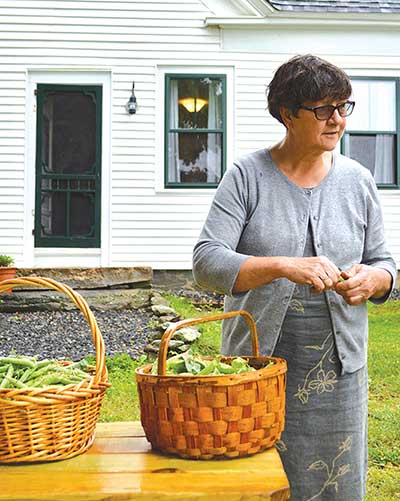 Patty Manson with baskets of peas alongside her 1812 house in Washington, Maine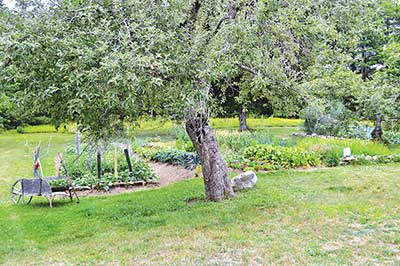 One of the vegetable gardens, bordered by an old apple tree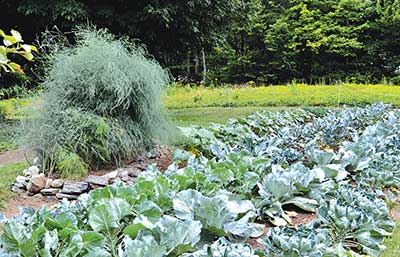 Cole crops and asparagus grow in another garden plot.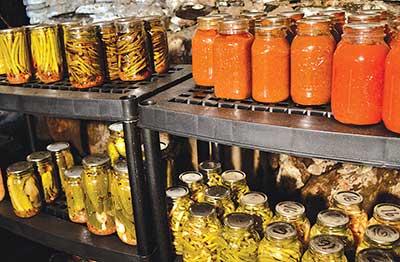 Manson cans over 300 quarts of fruits and vegetables each year for her family.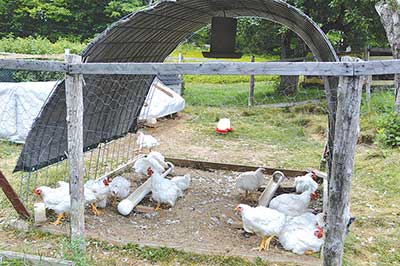 100 meat birds are raised each year for the family-supported agriculture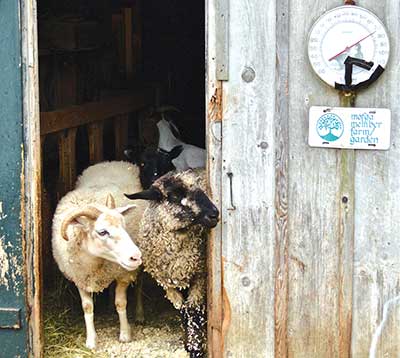 Sheep provide wool for spinning and weaving.
By Emily Horton
Photos by Jean English
It's 8 p.m. on a Thursday in October and I call my mother – something I do most nights around this time. The sun has recently set, and as she answers I hear her panting and the sound of a shovel scraping the barn floor.
"Are you cleaning the cow barn again, and at this hour?!"
"Yes, I …" The phone cuts outs before she can finish her sentence.
"Must have dropped the phone in the manure pile again," I tell my husband.
Those who knows my mother, Patty Manson, know that she is one of the most talented and hardworking people around. Working more than 60 hours a week at her two jobs, late evenings are often the only time she has to can or freeze foods from her homestead or clean the cow barn – after other chores have been done and the garden has been watered. This is how she single-handedly cans over 300 quarts of vegetables and fruits and has three freezers full of a variety of meats that she raises for her family CSA – or FSA – each year. That family includes my four siblings and me and our spouses and children. We help pay for the processing and feed costs and get meat, produce and preserved products in return.
In my mom's refrigerator are jars of kombucha, gallons of sauerkraut, and homemade cheeses. Her cupboards hold homemade soaps, bags of dried beans, Maine Grain's cornmeal and gallons of apple cider for canning. In her "root cellar" – her cool, dark and dry 1812 homestead cellar – carrots and beets are stored in barrels of cedar shingle hair, squash and cabbages are packed in brown paper bags, and endless amounts of canned items – pureed tomatoes, bone broth, apple and pear sauce, peaches (grandkids' favorites), jams and green beans – await consumption. Every year she experiments with specialty items that take much more time and input. Last year she tried salsa; this year she made beet relish (excellent on a chicken sandwich). My favorites are Swiss chard relish and grape juice. When I was a child, I remember patiently awaiting the first snowfall in Maine, which signaled that mom's grape juice was ready for consumption.
For birthdays and Christmas, we typically each get a box of organic goodies that my mom processed that year. Each of us knows the value of good local food and the work that goes into it, and each of us happily receives these precious gifts. This is increasingly valuable as we start our own families and our children are excited for Grammy's canned peaches with whipped cream or her grape jelly on toast.
Growing and processing food is nothing new for my mother. In the '80s our family had one of the first MOFGA-certified organic beef farms, in Montville. Although I was a young child at the time, the stories of my mother staying up late making bread and jams (then for the Belfast Farmers' Market the next morning) still hold true. "Putting up food for the winter," as she would say, is still her primary goal for her family. And it gives her joy and purpose.
Today her homestead sits on 47 acres – 3 for gardens and livestock and the rest for wild blueberries. In 2010 she purchased this Washington, Maine, farm. For over 10 years no one had lived in the 1812 farmhouse, which was hidden behind overgrown sumac and fields. In addition to preserving food, my mother is passionate about preserving Maine farms and barns. We spent a good two years (although ongoing) cleaning up both the inside and outside of the property – fixing windows, sanding floors, stripping wallpaper, drying the basement. People would drive by the house during those years solely to see which projects we were up to. We slowly uncovered the details and history of the period of the house behind layers and layers of wallpaper, carpet and old linoleum flooring. My mother's unique eye for history and traditional Maine homesteads brought the history of the house back to life.
As the inside of the farmhouse came together, so did the farm outside. Farming runs deep in the blood, and it's a lifestyle that's hard to abandon. Slowly, over five years, my mother started purchasing animals – first a few chickens and a chicken coop, and then a couple of lambs and sheep. By the next year she had purchased beef cows and fixed the fence around the perimeter of the property. Mike Beaudry, an old family friend from Montville, built a small timber-framed barn with overhang. Mom used the old chicken coop from the Montville farm for the newly constructed goat barn. Eli Berry, a family friend and neighbor, helped with the fence.
It took just as many years to reclaim the outside property. Most of the cow pasture is reclaimed blueberry fields where my mother had 8-plus tons of lime spread over the past nine years and frost-seeded a number of times in early spring. She practices rotational grazing for the livestock and has fed out hay only during the past two summers due to dry conditions. She hopes to expand the cow pasture this spring and reclaim a bit more. She now can have up to six cows at various ages, but only four over the winter. She also has four ewes and four Boer does, all bred in early December. She raises two pigs each year, four turkeys, 100 meat chickens and a large flock of laying hens. She sells most of the spring lambs and goat kids to help pay for hay, and she uses the wool from the sheep to spin and weave. On average, she buys 300 to 400 square bales and 30-plus round bales of hay each year.
My mother practices intensive gardening in raised beds along with a few spots that she plants in a more traditional way. She follows organic practices, which include cover crops in the fall and crop rotation. A raspberry patch, apple trees, a couple of peach trees and an asparagus patch further populate the farmscape. She runs three 7-cubic-foot freezers (plus an extra small one, just in case) – one for fruits and vegetables; one for beef, pork, lamb, goat and turkeys; and a third for homestead-raised meat chickens. Even with the three freezers, her electric bill is only $60.
One of my mother's goals is to make sure the original property – including the barn, the homestead and surrounding acreage that was previously subdivided and sold – is preserved. Last year she worked with Maine Farmland Trust to purchase an easement on an additional 27 acres of blueberry fields adjacent to the homestead, which now totals 47 acres. The blueberry land had been part of the original land and farm 100 years ago. Without the support of Maine Farmland Trust and Mom's passion to restore Maine farmland, this project would not have been completed.
It takes a village to run a homestead. My mother has the strong support of neighbors and community members who help each other. Last spring she and a neighbors chipped in to purchase a manure spreader, which the community can now use. She borrows one neighbor's trailer when getting hay or bringing animals to West Gardiner Beef and another neighbor's truck when she cuts and brings in her 7 cords of wood each winter.
None of this is easy, nor does it come without tired hands and sore backs. But it does come with many laughs and good meals. When we all get together, we often talk about farming and the grit that comes with raising your own food – and someone usually gets a good laugh out of the discussion. Like the time the yearling calf took my husband, Zach, for a "walk" through the backyard, trying to go from the trailer out to the pasture. Or the first year when we were remodeling the inside of the house. The rooms were not done and there weren't any beds, so we all camped out on the floor in sleeping bags and pads and made coffee and breakfast over a camp stove. That was a great summer; we worked hard day and night clearing the land and gutting the house and enjoyed those cold beers at the end of the day.
My mom has created a family-supported agriculture system. She's engrained in us how to grow and process our own food. On any typical day she will get a call from one of her sons asking how to preserve his kale harvest, or from one of her daughters asking for her sauerkraut recipe. Giving us her food is one gift, but sharing with us her knowledge is something that will stay with our family for generations.
I am reminded of how fortunate our family is whenever I feed my daughter, Lillian, some of Grammy's applesauce or throw a grass-fed steak on the grill. As with most farmers, getting a vacation or finding time to have a sit-down dinner with family can be limited, which is why savoring each bite of those fresh and local flavors is so crucial. The work is hard and the days are long. Good food costs time and money, and luckily for our family we have a matriarch who's willing to dedicate her life to growing food for her family.
About the author: Emily grew up on a farm in Montville and now lives with her daughter, Lillian, and husband, Zach, in Belfast.