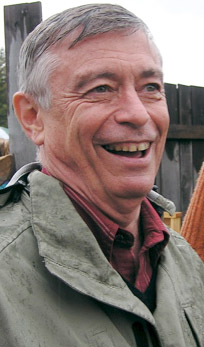 Maine farmer Ken Geiser directs the Lowell Center for Sustainable Production at the University of Massachusetts in Lowell. He spoke about progress in green chemistry during his keynote at the Common Ground Country Fair. English photo.
Exciting Alternatives to Hazardous Technologies
Ken Geiser, director of the Lowell Center for Sustainable Production at the University of Massachusetts in Lowell, was the Sept. 23rd keynote speaker at the Common Ground Country Fair.  Geiser is the author of  Materials Matter: Toward a Sustainable Materials Policy, which covers the economic, ecological and health benefits of using clean materials from the beginning of any industrial production process. Geiser also serves on the board of the Environmental Health Strategy Center, which coordinates the Alliance for a Clean and Healthy Maine (of which MOFGA is a member).  A long-time MOFGA member and Common Ground fairgoer, he owns an organic farm in Sumner, Maine.  After his keynote Geiser joined Tom Opper, owner of Liberty Graphics, and Mike Belliveau, executive director of the Environmental Health Strategy Center, in a Public Policy Teach-in moderated by Alice Percy.

Ken Geiser had "concerning and hopeful" messages for Common Ground fairgoers, who, he said, "have an enormous challenge ahead of you if we are to make a sustainable society out of our nation and world."   The United States processes some 70,000 chemicals that are used in cosmetics, cell phones, televisions, toys, vehicles and other goods that make our lives pleasurable, productive and enjoyable.   "All the things we want from a great material economy, we get from chemicals," said Geiser, but many of those chemicals pose significant environmental and health hazards when they enter our waste stream.
Most of these chemicals have not been tested for health and environmental effects, Geiser added.  "The way our regulatory system works, we test the chemicals that show up as problems."  The EPA tracks about 2,600 "workhorse" chemicals used in quantities of 1 million pounds or more each year.  Only 7% of these have been fully screened for health and environmental effects.
Of the 70,000 chemicals used in the United States, about 189 are regulated under the Clean Air Act and about 150 under the Clean Water Act.  Most of the 150 are included in the 189.  One of our best tools, the Toxics Release Inventory, tells what chemicals are released into the environment; it tracks only about 600 substances.
The Good News
"But things are changing," continued Geiser.  In 1989, Massachusetts passed the Toxics Use Reduction Act, which requires that some 900 Mass. firms report annually on the toxic chemicals they use and requires plans to reduce or eliminate their use.
The Toxics Use Reduction Institute, hosted by the University of Massachusetts, and which Geiser has directed, provides technical assistance to help firms reduce or eliminate 190 of the most dangerous chemicals used in production in Massachusetts.  "Over 15 years we've been able to reduce the use of the 190 chemicals by 42 percent.  We've also reduced the waste of those chemicals in Massachusetts by 65 percent.  We defeated the need for a hazardous waste incinerator in Massachusetts, because we simply do not have the waste stream we once did.  It's a great story, and it's internationally recognized.  I'm very proud of the work we've done."
Maine also has a Toxic Use Reduction Act, said Geiser, and despite poor funding, it "does some pretty terrific work."  Some six states have such laws, all passed around 1989 to 1992 – before the U.S. chemical manufacturing industry "wised up" and pressured states that attempted to pass similar laws.  The federal government lacks such a law.  "Our basic law for dealing with toxic chemicals in the United States is the Toxic Substances Control Act, passed in 1976.  It has not been amended since.  Every attempt to amend it has been stopped by the chemical industry.
"The really sad news about our country," Geiser lamented, "is what a laggard it is internationally.  The European Union began about six years ago to overhaul the entire chemical management system of Europe by crafting a new, broad directive that would cover all the 25 countries of Europe.  The largest and most vociferous lobby against that law was the United States of America."
Likewise, during the past five years, the United Nations created a broad, global system for managing toxic and hazardous chemicals, with particular attention to trying to manage them in industrializing and developing countries.  In 2006, 60 nations met in Dubai to sign on to the U.N.'s "Strategic Approach to International Chemicals."
"One country held out its vote until the very end in order to force a weakening of the language.  That country – you can guess – was our country.  We have a lot to answer for internationally …  Our country should be a leader, not a laggard."
Some states have stepped forward.  Geiser cited California, Washington, New York, Minnesota, Michigan, Massachusetts and Maine as leaders in thinking about managing chemicals more successfully.
In 2001, the Maine legislature passed a law requiring removal of mercury switches before cars are scrapped.  Then the governor put forward legislation to require phasing out mercury in most commercial products in Maine.  The legislature contacted Geiser's Center to find out if reasonable alternatives to mercury exist.  "We reported back to the legislature that except for two very small uses, there are non-mercury alternatives," said Geiser.
Next Maine passed legislation to phase out polybrominated diphenyl ether (PBDE) flame retardants used in plastics sold in Maine (in computers, televisions, etc.).  These chemicals keep products from bursting into flame when a cigarette or candle falls on them – but PBDE leaches from products and becomes part of the ambient dust, which we inhale.  "Over a very short period of time," said Geiser, "PBDEs have shown up in us."  Only a few other states have passed similar legislation.
Maine recently passed legislation requiring companies that make computers to take them back or be responsible for their proper recycling and disposal.  And last year, Gov. Baldacci put forward an executive order to look at the entire number of chemicals used in Maine.  A Governor's Task Force is studying how to promote safer chemicals throughout the state.  "Maine has to be given credit for being the leader in the nation on this," claimed Geiser.
Green Chemistry

"These are all great first steps, which policy makers can take to try to move us forward to safe chemicals," said Geiser.  "But you can't get to safer chemicals if the safer chemicals aren't there."  One UMass chemist claims that 75% of existing chemicals have no safer alternatives.
"So there is a movement among progressive chemists around the world who believe they should be doing chemistry that fits into the health and environmental dynamic of our planet.  The movement is called green chemistry.  There is a New England Green Chemistry Consortium made up of all the public universities in New England.  UMass Boston has the only Ph.D. program in green chemistry in the country, and we are overwhelmed with students who are interested in being part of this new movement."
Geiser said that a spider's thread and a tortoise shell "both are incredible pieces of material – resilient, durable, strong, and all are made without waste or toxic chemicals at ambient temperatures."  We can do the same, said Geiser, "if we use science to understand how nature really makes chemicals."
Using agricultural crops such as corn, soy and sugar beets as feedstocks for chemicals is getting a lot of attention now, he continued.  "These products are made of hydrogen, oxygen and carbon, just like oil is.  We could be making plastics, solvents, paints, adhesives based on agricultural products and not on petrochemicals.
"It's not utopian.  Dow and Cargill – these are not progressive companies at all – came together eight years ago to set up a mill in Nebraska to make polymers from corn."  The mill can process 300 million tons of corn a year or 40,000 bushels of corn a day to make polylactic acid (PLA).  Geiser held up a bottle made by NatureWorks (the Dow-Cargill partnership), explaining that it is recyclable and compostable.
"What Nebraska has done from corn, we can do in Maine with our agricultural resources.  We raise about 1.7 billion pounds of potatoes a year in Maine.  About 10% – about 168 million pounds – of off-grade potatoes are thrown away.  Processing plants throw out huge amounts of potato waste…  All of this waste could be used to make plastics and replace petroleum-based products.  About 17% of a wet potato is starch.  It could be used to make polylactic acid.  Chemists at UMass and UMaine are working together to do that.  Imagine if we could establish a mill in Aroostook County to make polymers from potatoes."
Wood is another resource.  The University of Maine just received a $6.7 million National Science Foundation grant to experiment with processing material from the pulp and paper industry into chemicals that could replace petroleum products.  The wood that goes into a Kraft papermaking plant, said Geiser, is 50% cellulose – used to make paper – and the other 50% is lignin and hemicellulose.  Lignin has heat value and could be used a feedstock to fuel a plant; hemicellulose has poor heat value but could be extracted before  pulping and used to make ethanol…or plastics.
Not Naïve
Geiser acknowledged that problems exist with the way forests generally are managed in Maine, and that Maine's potato crop is the largest user of fungicides.  "So the vision of a new, agricultural-based, industrial chemical industry is clouded by the fact that we still have to change the basic structure of our agricultural industry itself.  You folks know that you can do potatoes organically and a woodlot sustainably.  The secrets that you have about how to really do agriculture, that does not rely on petrochemical inputs, are the secrets that are necessary to make this really work.  I think it's you, members of MOFGA, that hold the key to making the agricultural system completely sustainable as a base for industrial reformation in Maine."
Geiser encouraged his audience to work with the Alliance for a Clean and Healthy Maine (www.preventharm.org).  "Let's keep the vision high, let's work hard, let's try to develop a future that is free of toxic chemicals and is truly sustainable…  Thank you."
---

Teach-In Touts Organic Cotton, Sustainable PLA

Tom Opper of Liberty Graphics told the Teach-In audience that he is feels good about his company.  It uses a water-based ink instead of the petroleum- and PVC-based system used by most of the fabric printing industry.  "We can clean up with water and not use any other solvent except water in our process."  The shop has plenty of windows, and filtration systems pull as much cotton dust out of the air as possible.  Liberty Graphics is very sensitive about recycling its water, because the company has its own septic system.  "We just can't flush things down the toilet," said Opper. 
"When I give tours," said Opper, "I tell people, 'Ben Franklin wouldn't believe that this is a print shop.'  Printing is traditionally a very dirty industry."  At Liberty Graphics, though, "People feel good about the environment they work in."
As more organic cotton is becoming available, Opper's awareness about the material is increasing.  Commercial cotton, he said, takes up about 3% of the world's arable land but uses 25% of the world's annual fertilizer application and about 10% of the pesticide applications – including 25% of the world's insecticide use.  (All Liberty Graphics shirts at Common Ground's Country Store are made from organic cotton.)
Mike Belliveau of the Environmental Health Strategy Center talked about different kinds of plastic.  Polyvinyl chloride (PVC – indicated by the number 3 in a triangle) is "the poison plastic," said Belliveau.  It's used in high volumes.  "You can't avoid it."  It's the blister packaging for most software, it's in beach balls, credit cards, shower curtains, white PVC pipes.  It contains lead, cadmium and phthalates – reproductive toxicants "that give you the new car smell."  When PVC is burned, dioxins form.
The Environmental Health Strategy Center and Lois Gibbs' Center for Health and Environmental Justice started a campaign a year ago to wean companies from PVC, and "immediately Microsoft agreed to eliminate its use in its software packaging.  In Maine many companies have gotten off PVC."  L.L. Bean's new warehouse in Freeport will have its 40-acre roof covered with an alternative membrane rather than the commonly used PVC product.
Polycarbonate is another plastic of concern.  Nalgene, the dominant manufacturer of drinking water bottles, uses polycarbonate.  "Bisphenol A is an integral building block of polycarbonate," explained Belliveau, and it's an endocrine disruptor.  "It messes with hormone systems, so it affects everything, from brain development to puberty and sexual development to breast and testicular cancer.  You can measure levels of bisphenol A in drinking water that's been sitting in old Nalgene bottles, especially if they've been scratched, heated, frozen or otherwise worn down.  There is a campaign to try to get Nalgene off of polycarbonate."
Nalgene also makes polyethylene bottles (indicated by the number 2 in a triangle), said Belliveau.  Milk jugs are made from polyethylene.  "They're still petroleum-based, but are highly recyclable."
Polyethylene phthalate (PET – number 1 in a triangle) is "somewhere in the middle," continued Belliveau.  "It's extremely common.  Almost all soda bottles, Poland Springs and other bottled water" are PET bottles.  "It's highly recyclable, but it involves toxic compounds in its production," including antimony – a persistent, toxic, heavy metal used as a catalyst.  "Just recently Poland Springs and the water bottling industry have been measuring low levels of antimony in bottled water – particularly if you reuse #1 bottles for water again.  We don't know the health implications exactly, but we know it's not a healthful compound."
Belliveau noted that Maine company Interface Fabrics, which makes fabrics for office interiors, pioneered recycling old soda bottles into fiber, rather than using virgin polyester, several years ago, converting to 100% recycled polyester fiber.  Then Interface became the first company in the world to use biobased plastic made from corn, to spin, weave and dye fabrics for commercial sale.  Interface now sells that product for office dividers, wall coverings and to Herman Miller, which makes office chairs, and will be selling it to Ford Motor Company for seat covers.
This biobased plastic – polylactic acid (PLA) – is nontoxic, petroleum-free and can be composted at the end of its life.  Belliveau acknowledged the "serious problems with industrial corn production.  We want to move companies to sustainably produced biobased plastics."  He recently met with Tom's of Maine, which is interested in switching to PLA and hopes to leverage change at its $13 billion parent company, Colgate Palmolive, through a green packaging initiative that will begin to move to sustainably-sourced, biobased plastic.
Belliveau echoed Geiser's hope regarding waste potatoes.  Interface Fabrics, the Environmental Health Strategy Center and the University of Maine are seeking grant money from the Maine Technology Institute to study the feasibility of making PLA from Maine potatoes.    The Center and the Alliance for a Clean and Healthy Maine are building political awareness and public support for such efforts, and hope to launch a campaign to secure bond funding for green chemistry and bio-based plastics.  "Citizen action drives policy makers," said Belliveau.  "Be part of the grassroots by contacting officials to benefit Maine's health and economy."
During a question and answer period, Geiser also noted that PLA plastic is much less flammable and more stain-resistant than petroleum-based plastics, so it doesn't need a lot of flame retardant or stain resistant chemicals in it.  He added that Interface is leading with efforts to reduce other toxic additives.  "They have been able to drive out about 40 to 50% of dyes and other additives they traditionally used, because they didn't meet the standards they would need to sell fabric as environmentally friendly."
Regarding the use of genetically-engineered corn to produce bioplastics, Belliveau said that Cargill controls NatureWorks, which makes PLA.  An interim solution is that companies may pay a premium and receive credits when they buy PLA, so that an equal amount of non-GE corn is accounted for or brokered.  Belliveau sees Maine potatoes, which are not genetically engineered, as having an environmental, social and marketing advantage.  "Maybe we should be growing high-starch, low-pesticide potatoes for bioplastics instead of high-fungicide, perfect potatoes for McDonald's French fries."  Alternatively, we might use crop residues and other agricultural materials.
Geiser said that fast-growing kenaf, bamboo and willow have potential.  "In the South, they're going into industrial production of such crops; less so with hemp, because it's still illegal in many places to grow.  There hasn't been a real drive to get pesticides out of kenaf and bamboo.  That would be an important step forward."
Asked about pigments used to color his T-shirt designs, Tom Opper responded that they are nontoxic to the user and in the end product.  Waste ink from Liberty Graphics is dried and sent to a landfill. Some of the company's ink contains trace amounts of zinc, which is filtered out of the waste stream.
Belliveau noted that the petroleum-plastics industry is "quite threatened" by bioplastics.  "The vinyl industry is fighting hard to hold onto or expand its markets.  But some of the large agricultural corporations are pushing biobased plastics.  The economics are starting to favor better alternatives."  Geiser said that the phthalate lobby has been most vociferous against his work.  "They are absolutely aggressive at trying to stop moves away from vinyl in particular.  It'll be a struggle.  If the price of oil goes up, other sources will become more competitive.  But agriculture requires a lot of oil, too.  We need to also change the energy composition of agriculture."
– Jean English