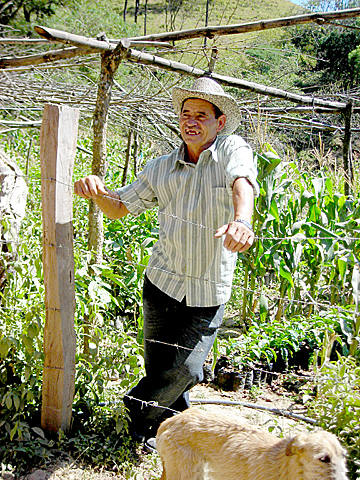 Don Raúl hosts the MOFGA Delegation at his beautiful organic coffee nursery and parcela. Photo by Heather Spalding.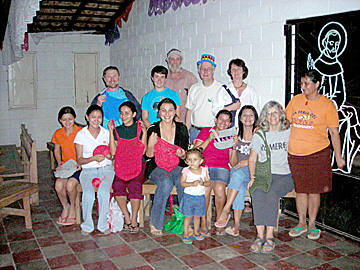 Members of MOFGA's Delegation and the Carasque Sewing Cooperative met to discuss sales of beautiful, hand-made string bags. Photo by Heather Spalding.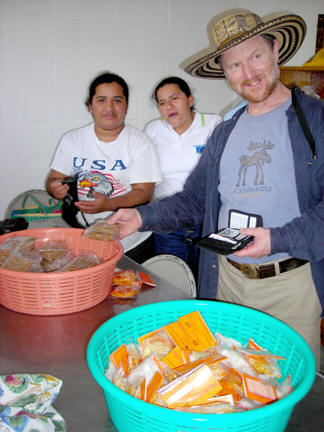 Paul Volckhausen stocks up on the wonderful dried organic fruit from a women's cooperative in Guarjila. The coconut bars were "deliciosas." Photo by Heather Spalding.
Another Successful Exchange with El Salvador Herman@s
Members of the MOFGA/El Salvador Sistering Committee visited our "herman@s" (hermanos and hermanas, brothers and sisters) in January. The committee works in solidarity with small farmers and Salvadoran organizations that support small farmers in the department of Chalatenango, El Salvador.
This year's nine-person delegation included seven committee members, Heather Spalding of MOFGA's staff and Amy Browne of WERU community radio. While in Chalatenango, the group met with farmers, cooperatives and community members to discuss issues ranging from agriculture to gold mining threats facing the region. The sistering committee's ongoing work with fair trade issues led to many productive discussions with coffee farmers, a coffee processing cooperative and a women's crochet cooperative, and included a tour of a fruit-drying cooperative. Visits to "parcellas" of land included seeing (and sampling!) such crops as pineapple, oranges, bananas and shade-grown coffee.
The committee also had a great visit and interview with staff at Radio Sumpul, Chalatenango's community radio station and the sister station to Maine's own WERU.
The delegation was very successful in that it allowed for the exchange of experiences, histories and current events between communities and continued to build upon existing relationships with our Salvadoran
brothers and sisters. Upcoming events and projects of the committee in Maine will be charged with inspiration from these exchanges.
– Kimberlee Michel