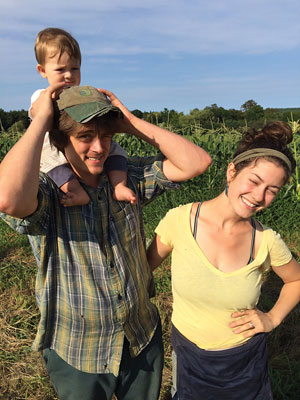 Caitlin Frame and Andy Smith of The Milkhouse in Monmouth, Maine, make yogurt and ship milk. Photo courtesy of The Milkhouse


At MOFGA's November 2015 Farmer to Farmer Conference, Jack and Anne Lazor of Butterworks Farm in Westfield, Vermont, and Caitlin Frame and Andy Smith of The Milkhouse in Monmouth, Maine, talked about value-added dairy. The Milkhouse is a MOFGA-certified organic dairy and processor.
The Milkhouse
Frame and Smith got their first taste of dairy farming and making yogurt and cheese when they managed a six-cow micro-dairy at Elderflower Farm in Lincolnville. This enabled them to try these enterprises without using their own capital. They found that making cheese took too much time, while making yogurt (on a kitchen stove then) was relatively quick and easy.
"It's pretty hard to compete on that scale," said Smith, but they were able to start their relationship with the Belfast Co-op then, and that's still their largest and longest-lived account.
They also raised pigs, sheep, ducks, laying hens and horses in Lincolnville. They learned that pigs complemented dairy by consuming whey. Smith and Frame also found that they needed to focus their efforts more on a few major enterprises.
They started The Milkhouse while working and leasing creamery space at Two Loons Farm in South China, Maine. Last summer they moved to their own 280 acres (150 to 160 open) in Monmouth, where they now milk their own herd. Their Buxton silt loam is not good for tillage crops but is good for hay and pasture. They grow their own hay, and they feed about 10 pounds of grain (from Morrison's Custom Feeds) per day, only at milking time and never more than 5 pounds at a time.
They have realized that their original idea of a 10- or 12-cow dairy where they would process everything was too small to cover their overhead (barn, equipment, feed, etc.). They will now aim for 40 cows, from which they think they'll gross as much as they would from a 60-cow farm that only ships milk. They are milking 25 cows now (almost all Jerseys).
They have a pack barn, with mulch hay, sawdust and shavings (from nearby Hammond Lumber) serving as bedding and with sand under the bedding pack. The bedding soaks up a lot of moisture. Their cows are much healthier on this than on concrete, said Smith. The farmers pick out cow pies every day to save on bedding and plan to clean the bedding pack annually. (Jack Lazor said they put a layer of bark on top of the sand/gravel in their bedding pack so that they know where to stop when shoveling out the pack. Others attending this session said their bedding pack is on concrete.) Smith and Frame don't feed cows on the bedding pack, because cows defecate more when they're feeding. Instead the herd is fed on a concrete feed alley.
They built a new milk room, where they heat milk for yogurt in 30-gallon brew kettles on propane burners (from Northern Brewer, https://www.northernbrewer.com/) for two to three hours. (The Lazors said they used to heat 15 gallons at a time in 45 minutes in a double boiler placed on a burner, with the burner turned up high.) Smith and Frame use a stainless steel coil with water running through it to cool a 30-gallon pot of milk in 10 minutes. Frame and Smith used to culture everything in coolers on the floor of their milk room in South China. Now they have a heated closet insulated with 4 inches of rigid foam and warmed with a small heater where they can more effectively culture a larger volume of yogurt. They culture their yogurt for seven hours and then move it to a walk-in cooler. Greek yogurt is ladled into cheese cloth and drained overnight before being chilled in the walk-in.
Currently yogurt is made at The Milkhouse three days each week, with Greek yogurt being processed on two additional days.
To sanitize returned jars, they run them through a commercial dishwasher and rinse with peracetic acid (acetic acid and peroxide). New jars are sanitized with peracetic acid only. "We found peracetic acid to be a far better sanitizer than bleach, because it leaves no aftertaste and is more environmentally benign," said Frame.
Maine allows sales of raw-milk yogurt, but some other states do not. Because of this Smith and Frame did not have to tie up $20,000 to $30,000 for a pasteurizer.
Smith and Frame first made whole milk yogurt and then added blueberry and Greek, which they first made by using a small electric handheld mixer, later moving to a large standing Hobart mixer, which significantly sped up the process. Such equipment felt like big investments at the time, said Frame, "but if we could have afforded it, they would have been better sooner." Their commercial dishwasher has also been a great labor-saving investment.
They now make six kinds of yogurt. They made skim milk yogurt briefly but stopped because customers wanted the full-fat yogurt.
They order lids and Ball jars (71 cents each) from Jarden (https://www.jardenhomebrands.com/), which offers free shipping for orders of $2,500 or greater. Berry Plastics (https://www.berryplastics.com/) supplies their plastic containers, and Quality Containers of New England (https://www.qualitycontainersofnewengland.com/) supplies milk jugs. They added UPC codes, paying about $80 for 20 codes, to all their labels, which their buyers love.
Working at Two Loons also opened their thinking to the possibility of shipping milk, and they now ship their excess to Horizon. "It took being around a 60-cow herd farm for a couple of years to feel comfortable with that," said Smith.
A pipeline in their barn sends milk to their bulk tank or to their processing kettles. About 60 percent of their milk is processed and 40 percent is shipped.
The Milkhouse distributes product via two delivery routes. Initially product was delivered in a homemade foam-board box in the back of a mini-van. Over time the orders outgrew the van, and the couple purchased a small refrigerated box truck. After the reefer unit broke, Smith insulated the box better and installed an inverter to power an air conditioner with a CoolBot unit. This setup has worked well and cost a fraction of the price of a new refrigeration unit.
Initially they sold at a farmers' market, but that didn't fit their high-value, highly perishable product.
Frame and Smith will be spending the next few years figuring out whether they want to focus solely on milking cows, or if they'll continue to grow their farmstead yogurt business.
"Running the farm and processing and distributing … it's huge," said Frame. "It's like three different businesses."
Their two employees, Gregg Stiner and Rhiannon Hampson, recently purchased their own farm down the road, where they operate a pastured poultry operation called Grace Pond Farm. The four farmers consider themselves farm partners and intend to work collaboratively in the coming years.
Smith and Frame continue to raise pigs, which consume the whey left over from making yogurt. They're trying to figure out how to raise pigs better year-round, as they currently lack sufficient four-season housing.
Butterworks Farm
Jack Lazor said Butterworks Farm differs greatly from The Milkhouse because Vermont laws differ. "We could never stick a cooling coil in pasteurized milk," he noted, adding that Maine offers many more options to be flexible because regulations are less stringent here. He reiterated the rising costs of doing business at the Butterworks' scale. Their total insurance bill alone is close to $100,000 per year.
Jack and Anne have always made yogurt in double boilers to prevent scalding, even when starting out and making it on their kitchen stove. Now they can heat 100, 200 or 300 gallons of milk at a time in a 100-gallon spray vat or in a 200- or 300-gallon steam-jacketed vat. For the steam-jacketed vat, a wood fired, high-pressure steam boiler heats water, which is sprayed against the outside of the vat, so the temperature of the milk goes from 35 or 40 F in the bulk tank to 185 F in 50 minutes. Six vat pasteurizers enable them to make multiple successive batches. The boiler burns about 40 cords of wood per year to heat the vats, the building and an incubator, all at the same time.
"High pressure steam is amazing stuff," said Jack. Hot water requires pumps, diverters and mixing valves, but "with steam you can throttle it with a control valve to get a certain, precise temperature quickly." Steam is also dangerous, he added. "You can get burned." An insurance company inspector checks the steam boiler annually.
For culturing, the Lazors cool their yogurt to about 105 by running cold tap water from their well through the jacket. Cooling water is recycled to a 3,000-gallon holding tank where it becomes potable water for the dairy herd to drink. "It's nice in winter because it's warm water," said Jack.
After culturing and cooling the yogurt, the Lazors have about 80 minutes to get it into cups and move the cups into the incubator. They're getting a new $227,000 filling machine.
Damrow vats – the next level in making yogurt – don't need water in the jacket, said Jack. Instead, steam goes under the vat and moves up through coils, heating milk in about 20 minutes. The condensed steam (also known as condensate) can be run back to the boiler for most efficiency. An agitator can move the milk to the wall of the vat to heat it. The agitator also removes the need for stirring. Jack recommended the book "Dairy Engineering" by Arthur William Farrall (Chapman & Hall, 1942).
The Lazors don't keep calves with cows on their bedding pack since, when they did try that, some of them died, possibly from something in the balage. "They did well for five weeks or so, and then some died," said Jack. Now calves stay with their mothers for a week. Cows are milked before calves go on them in the evening, so the calf doesn't get too much milk but she can nurse all night. Calves also nurse in the morning before cows are milked, so calves are good for the rest of the day.
Asked about the ideal number of cows, Anne said she likes 25. The Lazors have had a closed herd since 1981 (i.e., they haven't brought any new cows onto the farm from outside). They use artificial insemination (AI) and breed to produce A2 milk – milk that contains only A2 beta-casein protein and no A1 protein. (Some people do not tolerate the A1 protein.) They always tried to breed with outcross bulls. "New Zealand and Danish sires added diversity to the herd," said Jack, while all U.S. AI sires are being raised on concrete and corn silage. "That's not how we do it," he commented.
Their herd average is 13,200 pounds, with 3.7 to 4.0 percent protein, and butterfat at 5.2 percent in winter and about 4.8 in summer. They are in the Dairy Herd Improvement Program, which tests milk and tracks quality regularly.
Regarding making yogurt from grass-fed cows, Jack said, "You can get all the protein you want from your grass and your hay," but some grain helps provide energy.
Asked what they would do if they were to start over with a 30-cow dairy and the desire to make $1 per pound of raw milk, Jack said one reason they decided to make yogurt was because of the quick return on the product. "But the yogurt market is pretty well saturated now," he added.
However, "more and more people want local food, and they want to know the story behind the food they're buying. This buy-local situation is beginning to expand beyond the counterculture."
Yet, "In Vermont, local is Cabot – kind of run-of-the-mill conventional products with a price point that people can afford, so you're up against that.
"I think we'd still make yogurt," he concluded. At their peak they made 7,000 quarts of yogurt per week.
Anne said they might diversify. Jack noted that when kids go back to school, they start drinking milk there, so that might suggest an opportunity – but "a machine to put milk in small containers is about $200,000, and all the milk in schools now is Hood, which contracts with the federal government." He added that making cheeses and curds might be an option.
Jack noted that their more distant markets started evaporating when people switched from skimmed to whole milk yogurt a few years ago, and Butterworks was still selling nonfat yogurt. "We still get letters all the time from people who miss our nonfat yogurt and its clean taste," he said. He referred to Greek yogurt as "this artificially weird cake frosting in a container stuff. It's not even real!" He added that it hasn't made economic sense for them to make Greek yogurt.
The bottom line: "If you can keep it small, keep it family, I think you're better off," said Jack.
– Jean English