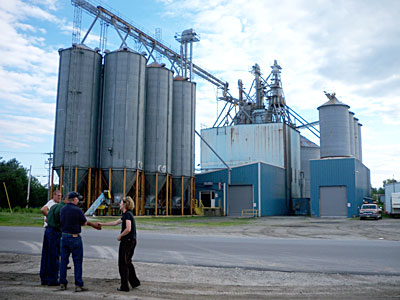 Maine Organic Milling has taken over the old Blue Seal Feeds mill in Auburn and is beginning to make dairy rations from corn, barley, okara, peas, lentils and flax. Calf starter rations, as well as pig and chicken rations, will also be mixed here. Photo by Diane Schivera.
Why Buy Moo Milk?

By Diane Schivera, M.A.T.

In June the Maine Sustainable Agriculture Society met in Auburn to tour a grain mill and learn about two Maine companies, Maine Organic Milling (MOM) and Maine's Own Organic (MOO) Milk.

Maine Organic Milling began processing grain for livestock feed in April 2010. This cooperative of 12 dairy farmers who ship milk to Organic Valley bought the grain mill in Auburn that had most recently been owned by Blue Seal Feeds. A big advantage of this mill is that it borders a railroad, reducing delivery costs for raw grains. The MOM board of directors includes Mark Bailey, president, Steve Russell, secretary, Rodney Hall, treasurer, and members Mary Castonguay and Garin Smith. Greg Varney is the head operator.

Some of these farmers started seven years ago with their own rented rail siding where train cars can pull off and sit until they're emptied. The railroad was so supportive that it charged them only $1 rather than the usual $1,000. The farmers are grateful to the St. Lawrence & Atlantic Railroad in Danville for helping them get started.

Cleaning and repairing the Auburn mill was and is a BIG process. Luckily, previous employees Jeff and Jason Jordan, who returned to work at the mill, understand its workings and are a great help. First, they hauled off 60 truckloads of old grains that were not fit to use. Now they are improving the infrastructure. Much of the piping that moves the grain is old and rusty. Only one-quarter of the towers or tanks that store grain before milling are in good shape. The only way to reach the roof and manually adjust piping for different rations is to climb a 100-foot outside ladder, but an inside stairwell is being installed. The Jordans and Greg Varney have fixed augers so that they now hum rather than squeal, making neighbors very happy!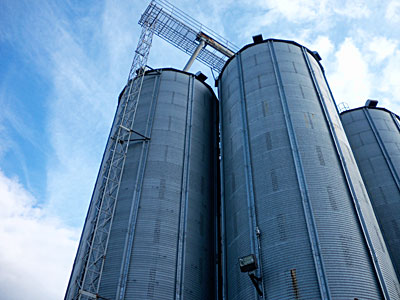 Grain storage tanks at Maine Organic Milling. Photo by Diane Schivera.
Tubing from the roof descends to a hammer mill, where a 100 hp motor with rotating hammers processes and pushes the "hammered" grains through a screen into bins. Jeff Jordan operates a computer that controls the motors that empty the bins to scales, where the rations are finally mixed. Then the grains are conveyed in tubing to a waiting truck. The mill can process 2 tons every 5 minutes.
Presently corn, barley, okara (a soy byproduct of tofu production), peas, lentils and flax are mixed to make 10, 12, 14 and 16 percent protein dairy rations. Calf starter rations with 18 and 20 percent protein are coming soon, and MOM also hopes to make pig and chicken rations in bulk and eventually in 50-pound bags. Currently MOM makes only mash feed, not pellets, because the steam boiler is so old and inefficient that the company doesn't want to start it. Some think that the coarser mash they are formulating is more digestible for ruminant animals than pelleted feed.
As they renovate, MOM will work with Efficiency Maine to make the mill as energy efficient as possible.
"Organic Valley was very excited to assist MOM in the mill startup," says John Cleary, New England dairy coordinator for CROPP (Coulee Region Organic Produce Pool). "It is keeping a local mill in operation, supporting farmers and producing feed for livestock, all part of their mission."
Greg Varney (center), head operator for Maine Organic Milling. Photo by Diane Schivera.
"This is a farmer direct cooperative," says Luke Zigovits, CROPP's feed program coordinator. "Only OV (Organic Valley) and the St. Lawrence & Atlantic and Canadian National Railroads are between grain farmers and mill."
CROPP helped with the initial logistics of purchasing the mill. Now, OV sources and procures 99 percent of the grain and keeps the inventory and cost of the inventory until MOM is ready to purchase it. This saves MOM from having to purchase the grain until it is ready to grind and ship the mixtures. Farmers pay OV for the grain before it is delivered. Since MOM does not have to do the billing, that eliminates a position they would otherwise have to fill, and reduces the amount they have to charge for the grain.
Organic Valley is building up inventory of raw materials to stabilize the price. The price the OV grain farmers get for their grains is tied to the price of milk. They are permitted to sell some of their grain on the spot market.
Seventy-five percent of the grains come from Canada. MOM would prefer to source grains in Maine and would like more barley in the mixture – something that can be grown in Maine.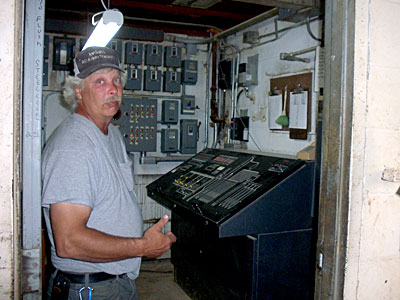 Jason Jordan at the computer of Maine Organic Milling. Photo by Diane Schivera.
The mill and OV are emphasizing quality in raw materials – an ability farmers lacked before. Feeding quality grain means animals need less to meet their nutritional needs, and less is wasted and less manure is produced. Some farmers who now feed pellets worry that their animals will not eat mash as well, but so far, every herd that has switched to the new grain has accepted it. Garin Smith of Grassland Farm says his only problem is having to sweep up an extra time each day, since he is feeding in a tie stall. Greg Varney says his cows did not drop in butterfat production, as usually happens when putting cows on pasture.
Now MOM is building capacity and productivity by improving efficiency in the mill and by improving the scheduling and routing of the delivery truck.
For information about availability of mixes and delivery, contact Trish Kinney at 346-6371. Her husband, William Andrews Jr., drives the delivery truck.
MOO Milk
Maine's Own Organic Milk board chairman Bill Eldridge discussed the status of MOO milk (https://moomilkco.com/).
Eight Maine organic dairy farms now supply MOO Milk and collectively own 45 percent of the voting units of the company and elect three of the seven board members. An additional 45 percent will be owned by individual and foundation investors, still being sought to provide an additional $500,000 in equity. An initial startup grant came from Stonyfield Farm.
MOO Milk is homogenized, pasteurized and bottled at Smiling Hill Farm in Westbrook and is distributed by Oakhurst and Crown O' Maine. It is available in whole, 2 percent, 1 percent and skim. Cream and butter can be special ordered at outlets served by Crown O' Maine. MOO Milk is available in most Hannaford, IGA and Surefine stores, co-ops and natural food stores, and the company is looking for more outlets, including stores in Massachusetts. If it is not available where you shop, please request it!
Issues
Presently MOO Milk travels a 1,000-mile route to Smiling Hill. Often the truck is only half full. The company would like to have more farms that are close to farms it already works with to make hauling more efficient.
An initial issue with leaking cartons was corrected by putting Bubble Wrap in the bottom of the box holding the cartons.
Smiling Hill uses batch pasteurization at 145 F for 30 minutes, so MOO Milk has a shelf life of 12 to 16 days – shorter than the 30 to 90 days for Ultra High Temperature (UHT; 280 F for up to 2 seconds) pasteurization and potentially shorter than the two to three weeks for HTST (High Temperature/Short Time; 161 F for a minimum of 15 seconds). Many folks are accustomed to the longer shelf life of UHT or HTST milk, but the standard pasteurization temperatures used for MOO Milk make it taste fresher, so many folks are raving about the flavor. It just must be consumed faster than UHT milk and should not be left out on the counter.
If MOO Milk finds 3,000 more customers, the company will be able to break even financially.
You can contact Diane Schivera, MOFGA's organic livestock specialist, at 568-4142 or [email protected].

Top
---
Why Buy Moo Milk?
Marada Cook of Crown O' Maine Organic Cooperative says that MOO Milk is the one Maine milk company that stands a chance of offering farmers an independent outlet for organic milk, at a price that makes organic dairy farming commercially viable here.
The only way to bring the price of MOO Milk into line with people's expectations, says Cook, is to convey that the state minimum pricing for milk is a smokescreen hiding farm decay and false economics. MOO Milk (and any small, raw dairy, for that matter) offers milk at the only price that is "affordable" to the industry.
Without high price benchmarks, we cannot keep farm bankruptcy at bay, says Cook. Without a company that works for farmers, there is no one to wave a flag when the pricing of milk no longer reflects its production costs.
MOO Milk must survive so that it can grow as a model for other commodity products in Maine. The state minimum, concludes Cook, is not enough to help local agriculture thrive.