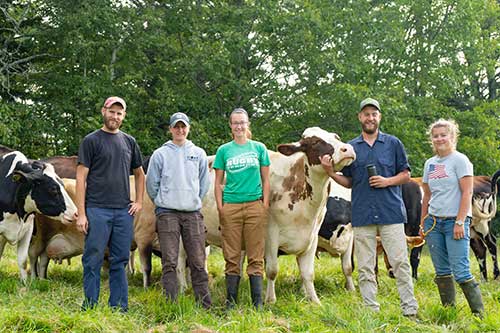 Left to right: Matt DeGrandpre (farm operations manager), Tierney Lawler (apprentice), Caitlin Morgan (apprentice), Big Cow, Haden Gooch (graduate apprentice, current journeyperson) and Corinne Carey (apprentice).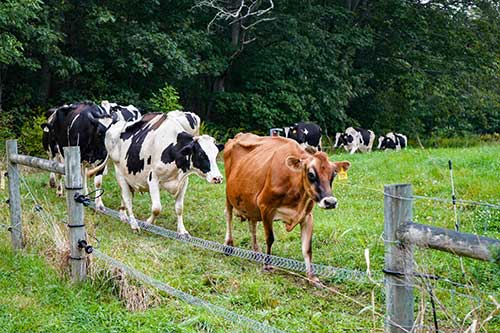 Cows head out to pasture at Wolfe's Neck Center.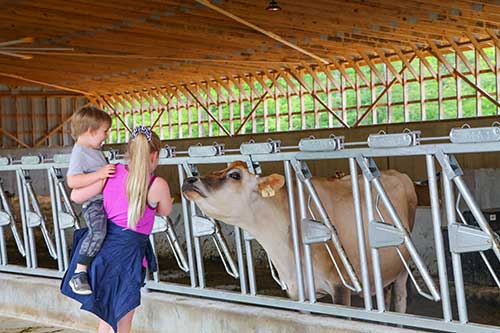 Wolfe's Neck Center hosts about 50,000 visitors per year.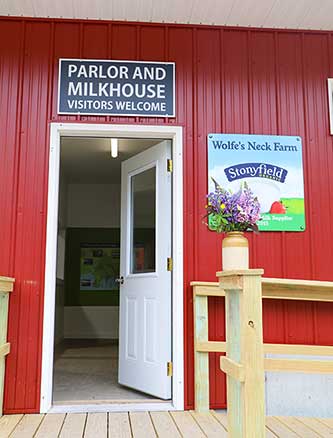 Entrance to the milking parlor.
By Sonja Heyck-Merlin
Wolfe's Neck Center for Agriculture and the Environment (formerly known as Wolfe's Neck Farm) in Freeport, Maine, simultaneously functions as a 130-site campground, café, summer camp and a MOFGA-certified organic vegetable farm, small livestock operation and dairy farm. It hosts farm-to-table dinners, school programs and weddings. The mission of the center is to transform people's relationship with farming and food for a healthier planet.
Revisioning and Reimagining
"In 2012, the Center hired Dave Herring as the executive director," says Joe Grady, senior director of programs.
"When Dave arrived, Wolfe's Neck wasn't doing any production-scale farming. David and a rejuvenated board of directors wanted to change that and began the process of revisioning and reimagining the role of the farm, particularly as it related to challenges and opportunities for Maine farms."
At the time of these deliberations, organic milk was in short supply, and given the farm's history of grazing beef and its quantity of pasture and hay land, organic dairy was a natural fit. The organization wrote and successfully secured a $1.69 million grant from Stonyfield Farm and its then-parent company Danone to establish an organic dairy research and farmer training program. The goal of the program is to prepare the next generation of organic dairy farmers to replace New England's aging farmers and to perform on-farm research to improve viability and environmental outcomes.
Shortly after securing the grant, the farm partnered with the Dairy Grazing Apprenticeship (DGA) program based in Wisconsin. DGA manages and facilitates the first federally recognized farming apprenticeship in the United States. The program matches master graziers with apprentices, who, over two years, receive training in all aspects of operating a forage- and pasture-based dairy. DGA currently has 175 approved master graziers in 12 states and 45 active master-apprentice pairs (three of whom are presently at Wolfe's Neck).
DGA apprentice Tierney Lawlor, who just completed her first year of the program, says, "The DGA apprenticeship at Wolfe's Neck is a total immersion into dairy farming. You dip your hands in everything: business, budgeting, marketing, managing small livestock, milking, dairy nutrition and mechanics."
In 2016, Wolfe's Neck Farm was awarded an additional $573,256 grant from the Beginning Farmer and Rancher Development Program of the USDA's National Institute of Food and Agriculture. The award was used to expand and support the dairy farming training program.
"The mission of the program," Grady says, "is to graduate qualified dairy apprentices to be a skilled labor force in the industry. I think in a broader sense, we're also hoping to have a farm that is exemplary in terms of best practices for grazing and producing high-quality forages. The program is only in its infancy."
The Milk Begins to Flow
In 2015, Stonyfield picked up the first load of milk from the farm. The milk is pooled with that of other Stonyfield producers and is processed at the Stonyfield plant in Londonderry, New Hampshire. The original milk cows, roughly 25, were purchased from New England organic farms. When the first DGA apprentices and cows arrived in 2015, the farm had minimal dairy infrastructure. They retooled a three-sided pole barn into a dairy barn, and in the back of the barn, they milked the cows in a single-sided parallel-eight mobile parlor, imported from Europe.
The original plan was to move the parlor between several docking stations, eliminating the need for the herd to walk long distances between pastures and a traditional fixed milking parlor. However, the cost of setting up these stations, which required electricity, running water and a drainage system for wastewater, proved unrealistic. Following this realization, stakeholders began to design a new barn with a traditional milking parlor.
In the beginning, one advantage the dairy had was fencing infrastructure. Because the farm had housed beef cattle for many years, perimeter fencing and pasture water lines were in place, allowing a smooth transition to grazing dairy cows. Rotational grazing is at the heart of the DGA program, and apprentices are responsible for moving the cows at 12-hour intervals.
Of the 626-acre property, which boasts 4 miles of coastline on Casco Bay, about 100 acres are dedicated to pasture and another 150 acres to forage production. Moving a herd of cows into a lush pasture of second crop while watching a rising tide is idyllic, but the reality of dairy farming in a place with long winters is that putting up quality forage is as critical as pasturing.
"When we started the dairy, I remember thinking it was crazy to be haying in May," says Matt DeGrandpre, the farming operations manager and the third generation of his family to farm at Wolfe's Neck. DeGrandpre is also a DGA master grazier. He continues, "Then, June came around, and we had unbelievable second crop, and holy smokes, we're getting a third crop. On the flip side, though, is how do you put back more than what you take? People tend to forget that hay is a crop that needs to be fed just like anything else."
The farm produces both dry hay and individually wrapped baleage bales. As of early October 2019, the farm had produced 825 bales of dairy feed with more second crop to go. The dominant soil types are marine clay, and the wet, cool conditions in the spring of 2019 caused their first crop to be both late and to lack quality.
In 2019, for the first year since the launch of the dairy cows, they won't spread imported wood ash and chicken manure. Now, with 60 mature cows, the farm is better situated to provide its own fertility.
"There is more pasture and hayfield improvement to be done. Anybody that's farming can say that. Increasing organic matter and fertility is always a project," Grady says.
Putting up the quality feed demanded by lactating animals necessitates the use of equipment, and this is another training component of the DGA apprenticeship. At the advent of the program, the farm had basic haying equipment and some older model tractors, but most were not in the greatest condition.
"When we introduced the dairy apprenticeship program, I raised the red flag. I knew we couldn't rake two windrows and then weld for the next five hours," DeGrandpre says. The center decided that from both efficiency and safety perspectives, they would lease their primary tractors and skid-steer from Hammond Tractor in Auburn. While some of the implements are new, such as the baler and mower, they still rely on several older implements.
Cynics among us may think to ourselves that the cost of leasing nearly new equipment is beyond the reach of most farms, but DeGrandpre has a quick rebuttal: "When we trade this equipment in, it gives other farmers the opportunity to buy well-maintained used equipment. There are significant savings in having a farm such as ours in Maine's agricultural community."
Shifting to the New Barn
In the spring of 2019, the farm celebrated the completion of its new dairy facility. The south-facing 130-by-70-foot barn has open ends and a back wall outfitted with a curtain. Two 14-foot, high-volume, low-speed fans provide airflow and ventilation. Thanks to a lease from ReVision Energy, 310 grid-tied solar panels are on the roof.
Wolfe's Neck uses a compost bedded-pack system (CBP) – an alternative to typical dairy housing such as a tie-stall or free-stall barn. This loose housing system resembles free-stall housing but has no stalls or partitions. In a CBP barn, the pack area is frequently aerated to keep the pack aerobic and composting. Last winter, Wolfe's Neck started the bedded-pack with a foot of loose sawdust and aerated it twice a day with a cultivator mounted on the front of a skid steer. DeGrandpre says, "Moving forward, we are excited to see the multiple benefits from the composted pack."
They add sawdust every third day and use a tractor-trailer truckload every five weeks. The CBP has a concrete base, and in its inaugural season, the crew found it was difficult to maintain the desired moisture level of 45 percent. It was much wetter than they anticipated, and they have been exploring different management techniques and are considering starting this winter's pack with 3 to 4 inches of wood chips.
Cows access feed through the south-facing 60-headlock feed alley. During the grazing season, they have access to dry hay during milking time. In winter, baleage bales are loaded on a rolling cart and unrolled by hand along the feed alley.
Currently they are milking 35 head. Milk production is at 43 pounds per cow, with each milk cow receiving an average of 15 pounds of grain. DGA graduate Haden Gooch, now a DGA journeyperson involved in both the dairy and other livestock operations, explains, "The average days in milk (for all dairy cows) is pretty high, which is skewing the production numbers." Apprentices are responsible for the artificial insemination process, and services per cow currently average 3.1, while the industry standard is two.
Gooch says, "Although we are a production farm, we naturally have to understand that some of the industry values and metrics are going to be hard to achieve."
The barn also contains meeting spaces for apprentices and visitors. Sitting adjacent to the barn are the milking parlor (single eight-pit parlor with automatic take-off), covered manure storage and a hay and sawdust shed. Visitors have free access to the facility and can watch milking through large viewing windows.
"With 50,000 visitors a year, there are always people watching you, and you're always explaining things to the public. It's challenging, but at the end of the day, it's awesome," says Gooch.
A Graduate's Dilemma
Since the inception of the program, organic milk prices paid by processors such as Stonyfield have declined. None of the three major processors in the Northeast – Organic Valley, Horizon Organic or Stonyfield – are currently recruiting producers. Gooch, who moved to Wolfe's Neck from Virginia, entered the program shortly before "the bubble burst," as he says.
"When I first entered the program, there was talk about Stonyfield helping graduates find opportunities to produce milk for them," Gooch says. With his dream of milking 50 cows and shipping to one of the three processors now unrealistic, Gooch and his partner, Katie, see direct marketing as the only avenue to enter the organic milk market at this point.
"If the processors wanted the milk, and the pay price was reasonable, it would be possible to buy several hundred acres and hay equipment," says Gooch. The couple currently plans to find a property with 20 to 30 acres of pasture and to direct-market their milk. (They recently launched an ice cream business called Pasture Pops using cream from The Milkhouse, a MOFGA-certified organic dairy in Monmouth, Maine.)
It is difficult to say when and if the organic dairy market in the Northeast will change. While staff members at the farm acknowledge that the cow-to-worker ratio is higher than it is on most farms, they are striving to present as realistic a picture of the economics of organic dairy farming as they can.
"The dairy budget is built in a way that anticipates a loss of money simply because no 50-cow dairy is going to employ a staff of our size plus two to four apprentices. We have an obligation though to give the apprentices a clear understanding of the economics, including cost of production and inputs," says Grady.
Apprentice labor gets diverted to the other livestock enterprises on the farm, which in 2019 included 300 laying hens, 25 heritage breed hogs and over 1,000 broilers. This diversity of experience in the small enterprise zone may be critical for any apprentices who go on to own and operate their own farm. The reality of the current organic market is that even if an apprentice has the means and ambition to be a wholesale producer, it may force them into the diversified direct-market model.
Despite the inherent challenges, DGA apprentice Tierney Lawlor is optimistic about her farming future. "From my perspective," she says, "you have to be creative. You have to find that niche that you can step into and run with it. I think anybody willing to do it, can do it."
About the author: Sonja Heyck-Merlin is a regular feature writer for The MOF&G. She and her family own and operate an organic dairy farm in Charleston, Maine.
---
Open Source Technology to Help Farmers Worldwide
Wolfe's Neck Center has been in the news lately for the Open Technology Ecosystem for Agricultural Management (OpenTEAM) – open source technology that will address soil health and mitigate climate change. This $10 million public-private collaboration with Stonyfield Organic, the USDA's LandPKS project, Foundation for Food and Agriculture Research and more than a dozen other partners from business and academia is projected to provide feedback on millions of acres of farmland by 2024. It will enable farmers worldwide to share information about improving soil health while reducing the use of fertilizers, conserving water, making farms more resistant to droughts and floods, and helping farms sequester more carbon.
According to the Wolfe's Neck website, OpenTEAM offers field-level carbon measurement, digital management records, remote sensing, predictive analytics and input and economic management decision support in a connected platform that reduces the need for farmer data entry while improving access to an array of tools. It will support adaptive soil health management for farms of all scales, geographies and production systems, and will provide quality data to collaborating researchers.
For example, the project is developing and testing a handheld device with a spectrometer that can estimate the carbon content of a soil sample, upload that information to a mobile device, linked it to a GPS location and integrated it with other software tools and data sets, explains Colin Woodard of the Portland Press Herald.