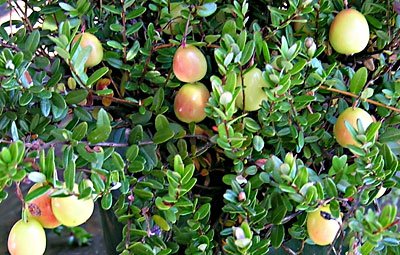 Cranberries – not quite ripe – growing in a pot in September. English photo.
By Roberta Bailey
The first time I saw cranberries growing in the wild was on a canoe trip in springtime. A few friends and I were paddling along a meandering stretch of a small river in Aroostook County. The waters were exceptionally high due to spring rains, and we were able to cut corners on most of the oxbows in the river. We started to see little red berries swaying in the slight current. After knocking them with the blade of our paddles, they floated to the surface. I scooped a few into my hand. They were cranberries! I bit into one. It popped with a crunch. They were delicious, still tart and sweet.
As we freed more berries with our paddles, we began to speculate that heavy rains and high water must have covered them in the fall. To be this crisp, they had not seen a hard freeze. We gathered about a quart of the red bobbers, then paddled away.
Since then I have gathered cranberries on the Maine coast and along a few dead waters (where fresh water sits on top of salt water). The coastal cranberries grow nestled into sphagnum moss. They need to be picked by hand, making for a pleasant day of salt air, ocean views and bird call. The dead water trips are just as moving. One paddles along water that winds though a thick floating mat of vegetation. Far off on the land's edge is a line of trees, vermillion in their fall foliage. One paddles along with an eye out for berries, all the while taking in the surrounding beauty.
Some years I find bushels of cranberries, some years few to none. To harvest, a small blueberry rake works well if enough berries are present to warrant its use. Whether one comes away with a few quarts or many full pack baskets and buckets, the journey feeds the soul.
Cranberries are also becoming a successful cash crop on some Maine farms, and home gardeners are planting them in wet areas as well. I harvested a dozen very fat berries off my young plants this fall. I look forward to the day when I can make cranberry sauce from my own farm berries.
---
Cranberry Rum Relish
Great with poultry or with cheese and crackers
1/3 c. dark rum
1/4 c. finely chopped shallots
grated rind of 1 orange
3 c. fresh or frozen cranberries
1 c. evaporated cane juice sugar
1/2 tsp. freshly ground black pepper
Combine rum, shallots and orange rind in a saucepan. Bring to a boil over high heat, then reduce heat and simmer until reduced to a syrupy mixture. Add cranberries and evaporated cane juice sugar. Stir constantly, cooking until cranberries pop and sugar dissolves. Remove from heat and stir in pepper. Makes 2 cups. Will keep for a few weeks in refrigerator. To can, ladle into hot, sterile, half-pint jars leaving 1/2-inch headspace. Seal and process for 10 minutes in a boiling water bath.
---
Cranberry Salsa
1/2 c. fresh cranberries, coarsely chopped
1/3 c. dried unsweetened cranberries
1/3 c. red onion, diced finely
2 Tbsp. minced parsley
1 Tbsp. minced cilantro (optional)
1 Tbsp. red wine vinegar
1 Tbsp. lemon juice
1/4 tsp. sea salt
1/4 tsp. hot pepper flakes or 1 tsp. minced hot pepper (optional)
2 to 3 Tbsp. honey
Combine cranberries, onion, parsley, cilantro, vinegar, lemon juice, salt and pepper in a saucepan, bring to a boil, then reduce to simmer for 10 minutes or until mixture thickens. Stir frequently. Add honey and stir completely. Makes 1-1/2 cups.
---
Cranberry Salad Dressing
Combine
1/2 c. cranberry salsa (above)
1/4 c. red or white wine vinegar
1/4 c. olive oil
1/8 tsp. freshly ground black pepper
Mince
1 clove garlic
Mash 1/8 to 1/4 tsp. sea salt with the garlic until salt semi-dissolves. Combine all ingredients. Shake well. Refrigerate. Makes 3/4 cup.
---
Cranberry Maple Butter
2 lb. fresh cranberries (about 10 c.)
1 c. apple juice
1 c. maple syrup
1/2 c. honey
1/4 tsp. ground cinnamon
1/4 tsp. ground ginger
2 tsp. vanilla extract
Combine cranberries and juice in a stainless saucepan. Bring to a boil over medium heat, then reduce heat, cover and boil gently for 4 to 6 minutes until cranberries pop. Stir frequently. Remove from heat, puree in a food processor, then put through a sieve or strainer to remove seeds.
Place puree in saucepan. Add maple syrup, cinnamon and ginger. Boil gently until thick, about 10 minutes, stirring regularly. Remove from heat and add honey and vanilla. To can, ladle into hot jars and process for 10 minutes in a boiling water bath. Makes 5 cups.
---
Cranberry-Pear Clafouti
1 pear, peeled, cored and cut into 1/2-inch cubes
1 c. fresh or frozen cranberries, cut in halves
1/3 c. plus 1/4 c. sugar or evaporated cane juice, divided
2 large eggs
2 Tbsp. flour
1-1/2 tsp. vanilla extract
1/4 c. milk
1/4 c. yogurt
Place oven rack in upper third of oven preheated to 375 F. Lightly oil a 9-inch glass pie plate.
Combine pear, cranberries and 1/3 cup sugar in the pie plate. Bake until fruit is tender and very juicy, about 20 minutes.
Whisk eggs, flour, vanilla and remaining 1/4 cup sugar in a medium bowl until smooth. Whisk in milk and yogurt.
Drain juices from the baked fruit into a small bowl, holding back the fruit with a metal spatula. Reserve the juices. Redistribute the fruit over the bottom of the dish and pour in the egg mixture. Bake until puffed and set, about 12 to 15 minutes. Serve warm, with reserved juices spooned over the top. Serves 4.
---
Honey Cranberry Sauce
1 c. water
12 oz. fresh or frozen cranberries
1/2 to 3/4 c. honey
1/2 tsp. orange zest
Simmer water and cranberries together, stirring occasionally, until berries just pop, 10 to 12 minutes. Stir in honey and zest. Cool. Makes 2-1/2 cups.
---
Lemon Cranberry Scones
2 Tbsp. freshly grated lemon zest (from about 3 lemons; preferably Meyer lemons)
2-1/2 c. flour
1/2 c. sugar plus 3 more Tbsp. if using fresh cranberries
1 Tbsp. baking powder
1/2 tsp. salt
6 Tbsp. cold unsalted butter, cut into bits
1-1/4 c. fresh cranberries, chopped coarse, or 1-1/4 c. dried cranberries or dried cherries
1 large egg
1 large egg yolk
1 c. cream
Preheat oven to 400 F. Line a large baking sheet with parchment paper.
With a vegetable peeler remove zest from lemons and chop fine, reserving lemons for another use.
In a food processor (or by hand), pulse flour, 1/2 cup sugar, baking powder, salt, butter and zest until mixture resembles coarse meal. Transfer to a large bowl.
In a small bowl toss fresh cranberries with 3 Tbsp. sugar. Stir into flour mixture. If using dried fruit, add to flour mixture.
In another small bowl lightly beat egg and yolk and stir in cream. Add egg mixture to flour mixture and stir until just combined.
On a well-floured surface with floured hands, pat dough into a 1-inch-thick (about 8-inch diameter) round. With a 2-inch round cutter or rim of a glass dipped in flour, cut out as many rounds as possible, re-rolling scraps to cut more rounds. Arrange rounds 1 inch apart on baking sheet. Bake in middle of oven for 15 to 20 minutes, or until pale golden.
Store, individually wrapped in plastic wrap and chilled, for one day, or frozen for one week. Makes about 16 scones.