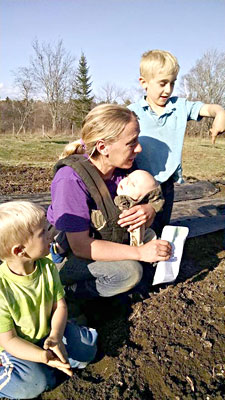 Emilia Carbone, Jed Beach (not shown) and their three adorable bugs are connected to the Lincolnville community through their farm and the Lincolnville Bulletin Board. Photo by Jed Beach
By Diane Roesing O'Brien
POST: Come join us for a traditional breakfast at King David's Lodge on Howe Point Road Sunday April 1st from 7-9 AM Eggs, bacon or sausage, pancakes, coffee or juice and more. Donations gladly accepted.
POST: Does anybody have a tv repair company recommendation? My 70″ screen slowly faded to black tonight. Thanks!
POST: Some of you may know the C____ family whose house burned down last Monday. If you don't, they are wonderful people that have been here for generations. Alan just retired, and celebrated his 66th birthday, and 2 days later they watched their home and entire life go up in flames.
REPLY: My heart goes out to them. Will anyone organize a benefit/spaghetti supper, etc.? These are some of the things that helped us when our house burned. Also, the town waived our taxes that year.
POST: Menu for Today, Lincolnville General Store – Toasts with chevre, greens, and egg – Chicken Salad with Tarragon, Parsley and Lettuce on our Blonde Sourdough – Cuban on ciabatta with pork, dijon mustard, Swiss cheese and pickles – Lamb Meatballs -Canellini Bean Ragu (Vegan, GF)
POST: The hens are laying up a storm…..stop by for some at Sleepy Hollow Rag Rugs. $3.50 a dozen. Walk straight through the tent in front of the barn, through the French doors and into the next door. Eggs are on your right.
POST: Good Morning everyone, Arabella is getting all fired up to make fresh hot delicious Pizzas from 4 to 7 pm. Our Menu for tonight is Spicy hot sausage with peppers and onions OR a Greek with spinach, red onion, feta, black olive and cherry tomatoes. Call us early to place your order. Happy Spring!
POST: Any interest out there in six used sheetrock sheets? A little creative muddin here and there and they'd be good as new and great for a workshop or garage. Free.
POST: Hello neighbors, Today is the perfect opportunity to dream about warmer, greener days and to place your seedling pre-orders. In addition to your favorite certified organic seedling varieties from last year 3 Bug Farm is offering more flowers, hot pepper variety packs, a complete garden variety pack filled with our favorites, and many more!
POST: Girl Scout Cookies. Looking for a couple of boxes. Anyone still selling? POST: Nomination papers for the Tuesday, June 12, 2018 election of the Municipal Officers are now available at the Lincolnville Town Office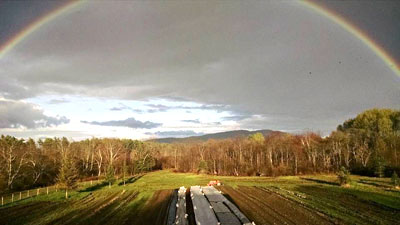 3 Bug Farm posts on the Lincolnville Bulletin Board when seedlings or crops are ready. Photo by Emilia Carbone
POST: Is anyone placing a FEDCO order anytime soon? I forgot to order at least one thing, maybe two, and don't want to pay shipment. Please let me know if so and I'll chip in. thanks
POST: I went around w/ MDOT last Thursday to look at trees they want to remove, and they have put blue tape around those trees. There are not that many but I wanted to give their locations so folks can know what's going on
REPLY: If you do not heat with wood or have no use for firewood, keep in mind that there are others who are in need. Waldo County has a "wood pantry"; people who will come and remove the cut wood and get it to people who cannot afford to buy firewood. And of course you can always be the one who sells it.
POST: I had a business (that's another word for a swarm) of flies in my yard today, must be spring.
---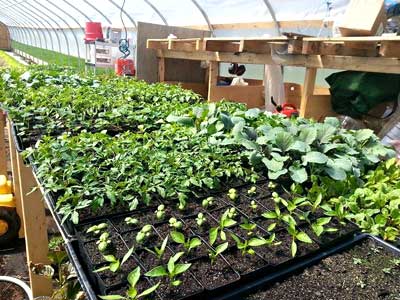 Seedlings at 3 Bug Farm. Photo by Emilia Carbone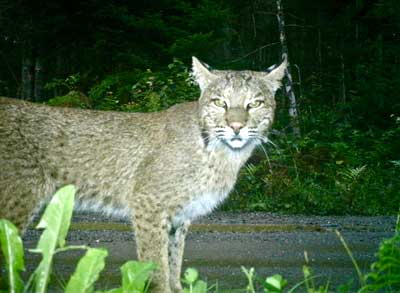 Postings about wildlife, including bobcats, are among the most popular on the bulletin board. Photo by Corelyn Senn
For the past eight years, this is one way we've been communicating with each other here in our town, halfway up the coast. We call it the Lincolnville Bulletin Board. We sell our old couches, give away stuff, put up the general store's daily menu, let each other know about illness or fire or accident. The town office tells us when taxes are due, when the polls will open, or when work on a new culvert will close a road.
We've discovered a poet lives among us, and on a bright morning we may wake up to his latest ode to the sun. Thanks to an avid lover of wildlife and her trail cameras, we've seen photos of the bobcats, fishers, owls, otters, bear, foxes – both red and gray – moose, deer, turkeys and more that live in our very own woods.
An idea that hatched over the dinner table one night in late 2009 has become part of the fabric of our community's life.
Visitors that night from New Hampshire spoke of an email Listserve in their small town. People could post meeting notices, things for sale, missing pets. Why wouldn't that work in Lincolnville, I wondered? Easy, said my son when I described the New Hampshire group, and he promptly set up a Google group we named the Lincolnville Bulletin Board or LBB.
That part was quick and easy; anyone can do it. We decided he and I would be the managers of the new group. Now all we needed were people.
Looking at the list of members today and the date they first signed on, I see my sons, their wives, friends – people who probably stopped by our house for one thing or another in those early weeks. I grabbed everyone who came by and signed them up.
I began carrying a clipboard with a sign-up sheet to public meetings, to church, to Drake's Corner Store with its daily group of coffee drinkers. Everywhere I went I described what this LBB was and how we could use it.
Membership grew slowly that first year. It was exciting to see us top 100; after 200 I stopped checking so frequently. Now people were calling, emailing, stopping me in Hannaford's – "How can I get on this Bulletin Board thing?" they asked. By then we had found a dedicated manager to act as moderator of the group, a woman willing to step in if posts were inappropriate. This is an important piece, for it gives some order to the process.
"Post a photo with this," she'd email the seller of a lamp. "Where are you located?" to the person whose dog had wandered away. "Please reply privately if you have something negative to say."
"Just to clarify," she wrote this morning, "Posting meeting announcements on the list is fine and allowed. Political commentary or anything else along with an announcement is not. Thank you."
Instinctively these early members knew what we didn't want: another place to rant. It's one thing to let it all out on Facebook or Twitter or in a blog; quite another on an email list that includes your next door neighbor, your kid's best friend's mother, maybe your own mother. We run into these people every time we venture about town.
The possibility for serious damage to relationships is high.
So we made two rules for ourselves: no discussion of politics or of religion. It's okay to post notice of a political meeting or church event such as Easter services or a party caucus, just no opinions. And please, don't say anything bad about anyone.
On the handful of occasions when someone has stepped over the line, we can count on almost instant response from all sides: "Take that discussion elsewhere! Don't ruin our Bulletin Board!" The moderator can always block access to an offender; this has happened at most maybe twice.
Local issues are tricky because the LBB is a great way to get out information to most of the townspeople, but can be seen as "political" when one side is advocated over another. That's when the members chatter back and forth a bit, but usually things settle back to lost dogs, rototillers for sale and the latest bobcat photo.
If you want to set up a Google group in your town, this link tells you how to do it and then, how to manage it: https://support.google.com/groups/answer/2464926?hl=en . Members have several options for their participation: Receive by email every message that's sent to the group, get a digest of the subject lines once a day, or opt to receive no email posts. All the messages can be read by members on the group's site.
Today the LBB has over 900 members. Although it was meant to be only for residents of our town, it hasn't turned out that way. As Pat Putnam, the LBB's moderator says, "Some people have moved away, some live close by, some people's hearts just live here for one reason or another. There is no way to really police who wants to join."
People join by contacting one of the managers, who then simply adds the person's email address to the list. One other bonus to a small town online bulletin board is that we actually run into each other in real life, unlike other online boards. It's fun to put a face to the poet, the animal lover, the avid recycler, the local farmers whom you've come to know from their posts.
It's hard to top this one:
A resident on Masalin Road has a VERY small terrier type/wire hair dog who has appeared in her yard. She said she found it sitting by her mailbox wearing a Halloween themed sweater. She has it with her right now. A tag was found on the dog with a phone number, but no answer. If this is your dog, please give her a call …
About the author: Diane O'Brien, along with her late husband, Wally, raised three sons, gardened, and kept a milk cow, pigs and chickens on a couple of acres near the coast. She's written a column "This Week in Lincolnville" since 1979 for The Camden Herald, and recently online at PenBayPilot.com.