When it comes to capturing the essence of the Common Ground Country Fair, longtime MOFGA volunteer and former board member Eli Berry does it well in his essay in "The Organic Farming Revolution: Past, Present, Future." He writes:
Each year at fair time, a family reunion of a kind takes place among visitors, participants, and especially volunteers. Many of these same people transformed the agriculture and culture of the state. The brand-new old-fashioned economy and community created and refined in shared celebration of essential necessities at the fair have grown into a region-wide movement.
As the sun of another chilly September morning at the Fair rises, before the action of the day begins, a beautiful and bountiful organism awakes. It takes in the smells of hay bales, dew, and breakfasts, the sounds of laughter and "good mornings" between new neighbors of all species, and the sensation of stirring of hands and feet and hooves and roots of many lives.
Fair Beginnings
The Fair was first started as a fundraiser for MOFGA in the 1970s. According to "Fertile Ground: Celebrating 40 Years of MOFGA," the first Fair was held in 1977 at the Litchfield Fairgrounds and MOFGA's first executive director Chaitanya York says, it "filled a financial void for MOFGA, saving it at a time when 'we needed a miracle.'"
The first Fair, like every Fair since, was made possible by incredible volunteer efforts. On the financial side, it netted about $8,000 after expenses to help pay MOFGA staff wages and operating costs. York also credited the Kendall Foundation for the seed money that helped make the first Fair a reality. York explains in "Fertile Ground," "I was always intrigued with the Buddhist idea of 'right livelihood.' You do whatever your noble mission is and in the process you create or invent enough money to express that process. The Fair was absolutely the right way to make money. The concept expressed our mission, our vision, our goal."
The Fair has grown in scope and attendance since 1977, as Berry describes in "The Organic Farming Revolution,"
Some might say MOFGA made it through the economic crisis of the 1970s by creating an antidote to the 1980s. Despite a popular culture rapidly sliding into me-first consumerism, the Common Ground Country Fair drew folks from around and beyond the state who wanted to share. People came hungry to learn, eager to participate and spread the word. Each year they brought friends and attendance grew from more than 10,000 in 1977 to 20,000 the next year, and up to 45,000 within ten years. Throughout each year, a dedicated committee of volunteers shepherded the planning for the next.
The Fair moved from Litchfield to the Windsor Fairgrounds in 1981 and then to its current location at MOFGA's Common Ground Education Center in Unity in 1998 after the purchase of the Unity location in 1996.
Financial Impact
Today, the Fair regularly sees around 60,000 attendees, including the more than 2,000 volunteers who make the Fair possible. The Herculean tasks of directing parking for thousands of vehicles, handling recycling and compost, serving over 7,000 meals in the Common Kitchen and arranging more than 700 educational talks and presentations are all coordinated by a dedicated team of volunteers that works year-round to make MOFGA's annual celebration of rural living happen.
With the Fair's current size, scope and impact, it's admittedly much more difficult now to summarize the Fair's isolated financial impact for MOFGA. We're a 501(c)(3) nonprofit organization with a year-round mission to promote organic agriculture through education, training and advocacy. The Common Ground Country Fair is one of our nine program areas (which also include buildings and grounds, communications and outreach, community education, farmer programs, membership and development, MOFGA Certification Services, operations and public policy). The Fair has its program operating budget, which on the expense side includes tents, electricity, keynote speaker honorariums, Wi-Fi (critical for credit card sales), restrooms, shuttle buses, grounds insurance and more to accommodate the 60,000 community members that gather in Unity each fall. Fair expenses also include a small salaried team of Fair personnel, supplies and Country Store merchandise (the iconic Fair T-shirts and more!).
We operate the Common Ground Education Center year-round as headquarters for MOFGA's 45 staff and host regular gardening, farming and forestry management meetings, demonstrations, workshops and courses, both inside and outside. Because we use the fairgrounds for year-round educational programming, our annual operations and building and grounds costs (like taxes, utilities, groundskeeping and maintenance) are their own program areas and budget items, and are not included in Fair costs or passed on to attendees.
On the income side, the Fair helps cover its costs each year through vendor fees, tickets and merchandise sales. Volunteers and MOFGA's staff members (Fair staff and all other staff — it's all hands on deck!) make sure the Fair runs smoothly throughout those three special days in September. The Fair simply would not be possible without the services our dedicated volunteers and MOFGA teammates provide. For context, volunteers contributed more than 25,000 hours in 2022 to make the Fair a success! MOFGA also generates income that is inspired by the Fair but isn't directly attributed to the Fair's program budget. For example, the Fair budget doesn't include memberships, donations or contributions to MOFGA's endowment that folks make because of their wonderful Fair experiences. Our brick-and-mortar store, The Maine Organic Marketplace in Freeport, also brings in year-round sales not counted in the Fair budget but features Fair brand recognition as a solid and enduring foundation.
If we attempt the difficult task of viewing the Fair budget in isolation, as best we can, what we can proudly say is that over our past four in-person fairs (2017, 2018, 2019, 2022), Fair fees, tickets and merchandise sales have provided an average of $250,000 in net Fair revenue per year, after expenses that average $750,000 per year. This then becomes a critical element of support for MOFGA's annual operating budget, which in 2022 was just over $5 million.
The Fair is one of MOFGA's most treasured educational investments in our community. The costs to host the event are significant, as are the community benefits. Is the Fair MOFGA's primary fundraiser to cover the costs of our annual operating expenses as it was in its nascent days? No, it is not — nor would that fit the scope of the organization as it has grown over the years. If the Fair were to act as MOFGA's primary fundraiser today, it would impact the cost, accessibility and atmosphere of this truly one-of-a-kind event. But it is thanks entirely to those first fundraising Fairs that MOFGA is still here today, year-round, as a national leader in sustainable living. We do our best to create measurable metrics for the tremendous success of the Fair — such as the number of attendees, volunteers, vendors and presentations — but so much of the magic of the Fair is intangible. It's hard to imagine finding a way to measure the ultimate impact of the Fair as attendees apply their learnings to their daily lives and grow the connections made there into lasting bonds.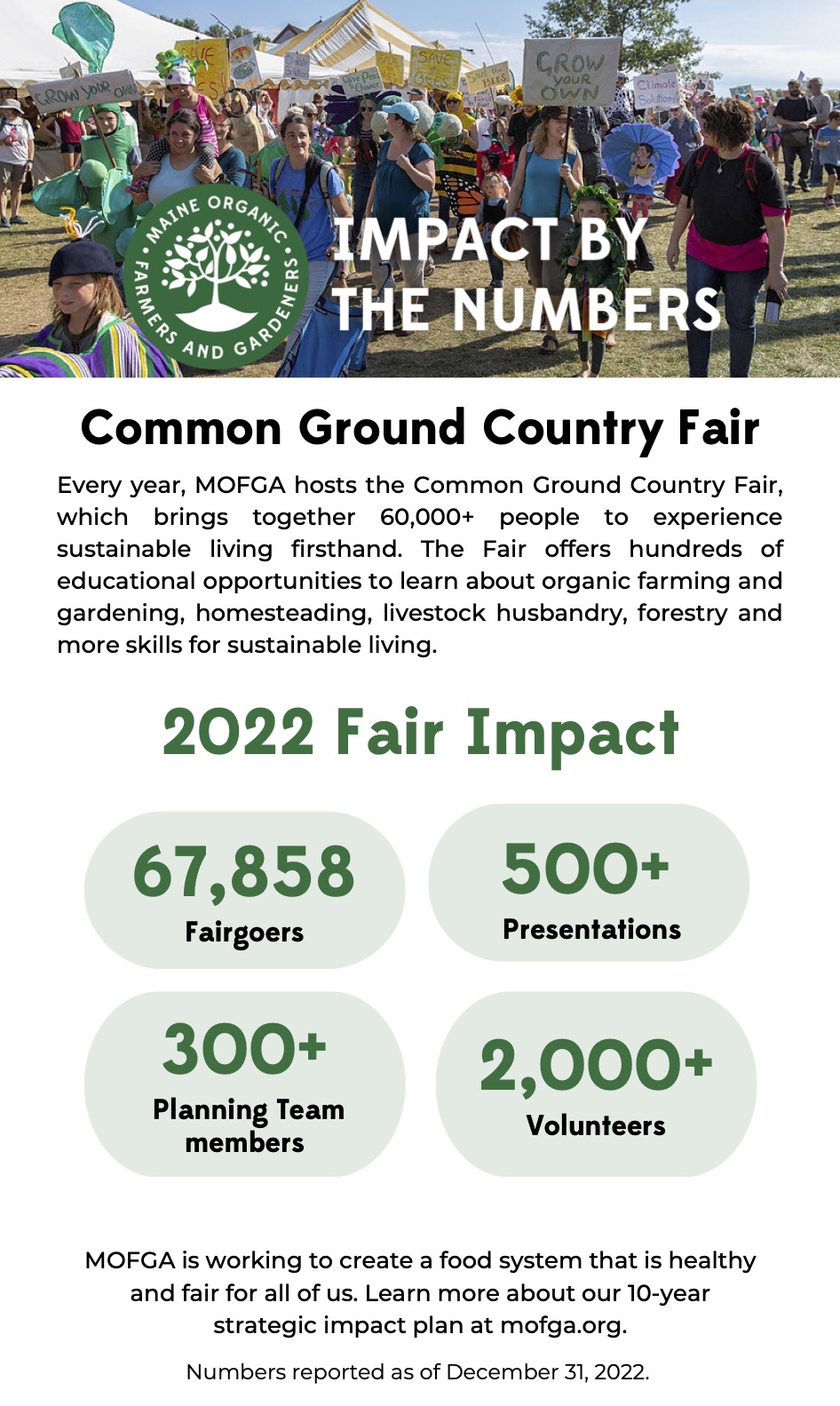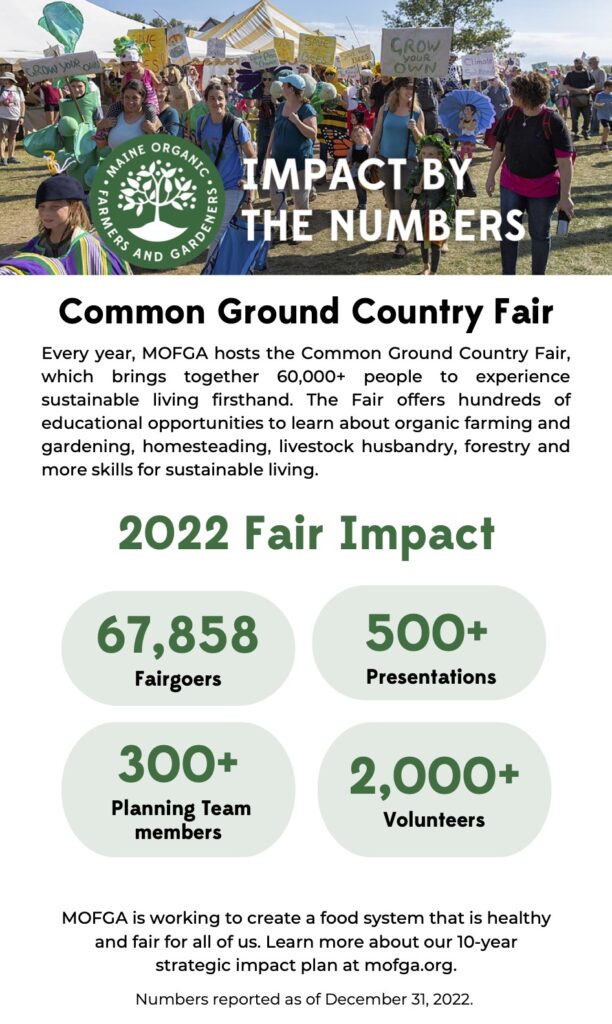 MOFGA's Critical Year-Round Members and Volunteers
It is the support of the Fair's volunteers, enthusiastic attendees and MOFGA's year-round members that makes this extraordinary moment of togetherness possible. And it is thanks to the year-round financial support of our member community and volunteers that MOFGA is then able to provide the other 362 days of educational workshops, technical assistance, training and advocacy.
We are so grateful to so many of you for your own investment in MOFGA's work, whether that is through donations of your time, finances, or, more often than not, both! If you have not already joined us, we hope you will become a MOFGA member or volunteer. After the Fair gates close and the last tent is packed away, your contributions will help us continue to amplify our efforts to help farmers thrive, make more organic food accessible and build sustainable communities. Together, we're creating a food system that is healthy and fair for all of us.
– Meghan Metzger, Director of Development and Membership
This article was originally published in the fall 2023 issue of The Maine Organic Farmer & Gardener.