Bread & Brews, a celebration of local grain, will be hosted in partnership with the Maine Grain Alliance on June 25 in Unity, Maine. The event will highlight the people and businesses who use Maine-grown grains — while inviting participants to enjoy the fruits of their labor.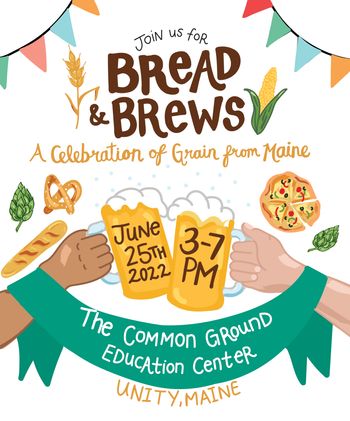 Workshops and demonstrations are scheduled throughout the afternoon, which are included in the Bread & Brews ticket price. Participants can learn how to: make Somali muufo from corn grown by the Somali Bantu Community Association in Wales; cook traditional ployes using tartary buckwheat; brew homebrew with Central Street Farmhouse in Bangor; malt grains with Blue Ox Malthouse; and more. A special pre-event workshop called "Pizza at Home and in the Pub: Committing to Local Grains" will be led by the Maine Grain Alliance.
"Over the past decade, Maine's grain economy has benefited immensely from collaborations between the baking and brewing communities. Bread & Brews is an opportunity to celebrate these successes together," said Tristan Noyes, executive director of the Maine Grain Alliance.
Ten-plus breweries from Midcoast Maine and beyond will be pouring tastes of their favorite new brews. Event goers can taste lagers, gruits, stouts and IPAs from breweries from Portland to Cambridge to Ellsworth, including Oxbow, Flight Deck and Lake St. George Brewing. These breweries use Maine-grown grain and hops in their brews — along with other local ingredients. (Seaweed Saison from Fogtown Brewing, anyone?)
Pizza, bread and bagels will be for sale thanks to Uproot Pie Co., Vesper Bread and Spark Bagel. Refreshing treats (popsicles and shaved ice) made with whole fruit will be available from The Paleta Guy.
GoldenOak (an indie soul-folk band from Portland whose new album is called "Room to Grow") will perform at 5 p.m., and the Gawler Family Bottomfeeders (a trio of multi-instrumentalists sharing folk tunes and beautiful three-part harmonies) will be live at 3 p.m.
If you're a home baker or a home brewer, there are opportunities for sharing your craft. Bring some extra sourdough starter to share with others who may be new to baking, or bring your homebrewing questions to the workshop led by Central Street Farmhouse, a brewing supply store in Bangor, beginning at 4 p.m.
Tickets are $50 (beer tasting included) and $25 (without access to the beer tasting), with discounts for MOFGA and MGA members. The pre-event "Pizza at Home and in the Pub: Committing to Local Grains" is priced at $25. Kids are welcome (except in the beer-tasting room), and kids under 12 get in free; this is a family-friendly event!
The event is also seeking volunteers. All volunteers receive a complimentary base-level ticket with the option to purchase access to the beer-tasting portion of the event. For more details about Bread & Brews, visit the event page.