A strong combination of nature, nurture and determination led Joy Grannis to create the winning design featuring native bee balm (Monarda didyma) flowers and honeybees for the 2020 Common Ground Country Fair art contest.
Grannis comes for a family of artists. Her uncle was a talented goldsmith, her grandmother was a screen printer, and her aunt is a sculptor – and everyone in her family, including her four sisters
and one brother, is "really creative" – her brother as a woodworker and furniture maker, for
example; one sister in health care, another in the food industry; "all amazingly creative," says
Grannis.
Add to that several years of homeschooling in Pembroke, Maine, in Washington County. "I
definitely think homeschooling played a huge role" in my creativity, says Grannis.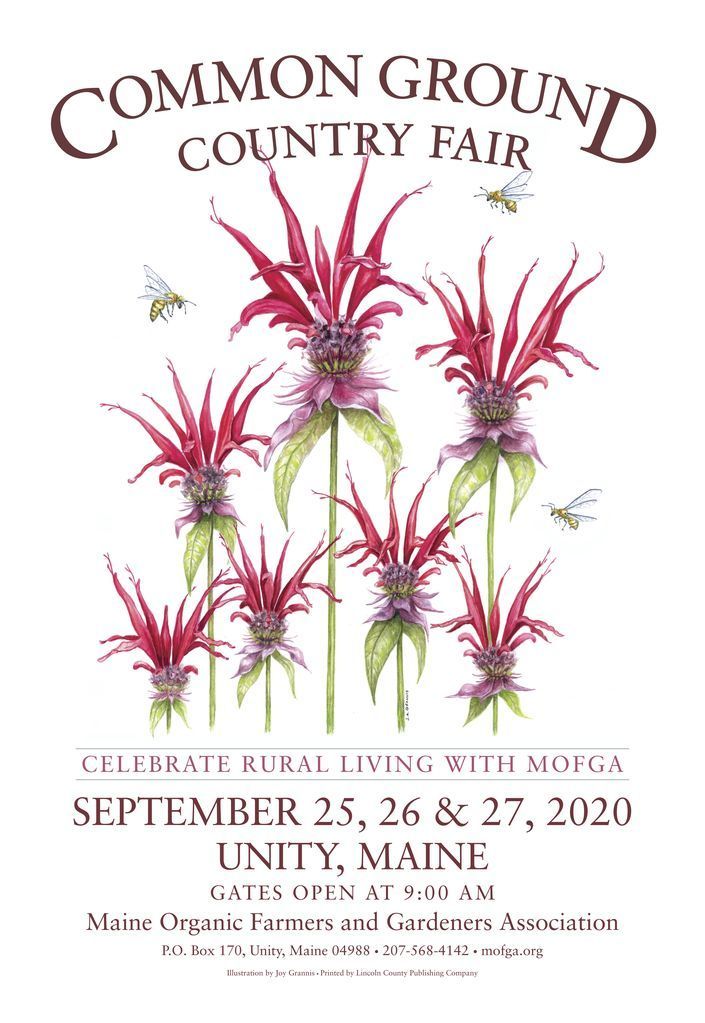 She and her siblings "had some structure covering the basics, but we were encouraged to focus on what naturally drew us in. That was art for me, and writing and being outside."
The kids also had daily chores on the homestead, where the family raised all of its own vegetables as well as turkeys and chickens. "We were homeschooled until we decided individually that we wanted to go to school."
For Grannis that meant a 45-minute bus ride each way to Washington Academy in East Machias,
where "I took art every year. They had a nice art program."
From there she went on to the University of Southern Maine, where she started as an art major
and then switched to environmental planning and policy, earning a bachelor's degree in that field
with a minor in applied energy. She continued to study book art at USM at the same time, which
was fun: "I could weave my interest in environmental studies into the books that I was making."
After graduation she worked in the sustainable building and energy field but decided to move
back into art to meet her creativity needs. Living in Portland, she had been bartending at Isa
Bistro in the evenings, which gave her time during the day to focus on art. That situation was
"perfect," she says, although as we went to press, she hadn't been bartending since the COVID-
19 virus shut down restaurants.
Grannis now has her own garden and enjoys others' in East Bayside, where "there are so many
beautiful gardens in the neighborhood." In fact she did her bee balm sketch by viewing her
neighbor's garden from home. Grannis herself grows several herbs – rosemary, sage, lavender
and others – as well as a lot of native flowers and, in the shaded parts of her garden, hostas,
phlox, irises and more. This year she is installing a few raised beds for a kitchen garden.
Members of the MOFGA board of directors, staff and the Common Ground Country Fair
Steering Committee selected Grannis' design from among 66 entries from Maine residents or
MOFGA members. This was the third time she had entered the contest. She recommends that
those submitting designs "pay attention to the guidelines; it's important to follow those rules. It
does provide structure. It really worked for me. I thought about them a lot for the second one and even more for the third one. Think about the context your work will be in – on T-shirts, posters,
and so on. Everyone will be viewing it." Aside from that, she says to "draw every day; keep
creating every day. Do what you love and something good will come out of it" – as it did with
her watercolor and gouache bee balm work. Speaking of love, Grannis says that she loves the Fair. "You feel so comforted. Like the world is going to be OK."
The 44th annual Common Ground Country Fair is scheduled for September 25
to 27, when products with Grannis' design will be available. Meanwhile, the 2020 poster is
available at MOFGA's online Country Store.