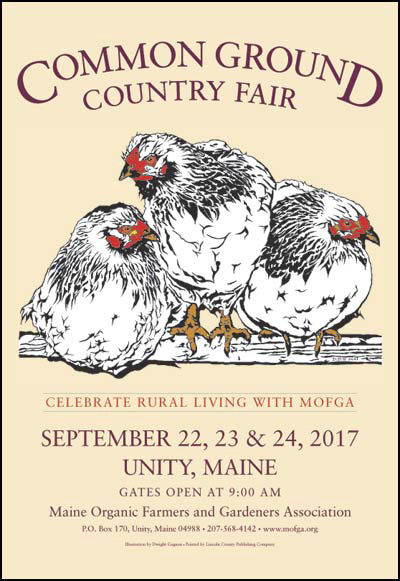 "Sometimes something miraculous happens. Over the last seven years I've entered the Common Ground Country Fair poster contest five times. The fifth entry was chosen for this year's poster."
So said Dwight Gagnon of Benton Falls, Maine, during his Pecha Kucha presentation in Waterville (https://vimeo.com/204897974).
Gagnon's 2017 winning design for the Fair poster and other items features three roosting Columbian Wyandotte chickens – a delightful and fitting image for MOFGA's 41st annual Common Ground Country Fair, held on MOFGA's grounds in Unity on September 22, 23 and 24. This uncommon poultry variety is well suited to Maine's climate and is raised for both meat and egg production.
Gagnon has lived in Benton since 1969, where his wife, Kay, and cat, Sophie, also live and where he and Kay raised their two children, Amy and Aaron. That's also where the small flock of Wyandottes lived. "I went out to the hen house one night in February, when it was cold and dark," says Gagnon. "Chickens really hold still when they can't see in the dark. I photographed them and surprised them" in the process … and captured their surprise in his photo.
He turned that photo into a 2-by-3-foot acrylic on canvas painting, transferring the design square by square using a grid technique described in his Pecha Kucha presentation.
"There were no art programs where I went to high school," says Gagnon, "so I took drafting," and he still uses drafting modes (grids) in his art.
At the University of Maine at Fort Kent, Gagnon majored in biology and minored in art. "I wanted to do natural science illustration," he says. His college and art/drafting background led, however, to a 14-year career as a dental lab technician, which involved sculpting, metal casting, and working with wax and stone. Then he taught computer technology in public schools for 23 years. He is now retired and is in the process of moving to the farm next door, which has been in the family for more than 100 years.
Daughter Amy (also an artist, and an employee of The Naturalist's Notebook in Seal Harbor) inspired Gagnon to get back into painting almost 10 years ago. "She thought I should be doing something more at night than sitting down watching TV," says Gagnon. "She said she wanted to see something next time she visited."
On the website for Sebasticook Art (http://sebasticookart.com/), a collaborative space for Gagnon and other artists, he says, "I consider myself an amateur artist, creating for family and friends, and entering local fair exhibits. I use art as social connection and a way of maintaining sanity. My current studio is a temporary arrangement near a wood stove in the basement of my home. I work mostly in the winter, and I'm most productive when there is a raging snowstorm outside, the stove is burning, the cat is sleeping close by, and there is good music on the radio."
He continues, "Growing good healthy food at home, conservation, and appreciation of all forms of art have been lifelong pursuits due to my education in environmental science and the connections I've made through Maine Organic Farmers and Gardeners Association, Natural Resources Council of Maine, The Colby Museum of Art, The Farnsworth Art Museum, and the Guild of Natural Science Illustrators."
Asked if he has advice for others entering the Fair art contest, Gagnon says, "Following the directions they give you is really important." Those guidelines are posted on the Fair page of www.mofga.org. Beyond that, keep at it, he says. "It's just a matter of time. Always do something you'll enjoy having if it isn't chosen." He has given his previous submissions away as gifts.
Regarding winning this year, "I am so thrilled," says Gagnon. "I was in the garage one afternoon" when Fair director April Boucher called to say he won. "I wasn't even going to enter this year." He didn't think he could make the early August deadline, but when he was at Winterberry Farm in Belgrade on Open Farm Day, he saw other winning Fair posters hanging at the farm market there. "I said, 'Gosh. The poster deadline is coming up and I'm never going to make it.' But I just set into it and did it!"