Toki Oshima's Vibrant Chard Colors 2016 Fair Poster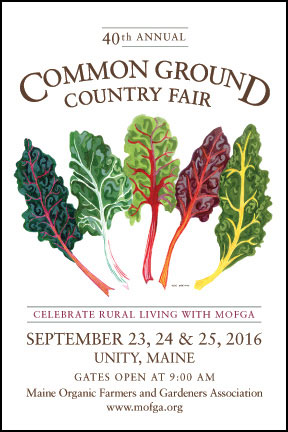 The winning art for the 2016 Common Ground Country Fair features an arrangement of Rainbow Swiss chard leaves, a staple in many home gardens and at farmers' markets and a work of art in the garden. Toki Oshima of North Whitefield created the design – a fitting celebratory image for the 40th annual Common Ground Country Fair.
Oshima's work should be familiar to MOF&G readers: She has created the scratchboard art that has graced the cover of each issue since 1992, and her delightful illustrations are sprinkled throughout the paper as well. (Scratchboard involves applying ink to a special clay-coated paper and then removing the ink with a sharp tool.) Our readers often comment on the joyful spirit of her farm and family scenes.
Originally from Massachusetts, where her mother gardened biodynamically, Oshima studied at the Nova Scotia College of Art and Design, then moved to a cabin in the woods in Alaska, where she played a lot of music, did odd jobs and made art. Eight years later she moved to Maine to attend the Portland School of Art (now the Maine College of Art, MECA). While there, she started creating illustrations for The Casco Bay Weekly, which is where MOF&G producer Tim Nason noticed her work and asked if she would illustrate our newspaper covers.
Since 1989, Oshima and her husband, John Pranio, have lived in North Whitefield. She finished her graphic design degree soon after they moved there, continued to grow her business, got a master's degree in education, and the couple raised their sons, Sean and Jamie (now 19 and 22). Pranio has worked at the Spurwink School in Chelsea with at-risk youth all that time.
They garden, and, says Oshima, "We make really good friends of really good farmers. We're avid CSA members."
Her garden, in fact, inspired her chard painting for the Fair competition. "It's so beautiful," she says about Rainbow chard. "In all of my color artwork, I usually end up using every color of the rainbow. I don't know why that happens, but I just noticed it. Chard really includes that love of color – and there it was in the garden! And we love to eat it. It's so easy to cook and ready to go."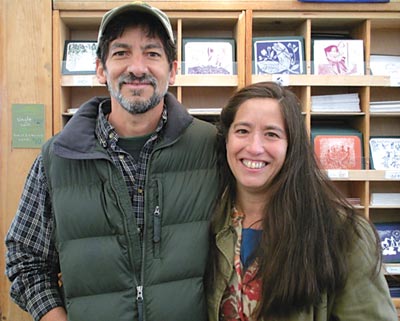 Her chard design is reminiscent of the 2002 "Dancing Corn" poster, in that the vegetables almost seem to be in motion. Although she did not plan to depict motion, Oshima says, "In my artwork, gesture, the feeling of movement, has always been important to me."
This was the twelfth time Oshima entered the Fair contest, and the first time she won. Her advice to other artists: "Be persistent!"
Oshima also contributed illustrations for MOFGA's 1992 "The Garden Parade Coloring Book and Sewing Instructions," based on the Common Ground Country Fair Children's Garden Parade. She illustrated Tim Nason's book, "Days with Cedar Whitewater," as well as her own book, "Everyday in the Waldorf Kindergarten." And her illustrations for the Journal Tribune won an Associated Press award.
She now teaches a parent-toddler class and a children's art class in a space she rents at the Mill School in Freedom, and she is one of the facilitators for arts enrichment at Playworks, a homeschool cooperative at the Water Street Learning Center in Liberty.
In addition to making art, Oshima, with her husband and sons, makes music. Pranio plays fiddle and Oshima, guitar. "The kids have really taken off" with music, says Oshima. "Jamie is touring with Ed Howe, a terrific fiddler," with their band, Barefoot. "Sean is a songwriter, and the kids have a band together – The Oshima Brothers – and another band, Mostly Brothers." John and Toki have played music at the Fair over the years, starting with the Fiddle Contest way back in 1989, and several other times with Paul D'Alessio and Tori Morrill as Redbird. The family played at an event MOFGA held in the summer of 2015 to honor Mrs. Polly Guth and the Partridge Foundation's endowment gift to MOFGA.