Kate Seaver's 'Medicinal Herbs' Design Wins Common Ground Art Contest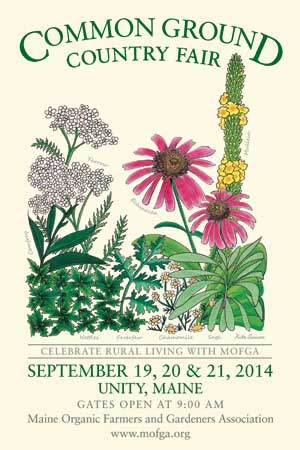 Kate Seaver's drawing of medicinal herbs, featured on this year's Common Ground Country Fair poster (and T-shirts, cotton bags and other goods), emits a bright and positive energy that reflects the artist, her farm and the healthful qualities of herbs.
Kate and her husband, John, are MOFGA journeypersons in their second season of market gardening at their MOFGA-certified organic Up-Beet Farm in Porter Village, where they live with and home-school daughter Cora. They are working toward producing a sustainable 5 acres of organic and biointensive heirloom vegetables, herbs, cut flowers and seedlings, with Broadturn Farm's John Bliss and Stacy Brenner as their mentors this year; Piper's Knoll Farm in Newfield, Maine, mentored them last year.
The Seavers are inspired by permaculture, biodynamic and nutrient density principles – and by MOFGA. They left Maine for a year, but Kate says they "needed to be back in Maine; it's so supportive for farming." They say they hope to stay open-minded as stewards of food and the earth and to continue to see agriculture as an artistic and joyful endeavor.
Both are very interested in nutrition and community health – and share a love for reggae music as well. In fact, Up-Beet Farm was named for that musical genre. Kate sings reggae and would like to perform at the Common Ground Country Fair someday. She is also learning to play ukulele.
Originally from Fryeburg, Kate grew up in the Fryeburg and Porter areas. She began creating art as a child, and her first visit to the Common Ground Country Fair, at age 13, sowed an idea: She wanted to design a winning Fair poster someday.
After working as a tattoo artist, she majored in illustration at Maine College of Art (MECA). Her medicinal herbs poster drew on both backgrounds.
"I used Prisma colors" – pencils with colors that blend – for the poster design. "I had used those pencils for designing tattoos, because they blend the way ink would on skin."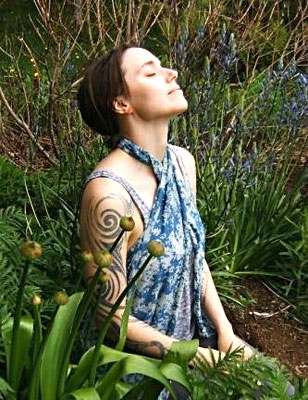 Her training at MECA helped, too. She hopes to expand her art by painting "not just the surface of things, but the energy I feel behind them." And she wants to continue to use her illustration talent to produce educational books and pamphlets about farming and herbs.
The herbs that inspired the poster grew at Up-Beet Farm.
"I always wanted to know more about herbs," says Kate. "I'm taking a course by video with Gail Faith Edwards [of Blessed Maine Herb Farm]. Deb Soule's garden [at Avena Botanicals in Rockport] was another inspiration. I saw the biggest mullein plant I've ever seen there."
Kate grew the herbs that appear on the poster and chose to depict them because "those are the herbs I felt comfortable with. They're bright, pretty, alive. The herb garden is very healing."
Up-Beet's produce and Kate's art appear in the Seavers' new health food store and café, Good Health Grocery, on Route 25, next to the Porter Emporium in Porter Village. They'll be selling produce from other farms, too. "We're aiming for all certified-organic," says Kate. A certified yoga teacher, Kate will begin offering yoga classes there this fall.
Like a richly integrated living soil, Kate has even more going on. She waitresses at and sells her vegetables to Flatbread Company in North Conway, N.H., and has recently been commissioned to create artwork for that restaurant.
Kate says her favorite reggae song is probably Bob Marley's 'Redemption Song.' That seems fitting in light of the life she has created for herself: "Emancipate yourselves from mental slavery," sings Marley; "None but ourselves can free our minds."