Grace Keown's 'Oxen Team' Design Wins Common Ground Art Contest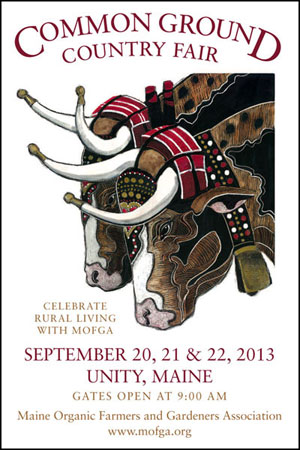 Grace Keown of Dixmont, Maine, has won MOFGA's Common Ground Country Fair poster contest with her "Oxen Team" design, to be featured on posters, T-shirts, cloth bags and other goods sold at the 2013 Common Ground Country Fair .
This is the second time Keown has won the Fair art contest. Her "Red Barn" design graced the 2008 Fair goods.
"This is the design that almost wasn't," says Keown. "I was trying to capture the look of an oxen team at work, when they're watching their handler and seem to ask, 'OK, now what?' It finally came together after about a half-dozen preliminary sketches.
"I also wanted to convey the absolute enormity and strength but also gentleness of these animals in an iconic way. One of my favorite mediums, scratchbord, fit the bill and was used for the original design. Oxen teams are a popular draw at the Fair. They are such impressive, magnificent animals, the original heavy farm equipment! They were at one time indispensable to farms in Maine and the Maritimes."
The yoke depicted on the oxen in Keown's design is a style used in the Canadian Maritimes and on some of the oxen seen at the Common Ground Country Fair – and one that worked better than a neck yoke for design purposes, says Keown.
After transferring her drawing onto scratchbord – a pre-made panel of wood, clay and ink – Keown scratched the design in and applied color. Tim Nason, MOFGA's publications designer, did the layout, and Liberty Graphics did the hand color separations. Both "worked their magic," says Keown.
She says she was surprised and honored to win the contest, especially for the second time – a rarity. Judges do not know the artists' identities when they select the winning entry.
Keown grew up in New Jersey and has lived in Arizona; Long Island, New York; and parts of New England.
"I've lived in Maine since 2004," says Keown, "when my husband and I decided to move ourselves and kids up here to start homesteading and living more sustainably and simply."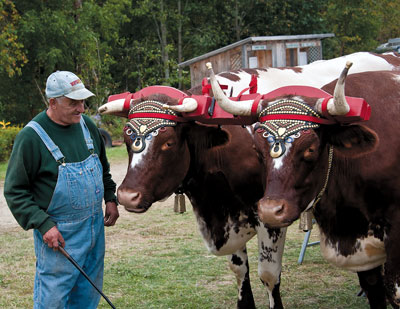 She and her family have a farmstead in the Dixmont hills, where they're revitalizing the soil, bringing back a 90-year-old apple orchard (mostly 'Wolf River' and cider apples), raising chickens and turkeys, growing some of their own vegetables and berries organically, and supporting local agriculture and sustainability.
Keown received her B.A. in studio art and art history from the State University of New York at Stony Brook. During her nearly lifelong involvement in art, she has explored watercolor, pastel, scratchbord, acrylic, oil, pen and ink, printmaking, photography, jewelry making, stenciling and primitive rug hooking.
She is a member of the Valley Arts Alliance, and her work has been featured in a number of shows in Maine and New England, including the annual juried Belfast Arts in the Park, where she'll be showing this July. Keown has also taught workshops in drawing, wire-jewelry making and watercolor painting.
"My work draws intensely from nature, color, seasonal light and the expressive potentials of the powerful Maine landscape," says Keown. "Pastel, watercolor and scratchbord have been my media of choice for the past several years.
"I would like to say I am an artist by profession," continues Keown, "although if I had to live by selling my work alone, I couldn't at this point! But I keep trying by entering competitions and selling my work at local venues."
When she isn't working on her art, Keown works for MOFGA Certification Services LLC.
She and her family (including two teenagers) are enthusiastic about the organization. "MOFGA is one of the most important organizations we can support; I can't stress that enough. The work they've been doing over the years has positioned them to be at the forefront of the local food and sustainability revolution. Maine is an ideal state for local agriculture to flourish, but it needs to flourish in all 50 states and the rest of the world as well. It is an honor for me to have my work be a part of MOFGA's mission."
She also loves Common Ground. "I'm really looking forward to the Fair," says Keown. "It never gets old. It's always exciting and a wealth of learning and of people coming together to share knowledge. There's nothing else like it!"