Maine Wildlife Biologist Wins Fair Art Contest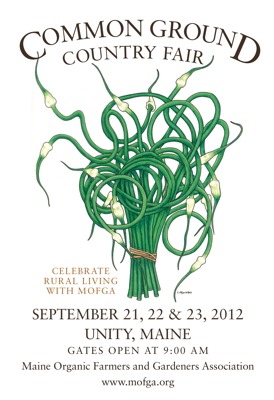 Lyndsey Monroe Marston is a wildlife biologist, but a very domestic situation led to her selection as the 2012 Common Ground Country Fair art contest winner.
Marston says that she did not train formally as an artist but loved drawing and painting from the time she was a child. Later, at John Bapst High School in Bangor, she took every art class offered. She also loved wildlife, though, and decided to go in that direction rather than study art at the University of Maine.
All that time growing up, however, she drew, beginning with "funny notes left on the kitchen table or taped to the fridge for family. They soon grew to annual holiday cards, birthday cards, and invitations."
When she was 14, her family got a dog named Enza. In 2009 Enza was diagnosed with cancer, which led to her 2010 death at age 14-1/2. Between the diagnosis and the death, Enza was the subject of many of Marston's drawings.
"I started drawing to occupy myself," says Marston, "but soon realized it might help support our little family. I opened my Etsy shop that spring and have been selling prints and original drawings ever since."
Marston continues to draw Enza as "one of the many ways I remember her." She named her business, 3 Legged Dog Ink (www.3leggeddogink.com), after Enza, who was hit by car when she was young and lost a paw in the accident. Prosthetics enabled her to live a long, active life, says Marston.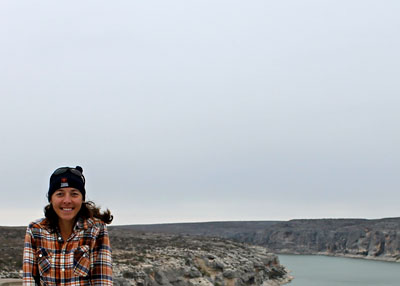 Her art goes beyond dogs. Marston has illustrated the "Last Word" column in Bangor Metro, and her cow drawing illustrates the "Eat Kale Not Cow" organic T-shirts of the Woodstock Farm Animal Sanctuary in New York, which "rescues farm animals [from cases of abuse, neglect and abandonment] and gives them a wonderful life," says Marston.
Etsy (etsy.com, a website for selling handmade items) is a great resource for selling her work, says Marston. "You get as much out of Etsy as you put into it," and as she learns more about how to use the site, she is selling more work.
For a while Marston's medium varied between acrylic and watercolor. Now she has settled mostly on marker and watercolor pencils. "It's much cleaner and neater to do," she says – a style that suits the Fair needs well.
She illustrated the appetizing garlic scapes on this year's Fair artwork with marker and watercolor pencils after seeing the scapes at her friend Molly Crouse's MOFGA-certified organic farm, Nettie Fox Farm in Newburgh, near Bangor. (Previously, Crouse was a farmer-in-residence at MOFGA's Common Ground Education Center.) The scapes "seemed like they were all the rage lately," says Marston. "They were so perfect in their little bundle. I couldn't help but draw them."
Marston grew up in Veazie and has stayed close to the greater Bangor area, but last fall she and her husband, Curtis, quit their jobs and headed out on an extended road trip to visit national parks and other sites, and friends. Their truck has built-in living quarters in the back and four bikes (two road and two mountain bikes) on the roof. As we went to press, the couple was in Alaska for a month helping a friend finish his Ph.D. research on glaciers at Denali National Park. After this "crowning achievement to our long adventure, we hope to wind our way back to Maine," says Marston. Both she and her husband love Maine and are committed to living here and giving back to their communities. Upon their return, they'll be looking for good jobs – she in wildlife biology and her husband in civil engineering.